Explore Tectonika while visiting residents, capturing pets, and battling a variety of enemies.
StoneAge World is a teen-friendly massively multiplayer online role-playing game (MMORPG) available on iOS and Android from developer Netmarble. The game is set in Tectonika, a prehistoric land that was once ruled by robotic animals. Players will take the role of one of four trainers, who will be responsible for taming any number of the 250 creatures that roam the land by capturing them in turn-based battles. Further, players will also be able to take part in a quest-based story that will introduce them to new characters, allow them to explore the four islands of Tectonika, capture new pets (fighters), and more.
Simply put, there is a lot of stuff to do in StoneAge World, from capturing pets to completing quests for different residents. As players start out, they will be guided through a tutorial which will quickly take them through all of the game's major mechanics. Despite there being a lot of information to take in, StoneAge World does a good job of keeping you on track with the story and features. So, if you're just starting out and feel lost–hang in there!
As you get into the meat of the game, you'll find that StoneAge World plays quite smoothly. The quests are easy to follow and will take players everywhere they need to go with an auto-run feature. In fact, the auto-run feature is one of the best parts of the game, in my opinion, because it will take you from place to place automatically. This will relieve players from the stress of having to remember where certain characters are located or trying to figure out how to get to a specific island/area.
After players fight in their first few battles, they will also be able to turn on an auto-battle feature that will fight for them. I was a pretty big fan of this myself, as I usually don't enjoy planning out attacks and memorizing my fighters' move sets. With the auto-battle feature, players can simply set their lineup before heading into battle and let the game do the rest. Of course, if you'd prefer to fight on your own, you can do that as well. However, I found that as long as you keep your pets' levels upgraded, the auto-battle will do just fine.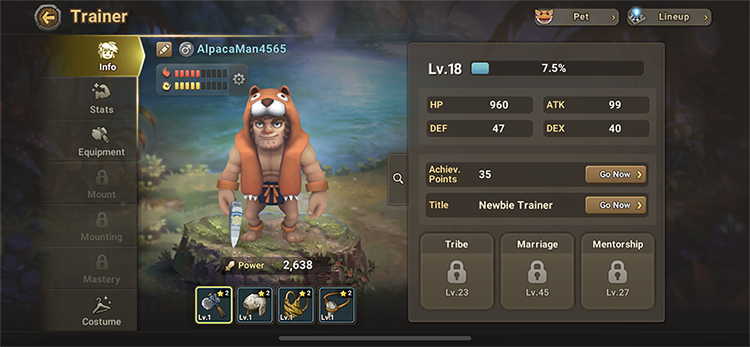 If you have no idea what any of this means, don't worry — if you try out the game, it'll all make sense. However, let me summarize the premise of the game once more just so it's all clear before you begin. Trainers (the player) will need to explore around Tectonika and complete quests for the island rulers and other characters. Some of the quests will be as simple as speaking to certain residents, while others will require players to use their pets to fight creatures. If you win a fight, you'll likely be rewarded with the item you need to complete your current quest. Further, players can capture different pets (there are 250 of them in the game) by finding them in the wild and capturing them in a battle. Once they're captured, you'll be able to upgrade their skills, levels, and move sets, and then use them to fight other creatures.
It's also worth mentioning that StoneAge World does have microtransactions, but in my time with the game, I was never pressured to spend real-life money to continue playing or upgrade to better features. In fact, I didn't even know that there were microtransactions in the game until I specifically looked for them. This was a breath of fresh air, as lots of mobile games are filled with ads and microtransactions from the start. That being said, I cannot speak to how StoneAge World handles microtransactions later on in the game, but from what I played, they were hardly noticeable.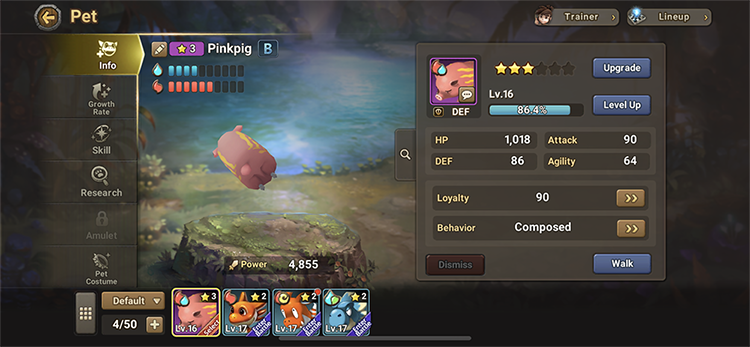 As you work your way through the game, you'll find that there are a variety of different quests to complete. Some will task you with running from area to area and speaking with different residents, while others will require you to battle a group of enemies to receive a requested item.
One aspect of the game that I found unique was the amount of pets that players could battle against and add to their lineup. With over 250 different creatures (like dinosaurs and pigs), there is plenty of uniqueness to each one that will bring a variety of different skills to your battles.
For those that would like to play with friends or a family member, StoneAge World also has some fun social options that will allow players to journey through Tectonika with others. For example, once a friend has been added, you have a bonfire with them, dance with them, or even send flowers to them and get married!
If you're looking for a fun mobile game to help pass the time, then you'll want to check out StoneAge World. The gameplay is super smooth and has easy-to-understand mechanics. There are lots of different characters to meet, pets to capture, and areas to explore that will certainly keep players entertained for hours. However, the game is rated T for Teen, so it may contain content that's inappropriate for younger players.
If you'd like to know more about StoneAge World, you can check the game's official website.