Enjoy new and classic Star Wars pinball tables in virtual reality.
Star Wars Pinball VR is a virtual reality game from Zen Studios that allows players to enjoy eight different Star Wars-themed pinball tables as though they're really standing in front of them.
Star Wars Pinball VR features two new tables: one is inspired by The Mandalorian television series, while the other is Star Wars Classic Collectibles. The other six tables are remastered versions of tables that Zen Studios has previously released. Here's the full lineup:
The Mandalorian
Star Wars Classic Collectibles
Star Wars: A New Hope
Star Wars: The Empire Strikes Back
Star Wars: Return of the Jedi
Rogue One: A Story Wars Story
Star Wars Rebels
Masters of the Force
In addition to freely playing these tables whenever they want, players can test their pinball skills in the game's career mode. This mode gives players a series of objectives to complete, and they'll need to complete these goals in order to move onto the next task. For instance, the first objective asks players to earn a required number of points on The Mandalorian table within five minutes.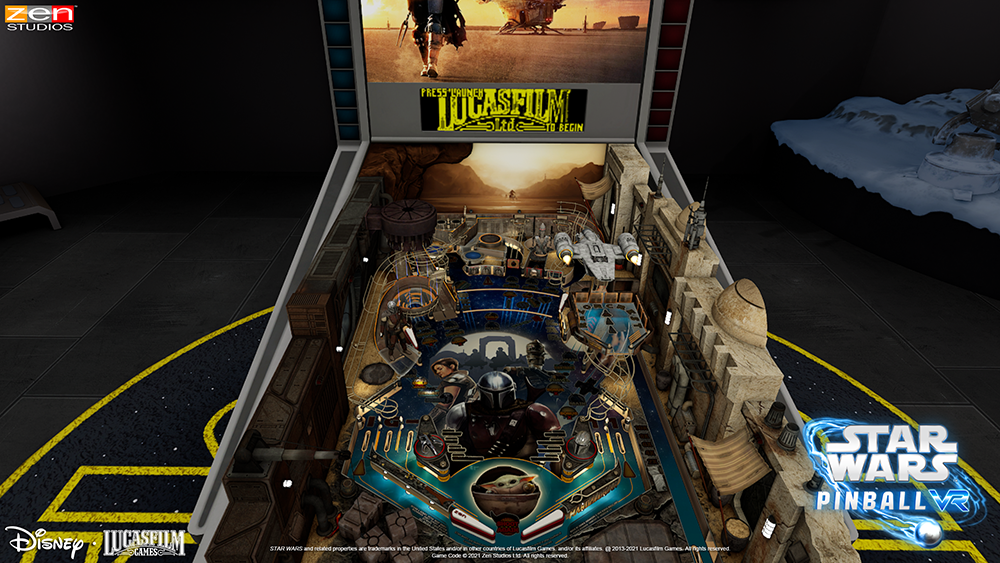 Star Wars Pinball VR is set in a virtual "Fan Cave" room. As players complete career objectives and simply play on the pinball tables, they'll unlock a variety of collectibles, like figures and posters that they can use to decorate this Fan Cave space. They'll also unlock songs that can be played on the Fan Cave's jukebox.
Finally, as you play the different pinball tables, some of the characters from each table will appear in the Fan Cave and occasionally move around. For instance, while playing The Mandalorian table, Grogu ("The Child") will sit near the table in his hover pram.
Star Wars Pinball VR is now available for Oculus Quest, Steam VR, and PlayStation VR for $24.99. The game is rated E10+ for Everyone 10+ by the ESRB. Even though the game is family-friendly, keep in mind that virtual reality platforms aren't recommended for young children (for instance, Oculus says its headsets should only be used by those 13 and older). Learn more about VR safety in our guide.
Disclosure: SuperParent received a code for Star Wars Pinball VR for coverage purposes.