Legos, video games, and more!
May 4th is a special time of year for Star Wars fans (the "holiday" is a play on the phrase "May the Force be with you"). From the release of new Lego sets and sweet street clothing to random merchandise, it's a day diehard followers look forward to. And, if we're being truly honest, this year more than most deserves a bit of escapist fantasy. So, with that in mind, we're doing a running tally of all things strong with the Force in 2020.
We'll update this list with more details as the Star Wars-sanctioned day draws closer.
LEGO STAR WARS – A BRICK-BY-BRICK LOOK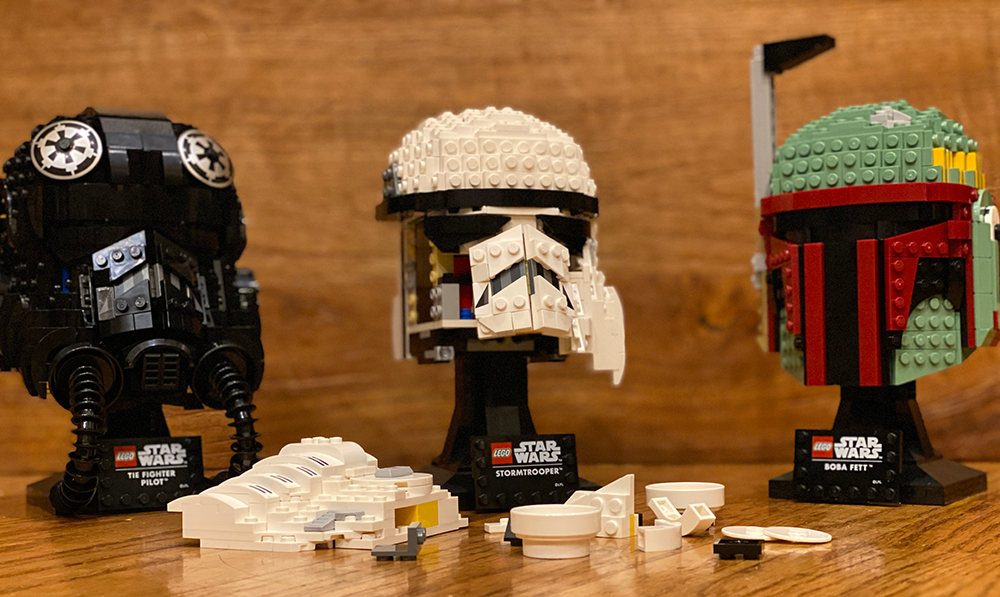 Of course, new Star Wars flavors for the popular brick-building sets are on their way. In the past, we've seen ornate recreations of The Death Star, Han's space whip, the Tantive IV, and more. While we're still waiting on the Lego Star Wars: The Skywalker Saga video game, we're happy to build around the house in the meantime.
Get your clicking fingers ready for a promo around the line of new Star Wars items. Lego's Star Wars Day event portal is live on the company's website, and the actual promotion will run from May 1-4.
Here's what's happening:
Earn 2x VIP Points on Lego Star Wars
Select Lego Star Wars sets on sale
Lego Star Wars Death Star II Battle, free with Lego Star Wars purchases of $75+
One of the bigger attention-grabbers in this batch is a high-end version of the A-Wing fighters the rebels have jumped into over the years. There are also kits based on the Disney+ show The Mandalorian (previously announced, but you can pre-order them) and a slick range of helmet displays you can build out of Lego bricks.
Check them out:
---
OLD STAR WARS GAMES ARE NEW AGAIN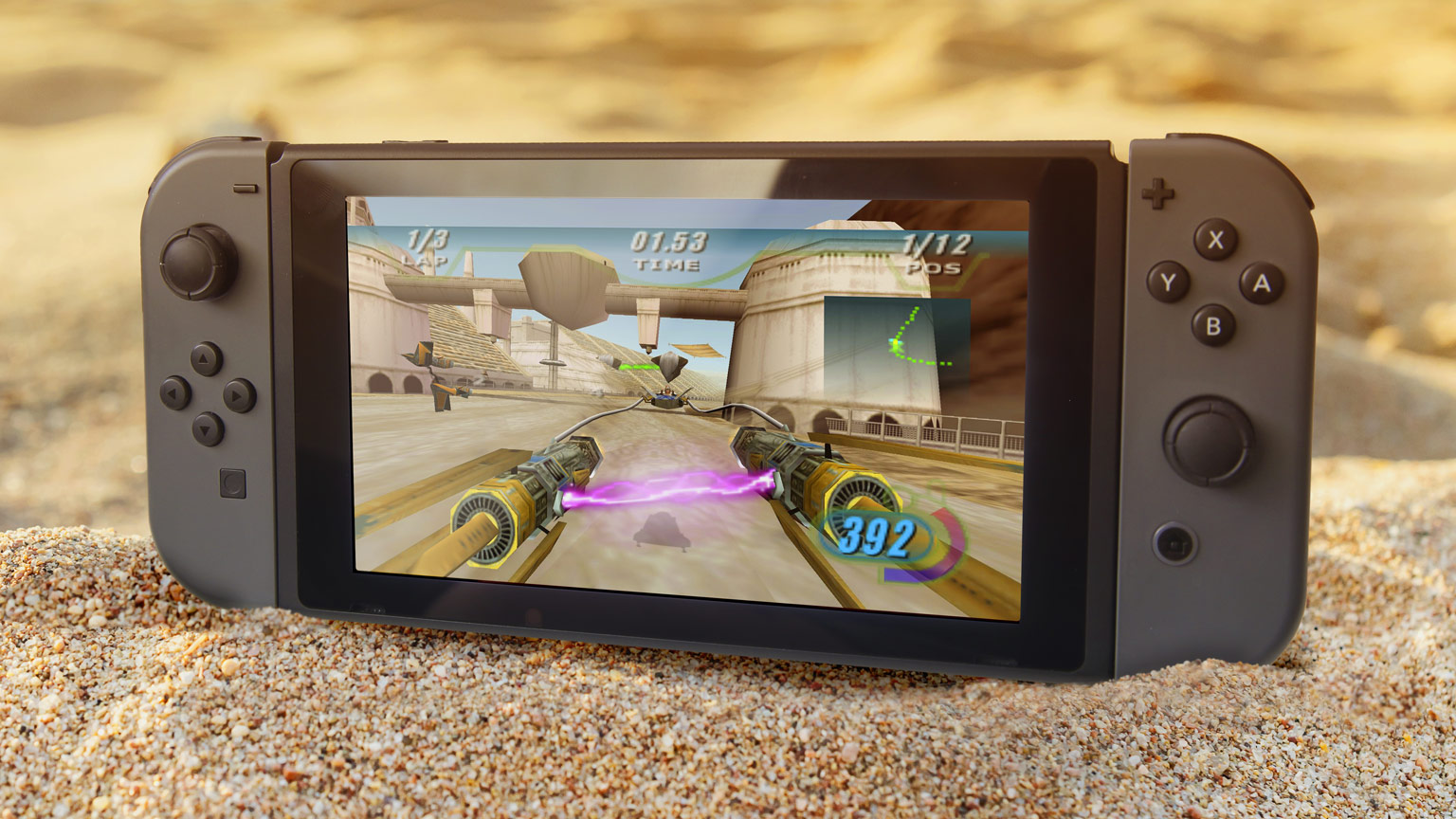 A long time ago, on game platforms far, far away, we played a bunch of classic Star Wars titles. Some have aged pretty well. Some….notsomuch (ahem).
Still, we're always happy to dive back in on modern day systems. Take Star Wars Jedi Knight: Jedi Academy. It has recently risen again to play on the Nintendo Switch and PlayStation 4. While it's obviously not up to recent titles like Star Wars Jedi: Fallen Order, It's interesting going back and playing the campaign and multiplayer Jedi battles.
Also, speeding to the Switch and PS4 next month is Star Wars Episode I: Racer (pictured above). While we're not huge fans of Episode I (hot take, we know), it's hard to deny the fun of pulling high-G turns on Tatooine.
Finally, we wouldn't be surprised if you see sale deals crop up around recent titles like Star Wars Battlefront II and Star Wars Jedi: Fallen Order – both of which are awesome in their own ways and come highly recommended.
---
STAR WARS IN FORTNITE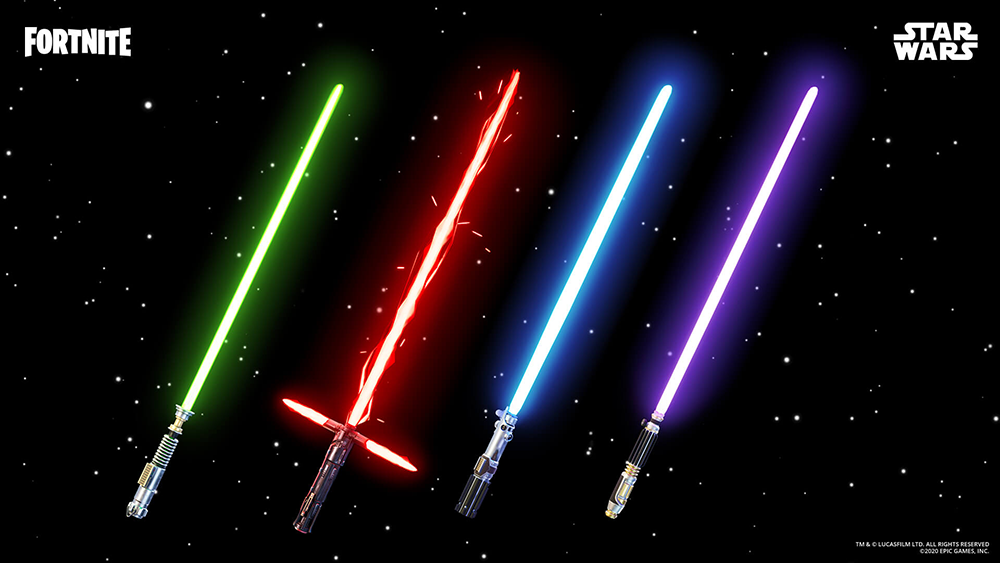 For a limited time, Star Wars-themed content is available in the popular video game Fortnite. You can play around with four different lightsabers (green, blue, purple, and crossguard red), as well as purchase a variety of themed items (Outfits, Emotes, and more) from the in-game Item Shop. To learn more, check out our full coverage of the event.
---
LEGO STAR WARS: THE SKYWALKER SAGA KEY ART REVEAL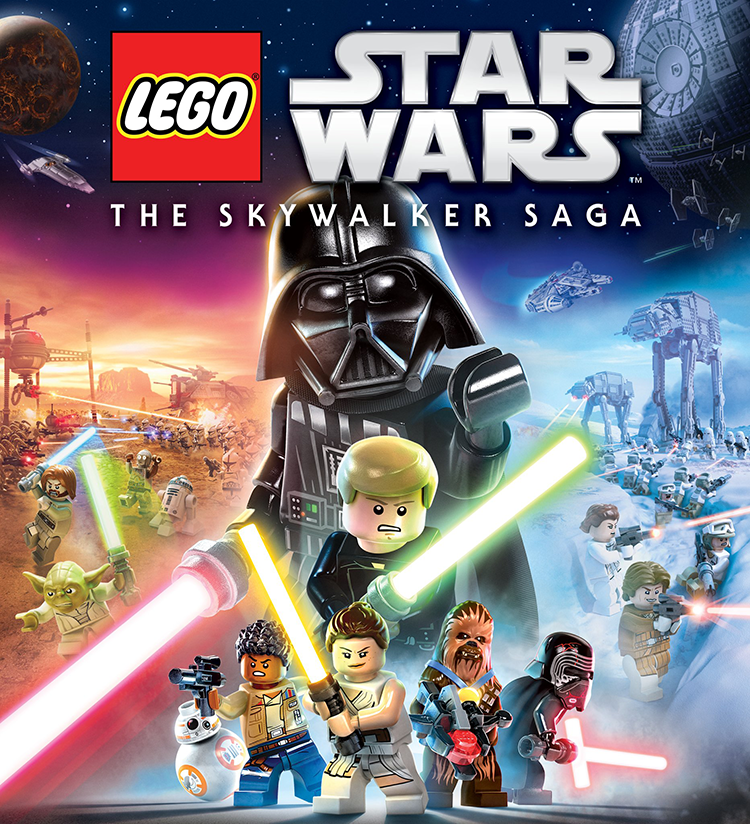 In June 2019, TT Games revealed Lego Star Wars: The Skywalker Saga, a Lego-themed video game that will let fans explore and complete levels inspired by all nine films in the main Star Wars series, including Star Wars: The Rise of Skywalker. While we still have to wait until later this year to play the game, for Star Wars Day, TT Games revealed the game's key art. This art shows off some of the game's characters (Rey, Finn, Luke Skywalker, BB-8, etc.), as well some of the gameplay moments players will experience, like a sequence based on the Battle of Hoth.
On its website, TT Games said more information about Lego Star Wars: The Skywalker Saga will be released "this summer."
---
UNIQLO T-SHIRTS AND HOODIES
Japanese-based clothing brand, Uniqlo, has been cranking out sick Star Wars-themed streetwear for some time now. Hoodies, t-shirts, and the like. Items are available for both kids and adults, and you can check out the latest batch right here. A couple of our favorites: This kids t-shirt featuring Darth Vader and flames, and this kids t-shirt featuring Star Wars imagery in a rainbow of colors.
---
HASBRO FAN FIRST FRIDAY REVEALS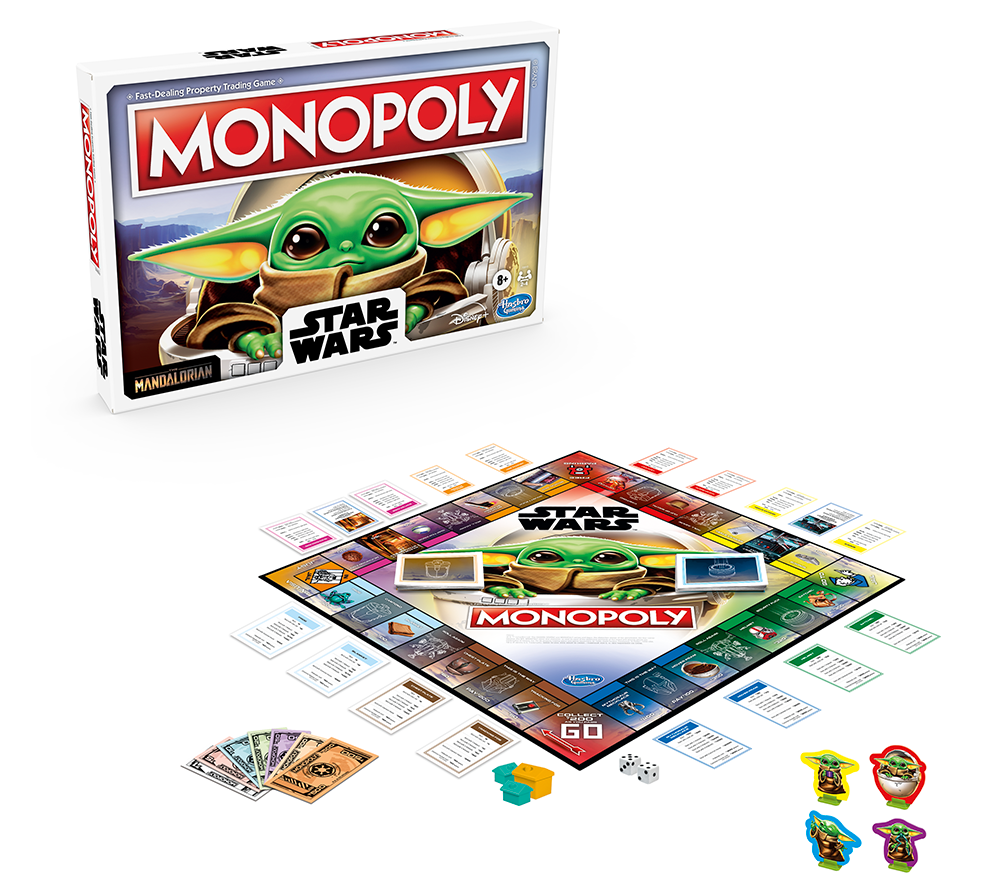 In a Facebook livestream, Hasbro revealed a variety of products coming soon to The Black Series and The Vintage Collection.
For instance, there's a Star Wars: The Black Series 6-inch Han Solo in Carbonite figure, which will be released this spring for $14.99. It's available to pre-order at Amazon. For fans of The Vintage Collection, a 3.75-inch Luke Skywalker (Stormtrooper) figure will hit stores this fall at a price of $12.99. It's available to pre-order at Walmart, Amazon, and more.
Plus, Hasbro also announced Monopoly: Star Wars The Child Edition, a Child-themed take on the classic board game that's set to be released for $19.99 this fall. You can pre-order the game now at Target, Walmart, GameStop, and more.
Check out the full livestream replay on Facebook to see all of the items that were announced.
---
DISNEY+ WRAPS THE CLONE WARS AND GOES BEHIND THE SCENES WITH THE MANDALORIAN
Disney+ is deteremined to be your one-stop location for all things Star Wars come May 4th. To celebrate this year, a bunch of things are happening.
For starters, The Clone Wars animated series will wrap with the series finale posting that day.
Plus, the undeniable hit series The Mandalorian, will get a proper behind-the-scenes documentary going into greater detail about how the whole project came together.
Then there's the wrap to the "Skywalker" movie saga, Star Wars: The Rise of Skywalker, which is also coming to Disney+ on May 4.
Share Your Star Wars Love on Social Media
The official Disney+ Twitter account posted a request for fans to share their Star Wars memories on social media. Want to have your memories shared through the official accounts? Hashtag #StarWars and #MayThe4th soon! (But Disney does warn that if you reply, you're giving Disney+ rights to use your message. Legal fun, we know.)
---
STAR WARS FUNKO POP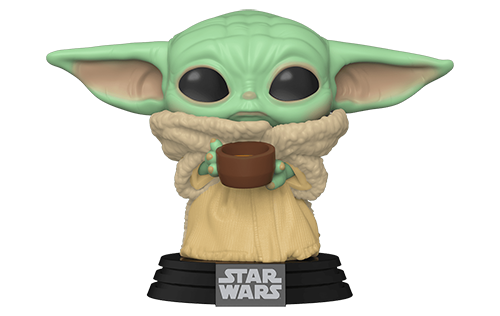 For AGES, Funko has managed to perfectly nail that pop cultural line with Star Wars merchandise. From figures to caps and all kinds of funky clothing, you can bet that every May the Fourth is gonna have something cool drop on Funko's pages (or sometimes in partnership with retail stores like Target).
While Funko has yet to reveal what's coming this year, the safe bet is it's something you'll want. While we plan to update this in due course, here's a link to Funko's existing Star Wars collection.
Update (05/04/20): Funko revealed a new set of Pop figures inspired by The Mandalorian. There are four new figures of The Child (Baby Yoda): The Child with Cup (pictured), The Child with Frog, The Child Concerned, and The Child (Force Wielding). The Child Concerned figure is a Target exclusive, while the Force Wielding figure is exclusive to Walmart. Plus, there's a new "Pop Moment" figure of The Mandalorian with the Child, as well as a new Pop of Moff Gideon with Dark Saber.
These figures aren't available just yet, but they're available to pre-order at sites like Target and Amazon.
In addition to these Mandalorian figures, Funko has revealed even more Star Wars goodies on Twitter. For instance, check out this Mandalorian t-shirt that will only be available at Walmart, and this Star Wars: Battle at Echo Base – Han Solo with Tauntaun deluxe Pop figure that will be sold exclusively at Amazon. Keeping checking back with Funko's Twitter account throughout the day (May 4) to see if additional items are revealed.
---
EXCLUSIVE ILM / STAR WARS LIVESTREAMED HISTORY LESSON
If you've ever wanted to learn more about the history of Industrial Light & Magic (ILM) and Star Wars, check this out. ILM VFX supervisor Jeff White and ILM trainer Matt Leonard have invited students and teachers to a special livestreamed chat happening on Monday, May 4th. We caught wind of it and got you on the invite list! (ILM is a visual effects and animation studio that's part of Lucasfilm.)
Here are all the details you need to know:
What: A livestream about the history of ILM and Star Wars
When: Monday May 4th, 2020 at 10 a.m. PST / 6 p.m. GMT
Where: Live-Stream Link
---
VIRTUAL TOURS OF THE STAR WARS UNIVERSE (AND THEME PARKS)
This is a crazy time, and now, more than ever, we need the occasional escape from the world around us.
Since a trip to Galaxy's Edge at Disney's theme parks is likely far, far away, we have a "Plan B" for you: This May The Fourth, take some virtual tours! It's obviously not quite the same as being there, but right about now, we'll take what we can get. Here's hoping that one day we'll all get to see these things in person.
Here are just a handful of the videos we recommend checking out:
Try hitting the first two links in virtual reality (VR) and it'll get you a little closer to actually feeling like you're there. And speaking of VR, we have another solid recommendation that we wholeheartedly recommend…
Vader Immortal Trilogy (Available on Oculus Rift, Quest) – If you have a VR setup at home, then you can get into a staring contest with Darth Vader, face-to-chestplate. This short series of episodes give you a 2-hour virtual adventure in a galaxy far, far away on the planet Mustafar (where Vader hangs his helmet on weekends). Between that and a wave-based Jedi-powered dojo, you get more than your money's worth here. While you can get higher fidelity on PC-based VR, the tetherless Oculus Quest is a great way to play.
Plus, as Engadget spotted,Vader Immortal is coming to PlayStation VR! You'll be able to purchase all three episodes (and the Lightsaber Dojos) in a single package later this year. To learn more about the game's move to PlayStation VR, head over to the official PlayStation Blog.
---
This is a far-from-complete list that we'll add more to as we learn about more sweet merch. In the meantime, though, flip back to SuperParent's Star Wars toy coverage from Toy Fair 2020.
Most importantly, though, may the Force be with us all. Always.
Top image via the official Star Wars website.