Help SpongeBob cook dishes in this free-to-play time management game.
SpongeBob: Krusty Cook Off is a time management cooking game on iOS and Android devices that asks you to help SpongeBob SquarePants cook dishes at a variety of restaurants around Bikini Bottom.
When you first start the game, you'll only be able to cook pancakes and serve coffee at a pancake stand. Each level has a different goal to complete. For instance, one may ask you to earn the required number of coins by preparing and selling food, while another asks you to earn "thumbs up" ratings from guests by serving their food in a timely manner.
During each level, guests and their orders will appear along the top half of the screen, while the cooking is done on the bottom half. At the pancake stand, you can tap on the pancake batter to place it on the griddle, and then wait a few seconds for it to cook. Once a pancake is cooked, you'll need to tap it to remove it from the griddle before it burns.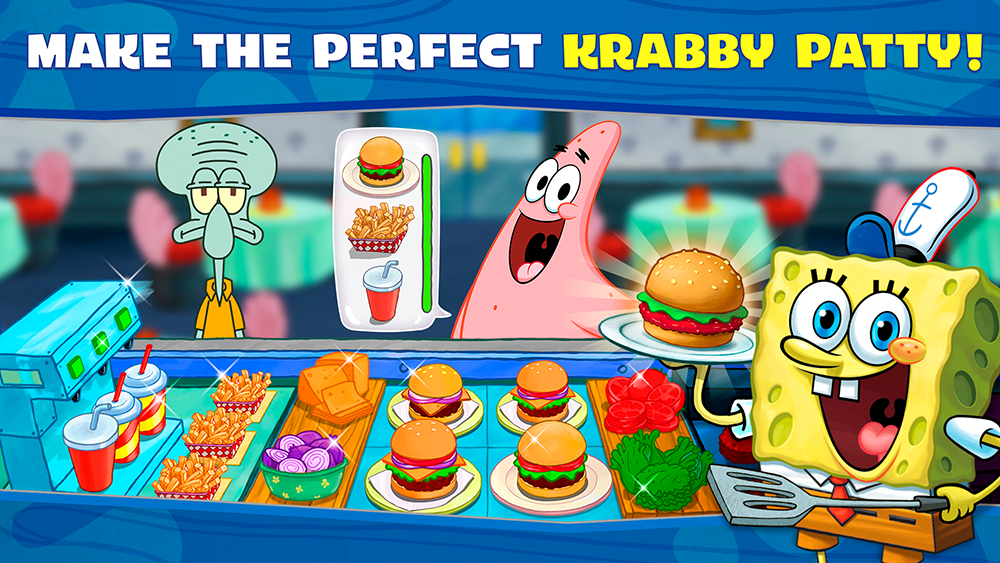 If a customer ordered one or more toppings for their pancake, you'll need to tap those next to add them to the dish, and then tap the finished pancake to actually serve it to the guest.
Guests have a patience meter, so you'll need to serve them quickly before the meter empties, which causes them to leave.
The game features a variety of boosters, or power-ups, which can help you out during levels. As an example, one power-up allows you to add three extra customers to a level so that you can earn more coins on that stage.
As you complete levels, you'll earn stars that help you advance the game's storyline. The story plays out through text dialog, with no actual voice acting, so players need to know how to read to keep up with what's going on.
In addition to collecting stars as you play, you can earn coins and gems (premium currency), which can be spent on upgrades for your kitchen and overall restaurant. For instance, you can make the griddle cook pancakes faster. When you upgrade an appliance, this upgrade process takes time to complete, but you can skip the timer instantly using gems.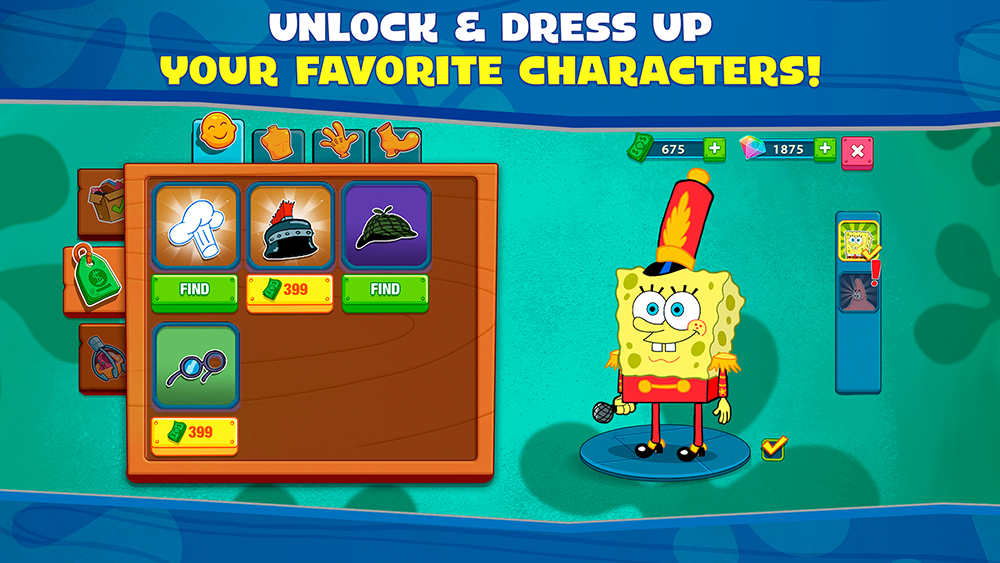 Finally, the game allows you to collect characters from the SpongeBob SquarePants universe, which you can dress up in fun costumes. Specifically, you can play a crane game that functions like a mystery box and gives you random clothing and accessory items for your characters, or currency that you can use to purchase these items. You can play this game for free once per day, while future plays require you to spend premium currency.
SpongeBob: Krusty Cook-Off is available to download for free on iOS and Android devices. The game is rated 4+ on iOS and E for Everyone on Android.
In our time with the game, we experienced a couple of technical issues that caused the game to take quite a while to progress to the next screen so we could continue playing. We expect these will be fixed in the future.
Check out the first 11 minutes of SpongeBob: Krusty Cook-Off in our SuperParent First Look video below.