Destroy towers made of colorful blocks in this mobile puzzle game.
Spire Blast is a level-based puzzle game on Apple Arcade, Apple's game subscription service that gives users unlimited access to a large catalog of games for a single monthly price (learn more about Apple Arcade in our previous coverage).
In Spire Blast, players are challenged to destroy towers made of colorful blocks. In each level, you'll start at the top of the tower, and you can toss blocks into matching blocks on the tower to make them disappear. For instance, if you toss a blue block into a group of one or more blue blocks on the tower, they'll disappear. During each level, you can swipe on the screen to view the tower from all directions so that you can decide which shot to take next (the game also supports controllers).
As you remove blocks, nearby blocks will fall over due to physics and gravity. The goal of each stage is to destroy the entire tower and complete any secondary goals before running out of shots.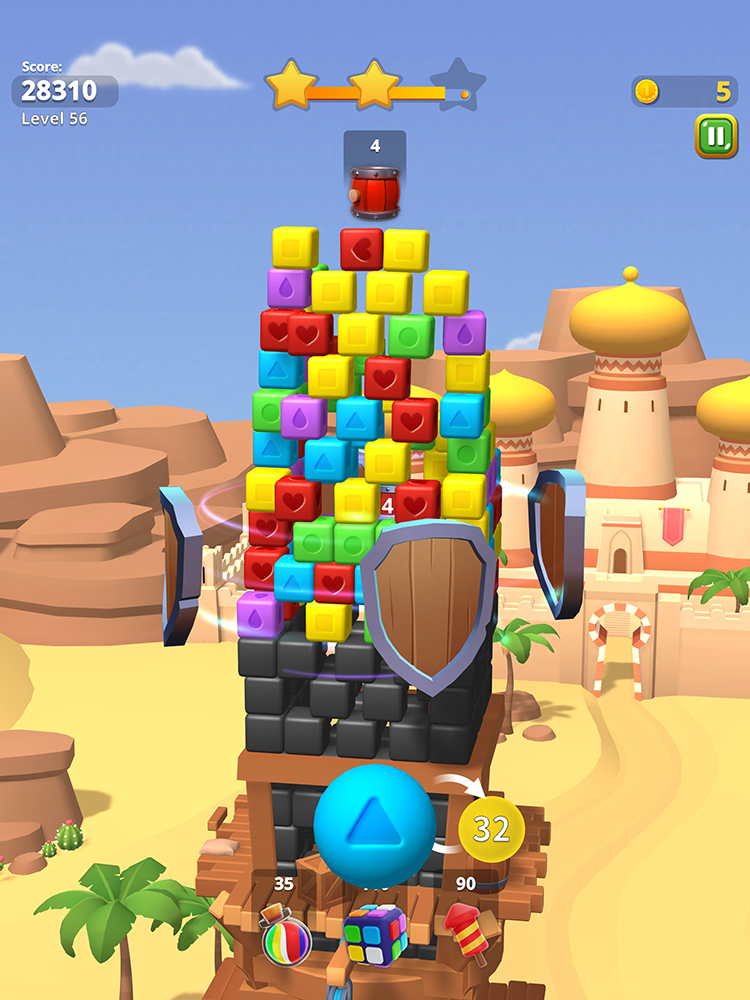 While every stage asks you to destroy the entire tower, your secondary goals can vary, depending on the level. For instance, one level may ask you to clear certain numbers of specific block colors by shooting at them (rather than causing them to fall), while another may ask you to feed a friendly dragon by causing falling blocks to land near its mouth (and so on).
You'll earn coins as you play, and you can spend these on power-ups that can help you complete stages. Unlike many mobile puzzle games, there are no in-app purchases in Spire Blast, so there's no way for kids (or adults) to spend real money. This is true for all games on Apple Arcade — games on the service do not contain in-app purchases or advertisements.
Finally, you'll earn up to three stars on each stage in Spire Blast, depending on your performance. You can replay stages to increase your high score and earn any stars you may have initially missed.
Check out 12 minutes of Spire Blast gameplay in our video below. Spire Blast is rated 4+ on Apple Arcade.