Funko's new toys are available now.
Back in February, pop culture collectible company Funko showed off a new line of toys called Snapsies, which were expected to be released later in 2020. Now all of these months later, Snapsies have officially launched, and Funko sent one to SuperParent to check out!
Rather than being classified as "collectibles" (like Funko's Pop or Soda figures), Snapsies are true toys that are meant to be played with. They're aimed at kids 6-11.
Snapsies toys are sold in "bling bag" capsules, meaning you won't know which one you'll receive before you make a purchase (this also means you could wind up with duplicates if you purchase more than one).
Each capsule contains a variety of pieces that can be mixed and matched to create unique (and adorable) creatures like a llama mermaid, a goat hedgehog, and a dragon dolphin (among others). When you open a capsule, you'll receive a single head piece, two face plates (each with a different expression), one torso piece, two "butts" (think things like a mermaid tail or shark tail), five accessories (like hair pieces and necklaces), a sticker sheet (meant to decorate the outside of the capsule), a checklist, and an instruction sheet.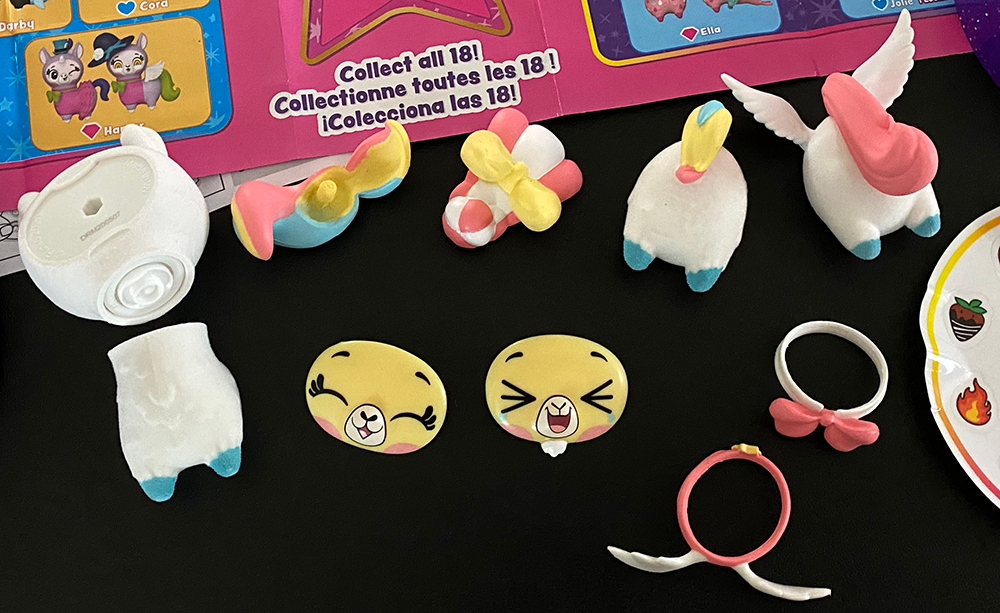 A single Snapsies capsule contains everything you need to technically create two different creatures, depending on the "butt" piece you choose to use at any one time. For instance, in our capsule, we receive "Jolie," a character that can either be a llama (using the llama butt piece) or a "llamasus" (using the pegasus butt piece).
You can also purchase multiple Snapsies capsules and then mix and match the items from each one to form new and different creatures that you couldn't create previously. Overall, there are 18 different Snapsies capsules available to collect in Series 1, with some having a special "flocked" or "glitter" finish (for instance, Jolie is flocked).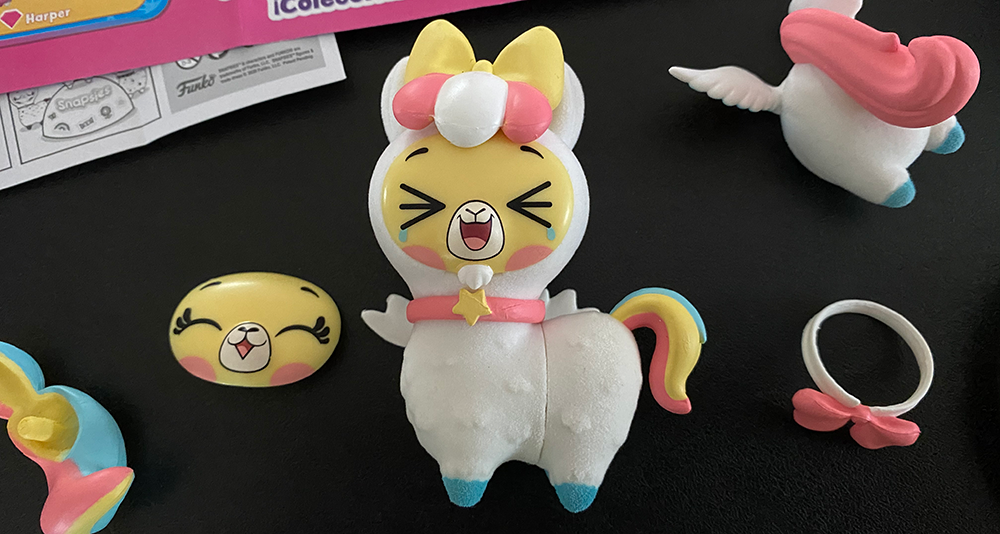 In our experience, Snapsies pieces can be snapped together and taken apart easily, though it may be a bit tricky to remove the face plates from the head piece if you don't have long fingernails or something similar to fit behind them. In addition, we would have liked if the butt pieces attached more securely so they didn't move around. That is, there's no risk of the butt coming apart from the torso, but they can "spin" in place as you're playing with your critter, which isn't ideal. Finally, the sticker sheet is bent to match the curve of the capsule, which isn't great.
If you decide to display your figures when you're not playing with them, we had no problem getting Jolie to stand up on her own when using either butt piece. Just keep in mind that you'll need to store the unused pieces when they're not in use (you can easily store them in the capsule they came in).
Snapsies are now available exclusively at Target. Each capsule costs $9.99.
Disclosure: Funko sent SuperParent a Snapsies capsule for coverage purposes.