Scorzo is one of the newest card games from Regal Games, the tabletop game company behind titles like Spoons and a Spork and The Goodge Rules.
Scorzo is inspired by the classic game of Rummy, and it challenges players to get rid of the cards in their hands by forming sets and runs with those cards. A set is a group of three or more cards with the same number, while a run is a group of three or more cards of the same suit with numbers going in order (for instance, "1, 2, 3" of hearts or "7, 8, 9" of triangles).
Each game of Scorzo lasts 11 rounds, and players are dealt a different number of cards during each round (there's a round list on the game's instruction sheet and score cards so you can keep track of the current round).
Once a round begins, players can draw a card from the draw pile or take the top card from the discard pile in their attempt to create sets and runs using the cards in their hands. There are five suits of cards numbered 1-10, as well as Wild cards that can be used in place of any other card.
Rather than laying a set or run on the table as soon as it's created, players need to keep all of the cards in their hand until every card can be used in a set or a run. At that point, they'll call out "Scorzo!" and the other players will have one more turn to try and create sets and runs in their own hands.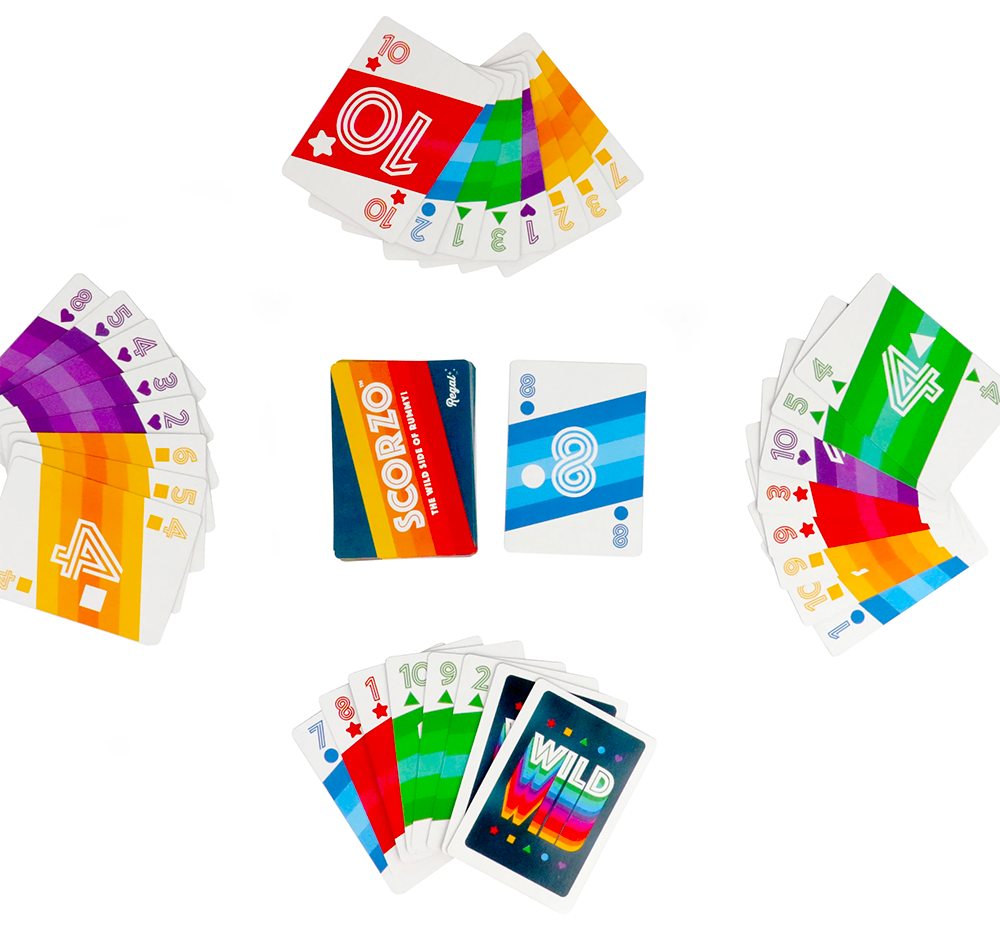 Once the final turn is over, players lay all of their cards on the table. Any card that hasn't been used in a set or a run is worth points, and players can keep track of their point totals on the game's paper score sheets. The player with the fewest points at the end of 11 rounds wins the game.
Scorzo comes with enough paper scorecards to play four complete games, and you can download a printable scorecard from the Regal Games website to print as many additional cards as you need once you run out.
Scorzo is available now for $9.99 on Amazon and the Regal Games website. The game supports 2-6 players with a recommended age of 8+, but even younger children may be able to enjoy the game, as it will allow them to practice their number- and color-matching skills, as well as practice simple number patterns.
You can learn more about Scorzo on the Regal Games website.
Disclosure: Regal Games sent Scorzo to SuperParent for coverage purposes.