This classic simulation game is still just as fun on Switch and PC.
RollerCoaster Tycoon 3, the third game in the classic RollerCoaster Tycoon franchise, was originally released on PC way back in 2004. The game allowed players to create and manage their own amusement parks, while its two downloadable content packs (Soaked and Wild) added in the ability to manage water parks and zoos, respectively.
Now, the game and its two expansions have been re-released as RollerCoaster Tycoon 3: Complete Edition on Switch and PC. We had the chance to check out the Complete Edition on both platforms.
Note: Throughout this review, we may refer to the game as RCT3 to make things easier.
What do players do in RollerCoaster Tycoon 3: Complete Edition?
RCT3 allows players to create and manage theme parks, water parks, and zoos, or all three in the same plot of land. In the game's Career Mode, players can complete structured scenarios with specific goals to achieve, such as having a required number of guests in the park or having a certain number of roller coasters with a minimum excitement rating, and so on.
The base game of RCT3 has its own set of scenarios to complete, and there are even more scenarios available as part of the Soaked and Wild DLC packs. When players first begin, some scenarios are locked, and they'll become available as players complete the scenarios that are already available.
Meanwhile, a Sandbox Mode gives players a (basically) empty plot of land and allows them to build whatever they want with no monetary restrictions.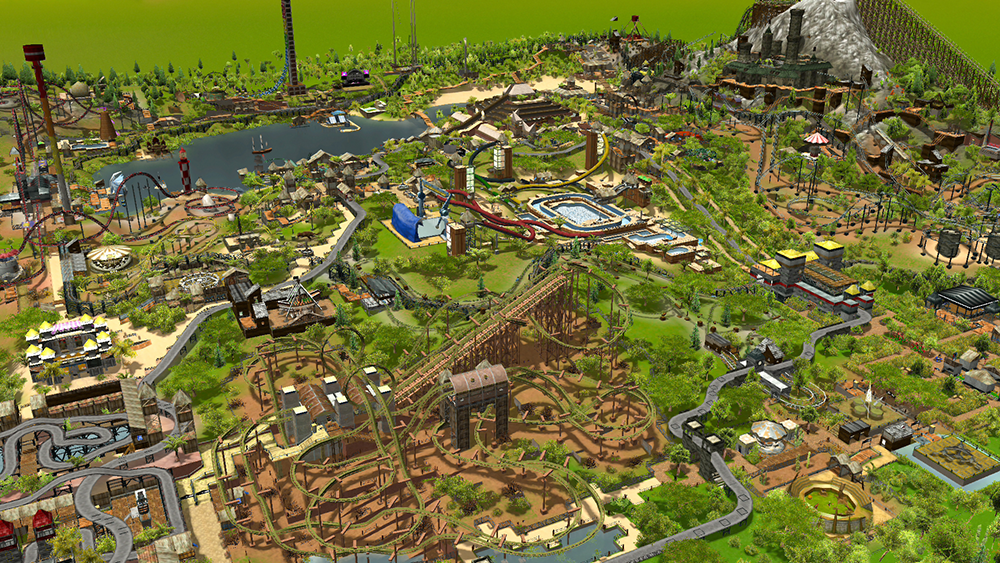 Since this is a management and simulation game, players are in control of how each park is built and expanded over time. Some parks may give players a few starting rides, decorations, and so on, but from there, it's up to them to decide what to do next.
You'll be able to choose which rides to build (and where), which shops to construct, which decorations to install, where to build paths, how many staff to hire (and how much to pay or train them), where to plant individual trees and flower beds (and which colors the flowers should be), where benches, trash cans, and more should be installed on paths, which color each ride's queue line should be, what each ride should be named, how many entertainers (if any) should wander around the park, and much more.
As we mentioned, in a sandbox game, you can do all of these actions without being concerned with money, but in a traditional game, you'll also need to manage the park's funds. This may involve deciding whether or not to take out a loan (and when to pay it back), choosing how much to charge for an entry ticket to the park or for entry to a particular ride, and choosing how much to spend on research, as examples (research allows you to unlock new rides, shops, decorations, and more for that scenario as you play).
What sorts of rides are available to build?
There are tons of rides available in RCT3. You can construct many classic attractions, like a carousel, chair swing, and top spin (as just a few examples), as well as some unique offerings that have specific theming, such as a tea cup ride themed after Reese's Peanut Butter Cups and a "kiddie ride" that lets guests sit in vehicles shaped like dinosaurs.
There are also plenty of roller coasters to choose from, including corkscrew coasters, suspended coasters, hyper and giga coasters, wild mouses, and many others. The game includes a variety of ride blueprints that you can quickly construct in your park, or you have the ability to construct your own coasters from scratch piece-by-piece.
In terms of water park attractions, you can construct pools one piece at a time (similar to how paths are built), and then place "pool rides," like water slides, within them. Like roller coasters, you can choose from stock pool ride designs or create your own from scratch.
Finally, you can construct zoo attractions (animal habitats) by placing each piece of fencing one at a time. Each habitat needs to be the right size for the animal that will live there, so they can thrive and potentially breed. Animal habitats add more complexity to your parks, since you'll need to worry about fences deteriorating and animals escaping.
How do the game's controls work on Switch?
As you might expect, on PC, you control the game by simply moving your mouse and clicking on the object or menu you want to interact with. On Switch, things are more complicated. The majority of the game's menus and options are found in two radial menus that sit in the bottom-left and bottom-right corners of the screen.
To interact with these menus, you must first hold down either "L" or "R" on the controller (for the left or right radial menu, respectively), and then move the left joystick to highlight the option you want (like "Rides," "Park Management," the ride "Setup" menu, and so on).
Some of these menus are a few layers deep, and you'll need to hold down L or R and press "B" each time you want to move back a layer.
Without going into too much more detail, suffice it to say that the controls in the Switch version take a lot of getting used to (though you can eventually master them), and the PC version is far and away superior in this regard (this is typically the case with games in this genre).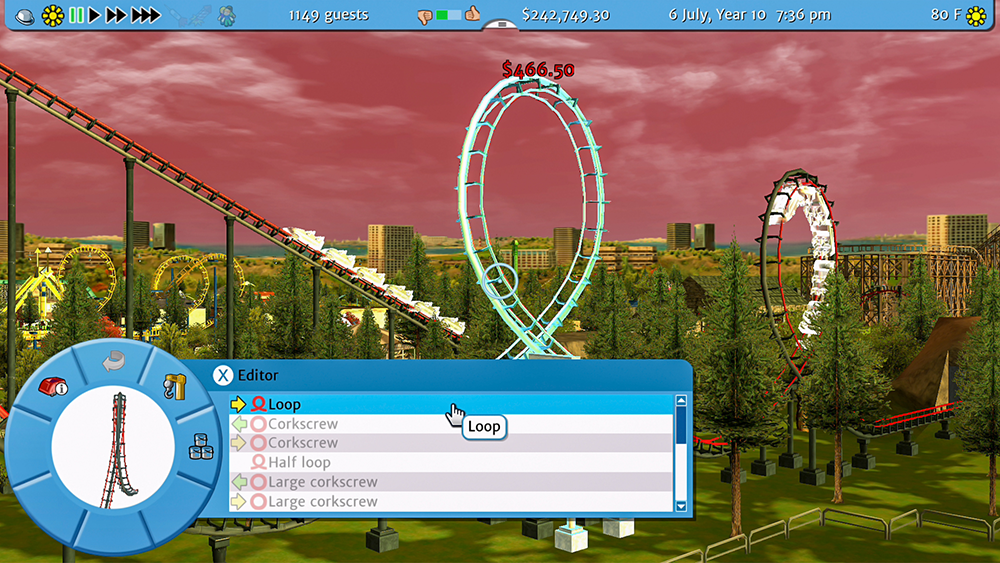 Is this game fun to play?
I'll be the first to admit that I've adored RollerCoaster Tycoon 3 for years, so keep that in mind as I answer this question with a resounding, "Yes!" However, there are definitely a couple of things worth pointing out for those who haven't played the original RCT3, or other games in the franchise.
Even though RCT3: Complete Edition is rated E for Everyone by the ESRB, the management-style gameplay may be too complex for younger players. We recommend starting younger players out with a tutorial and then jumping into the sandbox mode so that they don't have to worry about money or completing specific objectives.
Elsewhere, the game includes a CoasterCam feature that is perfect for players of all ages. When you activate this feature on a ride, the camera zooms in to make it look like you're actually riding the attraction, and it's just a silly amount of fun.
Younger players may enjoy watching this CoasterCam gameplay, and they can also help someone else out by choosing ride colors, naming rides, and so on. This makes the game a fun cooperative experience for families, as well as a great management sim for solo players.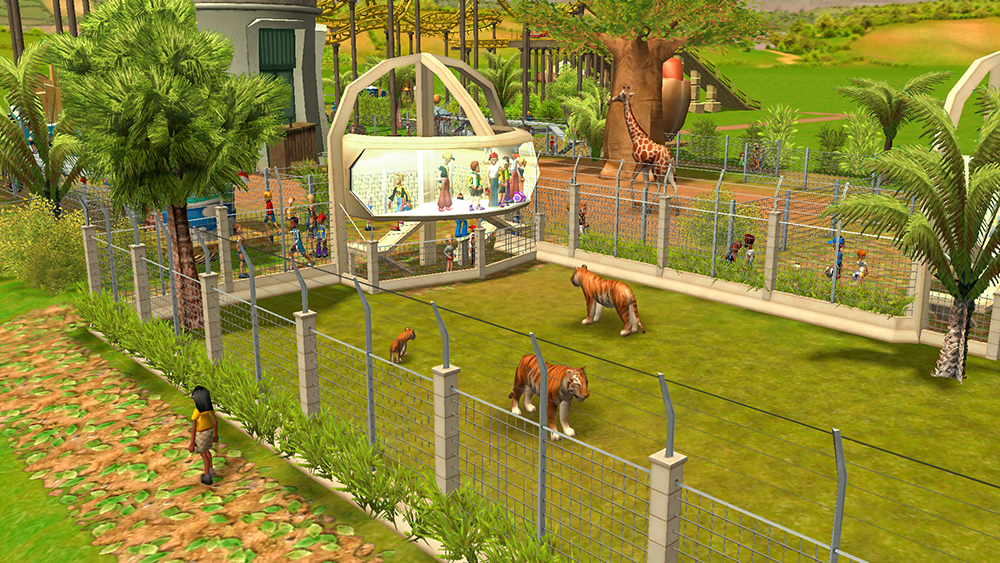 Do the Switch and PC versions of the game come with all of the same features?
Actually, no. Both games contain the Career and Sandbox modes, but the separate Tutorial and Custom Scenario modes are only available in the PC version of the game (by default, the Switch version gives you a tutorial as you start playing). Plus, the Scenario Editor tool is only available on PC.
While there's still plenty of content to enjoy in the Switch version of the game, we're sad the Custom Scenario and Scenario Editor tools have been left out, since they allows players to create scenarios with specific goals that they want to complete. Without this mode, players will need to set and keep track of goals in their own head, or perhaps write them down.
Finally, the game handles save files differently across both platforms. On PC, you can have as many career save files as you need, to account for multiple people using the same computer, or a single person wanting to play through the career more than once. On Switch, you can have a single career save file per Switch profile.
If multiple family members use the same Switch profile (rather than each person having their own), you'll run into a problem here when multiple people want to play the same career scenario. That is, if one person has completed the Vanilla Hills scenario, as an example, and someone else wants to complete this scenario too, their new game will overwrite the other player's progress. To avoid this, make sure each person plays RCT3 on their own Switch profile.
What's the final verdict?
We're thrilled to see RCT3 given new life in this Complete Edition for PC and Switch. While the game's controls on Switch leave a lot to be desired, it's wonderful to be able to take our parks with us wherever we go through the Switch's handheld functionality (and it's great to see the game re-released on PC).
While the title's management gameplay may not be appropriate for the youngest players, if your family already enjoys games like Planet Coaster and Planet Zoo, or you're just fans of theme parks, we definitely recommend checking this one out.
---
RollerCoaster Tycoon 3: Complete Edition is now available on Switch and PC for $19.99. The game is rated E for Everyone by the ESRB.
Disclosure: Frontier Developments gave SuperParent codes for RCT3: Complete Edition on Switch and PC for coverage purposes.