Get ready to defeat a bodybuilding dragon using the new Ring-Con controller.
Earlier this month, Nintendo released a teaser video showing a group of people using a new ring-shaped accessory to do… something on the Switch by completing actions that looked a lot like exercise. Now, we know more about what was going on.
It turns out, the ring is a new accessory that will be used in a Switch game called Ring Fit Adventure, which mixes elements from a traditional adventure game with physical activity. To play, you'll place one Joy-Con into the new "Ring-Con" controller, and the other Joy-Con into an included Leg Strap, which you wrap around your left thigh. From there, you'll follow on-screen prompts to complete in-game actions by physically moving around the real-world. (The game is rated E10+, so it will support players of varying ages.)
In Ring Fit Adventure, players will be able to travel through 20 different worlds on a quest to defeat a bodybuilding dragon named Dragaux. As players explore the game's environments, they'll encounter enemies that they'll need to battle.
During these battles, players will be able to attack the enemy and defend themselves from harm by performing "more than 40 Fit Skills," which are actually exercise moves that utilize the Ring-Con and Leg Strap peripherals. As players complete actions, they'll level-up in the game, causing their character to become stronger, and also giving them access to new Fit Skills to use in future battles.
The Ring-Con itself provides resistance while playing, but the game can be tailored to match each player's preferred exercise intensity.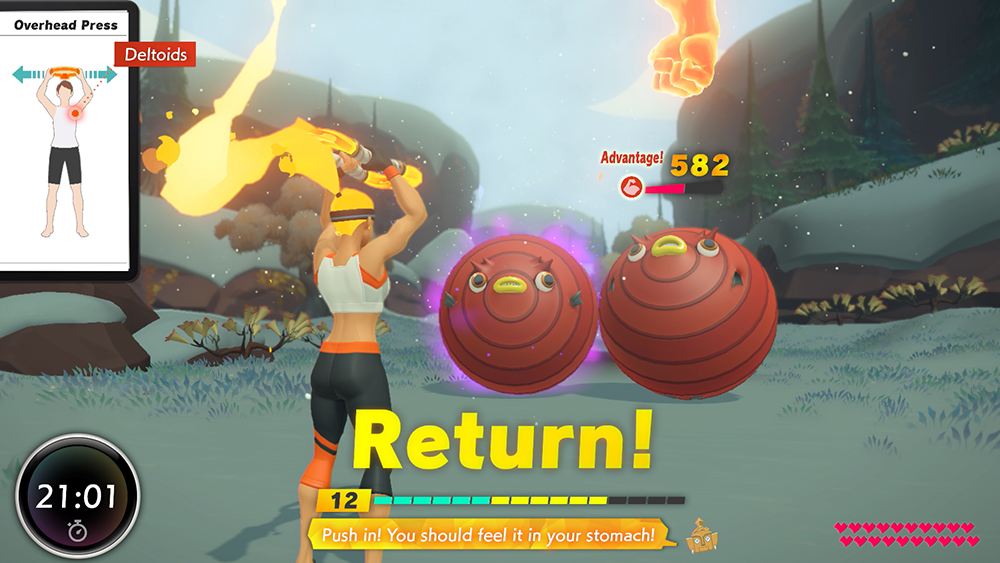 In addition to this main adventure mode, Ring Fit Adventure will include a Quick Play mode, which lets you compete in mini-games with friends and family by passing the Ring-Con and Leg Strap from one player to the next.
Two other modes, "Simple" and "Set" will provide additional workout experiences to suit your play style or the amount of time you have available to play. For instance, in "Set," you'll be able to complete a string of exercises that have a specific theme or focus on a certain part of the body, like your legs or shoulders.
Finally, a "Silent" mode will be available for players who are on an upstairs floor (like in an upstairs apartment) or who may not wish to disturb anyone else in the house. When "Silent" mode is turned on, activities that focus on jogging will be swapped out for ones that won't make so much noise, but will still let you work on your legs.
Ring Fit Adventure will launch on Switch on October 18 for $79.99. It will include the game, as well as the Ring-Con and Leg Strap accessories.