These challenging puzzles become a game once the image is constructed.
Jigsaw puzzles offer family-friendly fun for people of all ages, but unlike other tabletop activities (like board games), they're fairly one-dimensional. Once you complete the image, the experience is pretty much over (of course, they can also be completed multiple times).
Ravensburger's line of Escape puzzles bucks this trend, as it adds a storyline, riddles, and other brain teasers to the traditional jigsaw puzzle experience. Puzzlers in the U.S. can choose from four different Escape Puzzles, which are inspired by the escape room trend that's taken off in recent years. (Escape rooms place a group of players in a themed environment and challenge them to complete riddles and puzzles to find a way out.)
Each 759 piece puzzle has a different theme and storyline.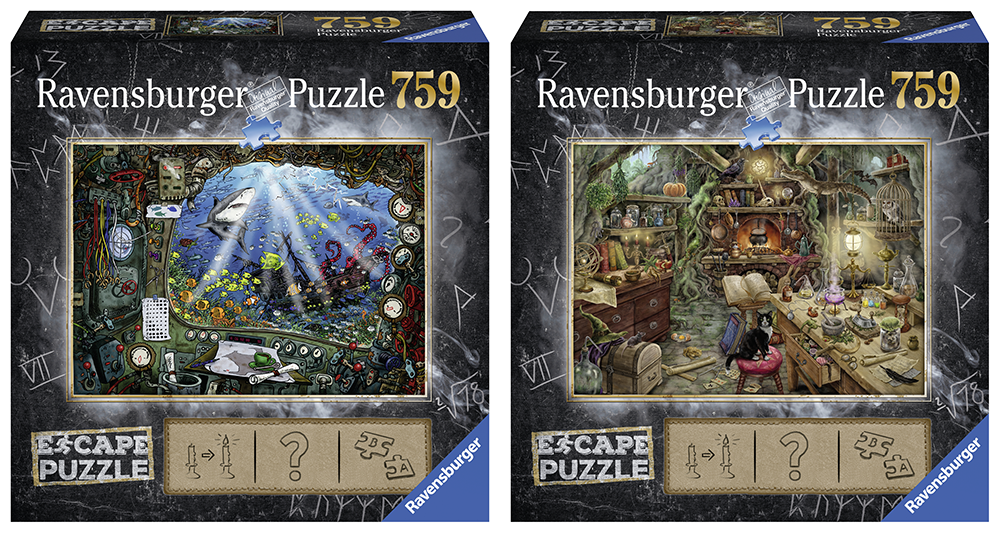 Each puzzle is recommended for puzzlers 12+. The puzzles are deliberately challenging, as the pieces are purposefully designed to appear as though multiple pieces can fit in the same spot. In addition, the image on the box isn't an exact replica of the actual picture you'll construct (this isn't indicated in each puzzle's description, but it's revealed in their instruction books).
Once the puzzle's picture is finished, you're challenged to solve the riddles and brain teasers found in the image to finish the scenario. Ravensburger's website offers clues if your family needs them (as well as the solution to each individual riddle), and a sealed envelope in the puzzle's box contains the final solution.
In our experience with these puzzles, the instructions don't really say what you're supposed to do with each riddle's answer (other than telling you to look at the edge pieces), but as Room Escape Artist reported, you're supposed to match each riddle's solution (a number) with the edge piece that has the same number written on it and remove it from the puzzle. Once you solve all the riddles, you'll need to figure out what to do with those numbered pieces.
Each Ravensburger Escape puzzle is available for $19.99 on the company's website and Amazon. The finished puzzles measure approximately 20" x 27". Additional Escape puzzles will be released in the U.S. in 2020.
Disclosure: Ravensburger sent the Witch's Kitchen, Submarine, and Vampire's Castle puzzles to SuperParent for coverage purposes.