Test your memory in this free-to-play card game.
Memory (otherwise known as Concentration) is a classic, kid-friendly tabletop game that asks players to flip over cards with the goal of finding two cards with matching images.
There are many ways to play Memory (and similar games) today, through physical board games and even websites and mobile apps. Now, tabletop game and puzzle manufacturer Ravensburger has released its own version of Memory on mobile devices.
Memory is a free-to-play game that comes with one free deck of cards, and offers many others for in-app purchase. The free deck has the "Junior" theme, and contains images of fruit, toys, flowers, and more. Some of the premium themes include "Space," "Great Outdoors," "Wild World of Animals," and "Animal Sounds," among others. These decks can be purchased for $2.99 or $3.99 each, depending on the deck (decks with "sounds" cost more).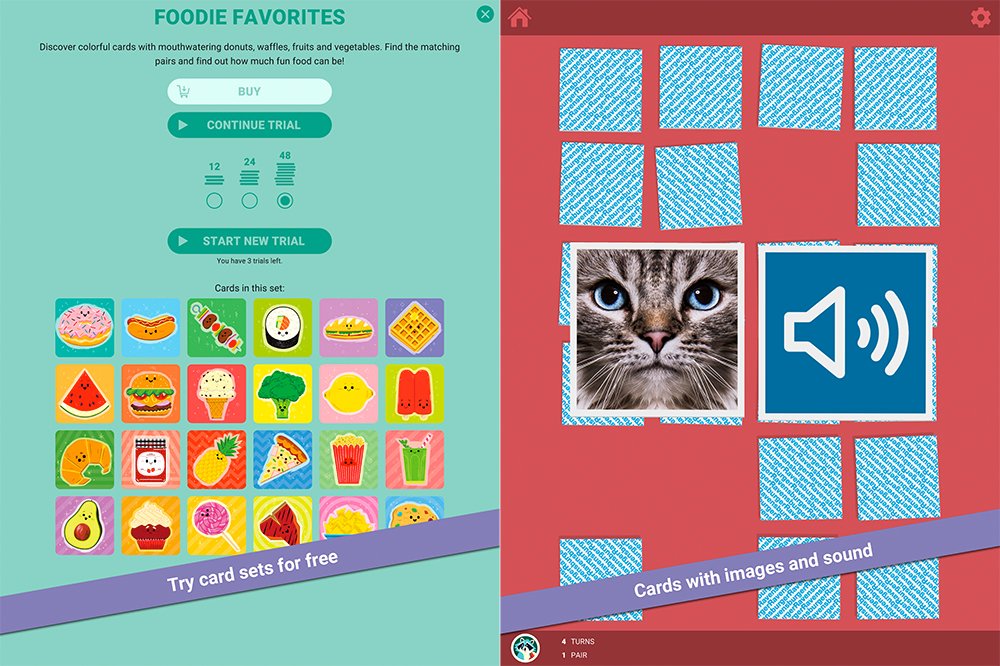 You can play each game of Memory across multiple difficulty levels, determined by the number of cards in play. For instance, in Junior Memory, you can choose to play with 12, 24, 48, or 72 total cards. You can play the game on your own, or add up to five other players to each game who will take turns on the same device (for six players in total).
While Junior Memory and many other decks require you to match like images, "sounds" decks ask you to match a picture with its associated sound. For instance, in the Animal Sounds deck, you may need to match the sound of a rattlesnake with a picture of a rattlesnake.
Finally, while only one deck is available for free in Ravensburger Memory, you can try the premium decks for free as part of a limited trial (there's a separate trial for each deck). This allows you to see whether your family will enjoy a particular deck before actually spending money to unlock it permanently.
Ravensburger Memory is available to download for free on iOS and Android devices. The game is rated 4+ on iOS and E for Everyone on Android.
Check out four minutes of Ravensburger Memory in our gameplay video below.