SuperParent talked with the developer about the game's development and themes.
Rainbow Billy: The Curse of the Leviathan is a role-playing game (RPG) on consoles and PC from developer Manavoid Entertainment and publisher Skybound Games.
The game takes players to a world that has been stripped of its color and happiness, which has turned the environment to shades of black, white, and gray, and has left the world's citizens to deal with negative feelings like anxiety. Players will need to help Billy bring color back to the world and help its citizens overcome their negative emotions.
While Rainbow Billy: The Curse of the Leviathan is an RPG, it doesn't feature a typical RPG battle system focused on violence and "killing" or "defeating" the enemy. Instead, players will use communication and empathy during "battles" to help characters.
SuperParent interviewed Chris Chancey, CEO of Manavoid Entertainment, about the development of Rainbow Billy: The Curse of the Leviathan, and what parents should know about the game.
SuperParent: What should parents know about Rainbow Billy: The Curse of the Leviathan before they purchase the game for their families?
Chris Chancey: Rainbow Billy is a wholesome, non-violent, 2.5D Adventure-RPG with over 30 hours of gameplay! It is a family-friendly, openly accessible adventure in which you must save whimsical creatures by bringing back color to a black-and-white world. Rainbow Billy tells a universal coming of age story about dealing with changes in the world and accepting ourselves and the others around us. Sometimes it only takes a conversation, empathy, and a new point of view to make a world of difference.
SuperParent: What inspired the team to create a game about emotions, relationships, and kindness?
CC: We certainly wanted to make a game close to our core values as a studio, but it's an article that we saw in 2019 that said only 17 percent of games showcased at E3 that year were considered non-violent. We thought that was a sad statistic and wanted to be a part of the change we'd like to see in the industry.
The video game medium can allow so much more than the traditional violence you see. We flipped the RPG genre on its head and made a game using the same mechanics, but instead of "Attack" and "Defend," it was "Listen" and "Talk!" Billy, being a young, non-binary character in a very heteronormative world, is a child going through changes and who is trying to figure themselves out. A lot of situations are put into perspective through their eyes.
The rhetoric we wanted to put forward was simple: In a world that has never been more polarized (black and white), the only way to fix things is through healthy communication and empathy (understanding people's unicity: colors).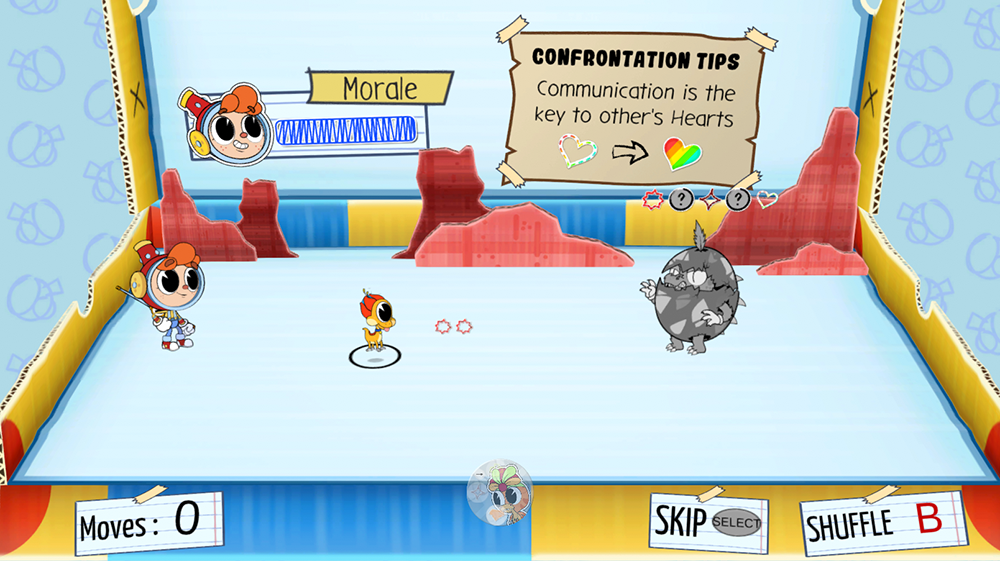 SuperParent: What lasting lessons or messages do you hope kids (and adults) will take away from the game?
CC: We really just want people to have a lot of fun experiencing the game!
If anyone plays the game and sees themselves in one of the characters and feels better about themselves with their situation being represented in a game, that'd be really great. If any parent plays with their kid and it stimulates an interesting conversation on some tougher topics, we think that'd be really cool as well.
In the end, if anyone plays the game and in the end understands that taking the time to listen to people and talking things through is the way to go, then we will have made the world a bit of a better place than what it was before, that'd be the ultimate achievement!
SuperParent: Did you playtest the game with children and parents before it was released? If so, how did those testers react to the game's themes?
CC: We hired specialized consultants to help us tackle certain subjects appropriately, like kids exploring their gender identity, mental health issues, etc. Our publisher Skybound helped us as well with making sure the narrative was kid-friendly, and we were also proofread by an organization called Rise Above the Disorder (RAD) in order to make sure that the writing was careful to not have trigger words.
We playtested the game often with kids, parents, and non-gamers and worked on a ton of accessibility features to make sure anyone could play the game at any age. The feedback was amazing – we couldn't be happier with the critical reception for the game so far!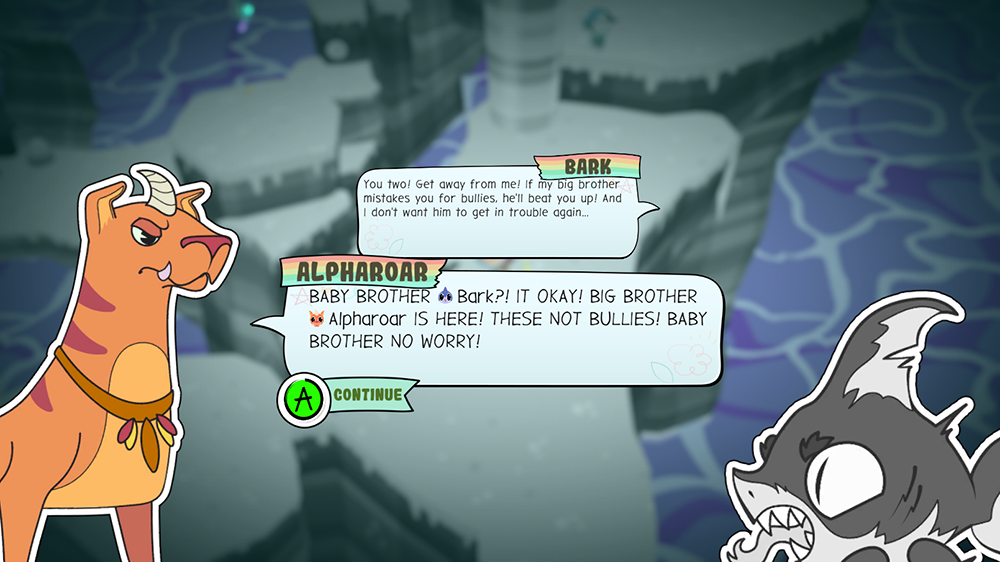 SuperParent: How can parents enjoy this game with their kids?
CC: As adults, we sometimes can't empathize with what our children are going through. In our eyes their problems are trivial, but in theirs, it's their whole world! Rainbow Billy explores many different characters going through a variety of emotions that can help kids feel represented and understood.
We've had testimonials of certain dialogue sequences helping younger players to open up about certain things they saw at school, or emotions they were going through. The game also encourages healthy communication processes, which is something we could all use a bit more of sometimes!
Finally, Rainbow Billy is really for all ages – younger players will get attached to the characters and their stories, but adults will chuckle along and get emotional throughout the experience as well!
The game is currently out on all major platforms: PC (Steam), PlayStation consoles, Nintendo Switch and Xbox consoles as well!
SuperParent: Is there anything else you'd like to add?
CC: We couldn't be prouder of the game we created. The game is our complete vision made real, which is a rare thing for indie developers to be able to accomplish. The reviews have been amazing, and we've seen streamers cry at the end of the game. We've basically received all of the validation a game developer could ask for!
---
Rainbow Billy: The Curse of the Leviathan is available now for $29.99 on Switch, PlayStation 4, Xbox One, and PC. The game is rated E for Everyone by the ESRB. Players will need to know how to read to follow along with the game's story, or play alongside someone who can.
Disclosure: SuperParent received a code for Rainbow Billy: The Curse of the Leviathan for coverage purposes.