The coding game will challenge you to clean up a spaceship full of Rabbids!
On October 8, video game company Ubisoft will release Rabbids Coding, a free educational game designed to introduce kids and adults to the concepts of coding.
In Rabbids Coding, the Rabbids — Ubisoft's wacky, chaotic rabbit characters seen in games like Mario + Rabbids Kingdom Battle — are causing a ruckus on a spaceship, and it's up to you to clean things up.
In each encounter, you'll be able to control a Rabbid's movement by either giving them instructions through a "mind-control device" or by placing sausages where they can see them. You'll have a list of instructions to choose from in a menu, and you can drag and drop them into the proper order to complete the current objective.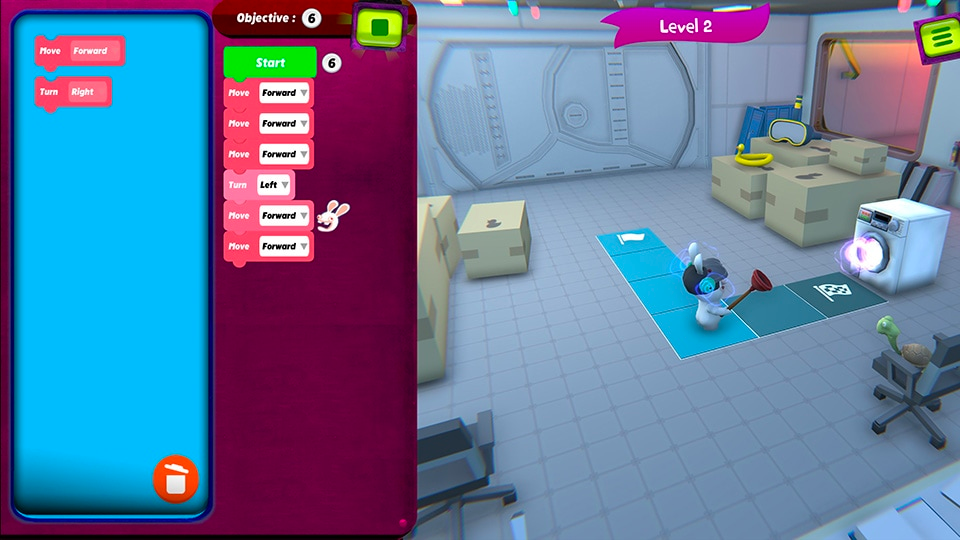 Players can test their instructions to see if everything was ordered properly, and if not, they can move instructions around to create the correct list of commands.
In a blog post on Ubisoft's website, Daniel O'Connor, corporate community manager at Ubisoft, said "Your goal in each level is to provide the simplest instructions possible to get the task done. Once you've proven yourself in the basics, a sandbox environment becomes available, allowing you to explore and play with the instructions to see what you can do."
O'Connor added, "If you're old enough to read, you're old enough to play Rabbids Coding."
This isn't the first time Ubisoft has released an educational product. For instance, two recent Assassin's Creed games (Origins and Odyssey), which are themselves rated M for Mature, contain separate Discovery Tour modes, which allow players to explore settings like Ancient Egypt and Ancient Greece and learn about those cultures with the traditional gameplay and rules (as well as the violent content) being stripped away.