Complete puzzles and training exercises inspired by the classic Rubik's Cube.
Professor Rubik's Brain Fitness is a "brain training" game from Microids, the same company behind the My Universe series of video games. The game challenges players to complete educational exercises with the goal of helping them improve their spatial recognition, memory, math skills, and more.
Professor Rubik's Brain Fitness is inspired by the popular Rubik's Cube toy. It offers two major gameplay modes: Training and Free Play.
Training allows you to complete a variety of exercises that feature either complete Rubik's Cubes or just individual squares from the toy, which are called Cubies. These exercises focus on different skills, such as memory, calculation, and concentration. Some will test your observational skills by asking you questions about the quantities and colors of Cubies on the screen, while others will add letters and numbers to the Cubies themselves.
For instance, the "Pair Compare" exercise places basic mathematical equations onto sets of Cubies, and asks you to find two equations that have the same solution, while the "Flash Compare" exercise will see colorful groups of Cubies fall into sections on the board, and you'll need to answer questions based on the quantity and colors of Cubies you see.
At the end of each exercise, your performance is graded based on your accuracy and the time it took you to complete each question/problem.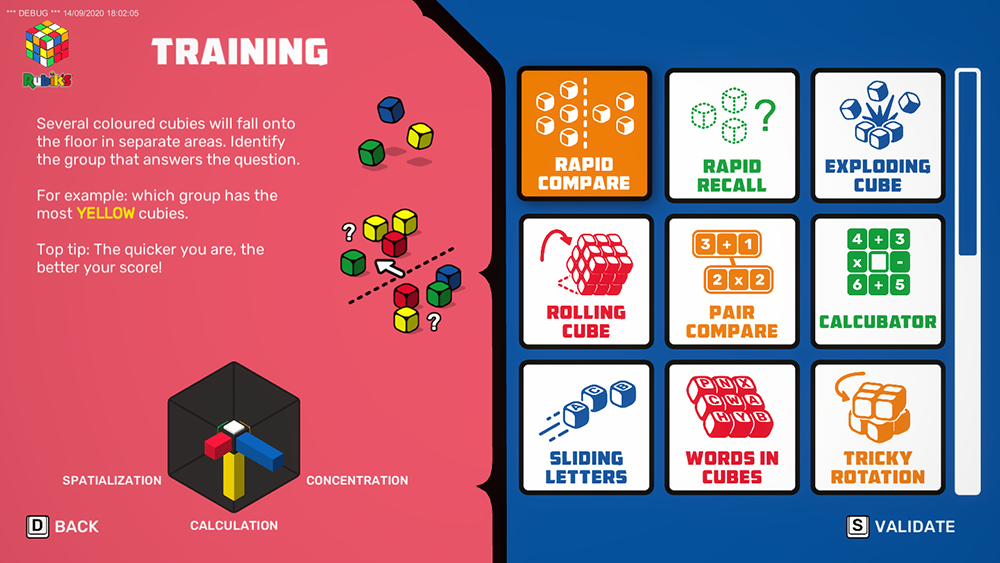 The Training mode also includes an Evaluation feature, which asks you to complete a series of training exercises chosen by the game, and then gives you an overall brain score, along with recommendations for exercises that you can complete to potentially improve your skills.
Outside of this Training mode, the Free Play mode allows you to play four different puzzle games. For instance, Cube 2048 is a Rubik's Cube-themed version of the puzzle game 2048, and it asks you to slide numbers across Cubies with the goal of combining matching numbers. When you slide two matching numbers together, they're added together (2+2 makes 4, 16+16 makes 32, and so on). You're challenged to earn as many points as possible before running out of space for new numbers on the Rubik's Cube.
These puzzle games can be played by a single person, or by two people in the same room via a "Duel" feature. The Free Play section also includes a Party Mode for two to four players.
Professor Rubik's Brain Fitness is now available on Switch, PlayStation 4, Xbox One, PC, and Mac. The game is rated E for Everyone by the ESRB. While the gameplay here is family friendly, the game isn't technically designed for kids. We would recommend this one more for teens and adults.
Check out some gameplay from Professor Rubik's Brain Fitness on Switch in our video below.
Disclosure: Microids gave SuperParent a code for Professor Rubik's Brain Fitness for coverage purposes.