The free mobile app will let kids capture Pokemon as a reward for brushing.
In a recent Pokemon video presentation, The Pokemon Company revealed Pokemon Smile, a free game on iOS and Android devices that was designed to make the act of brushing one's teeth more enjoyable (especially for kids).
The Pokemon Smile app was designed to be used by a child while an adult stands nearby. When you first open Pokemon Smile, your child can choose one of five different Pokemon who will accompany them on their journey to defeat bacteria as they brush their teeth: Pikachu, Eevee, Charmander, Bulbasaur, and Squirtle.
From there, the app will use your device's front-facing camera to "observe" your child as they brush their teeth. This helps the game keep track of whether kids are brushing their teeth correctly. While brushing, a diagram appears in the bottom-right corner of the screen, which tells kids which area they should brush next.
As kids brush their teeth, their chosen Pokemon will attack on-screen bacteria, which is represented by a purple covering on the game's teeth. By the time kids finish brushing (when the on-screen timer reaches zero), they may have discovered a wild Pokemon that was covered in the bacteria. Kids can toss a Poke Ball at the Pokemon to add the pocket monster to their in-game collection. For instance, the first time we played, we rescued and captured Pidgey. (The Pokemon Company said there are over 100 different Pokemon to collect in all.)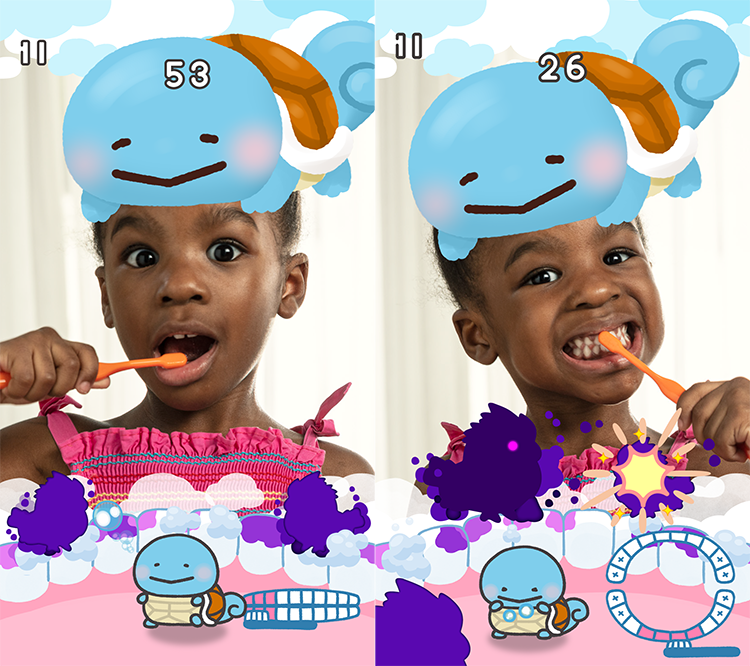 In addition, kids can unlock a variety of in-game stickers as they play. By default, the app will automatically take pictures of kids as they brush, which they can decorate with these stickers. You can stop the app from taking these pictures if you want.
When kids aren't brushing, the game allows them to use the device's front-facing camera to see what they look like while wearing a variety of Pokemon-themed hats (they'll unlock additional hats as they play).
Finally, parents can change the amount of time each brushing session lasts (one, two, or three minutes) and turn on notifications that will notify them up to three times each day when it's time to brush. Parents can also create separate profiles for each child in the family.
Pokemon Smile is available to download for free on iOS and Android devices. The app does not contain in-app purchases.