Go on a hunt for eggs!
A new update has been released for Pokemon Masters EX, which celebrates the arrival of Spring on Pasio.
This update will allow players to complete a new story event called "Pasio Eggsplorers," which follows Burgh and May as they participate in an egg hunt around Pasio. As part of this story event, players can collect Togepi-, Buneary, Torchic-, and Lucario-themed eggs, and then exchange them for rewards. This story event will be available until April 15 at 10:159 p.m. PT.
With this update, players can also add three new sync pairs to their collection: Spring-themed Burgh & Togepi, Spring-themed May & Lopunny, and Diantha & Gardevoir. All three of these pairs are available through the sync pair spotlight scout, which is the game's mystery box feature. That is, you won't know which sync pair(s) you'll receive before you spend premium currency on a spotlight scout, and there's no guarantee you'll receive one of these new pairs.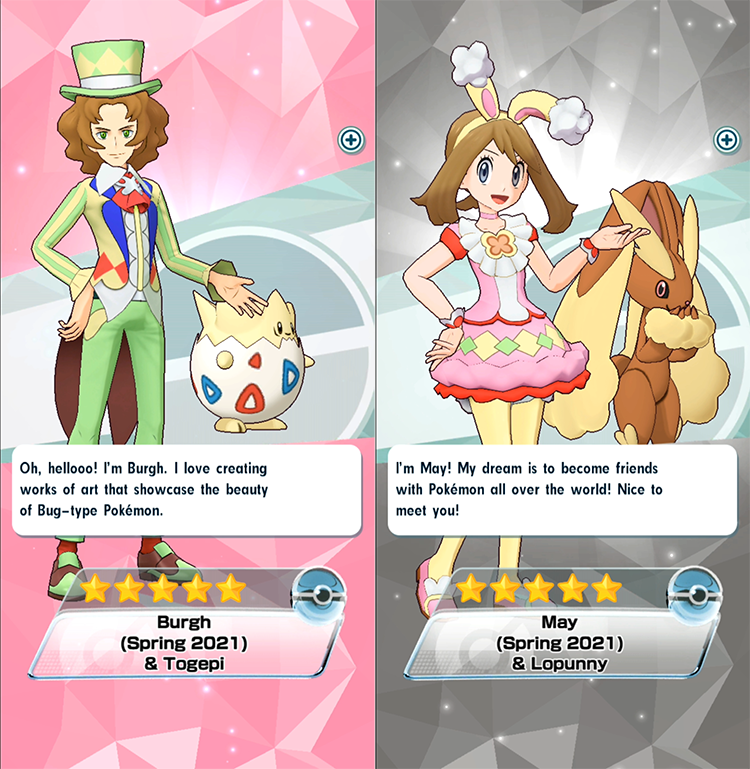 Burgh & Togepi and May & Lopunny will be available until April 15 at 10:59 p.m. PT, while Diantha & Gardevoir will be available until April 21 at 10:59 p.m. PT.
Elsewhere, this update brings Latias to the game's Legendary Arena. Players can battle against Latias until April 13 at 10:59 p.m. PT.
Finally, the game's Champion Stadium will soon allow players to take on the Unova Elite Four: Grimsley & Liepard, Marshal & Conkeldurr, Shauntal & Chandelure, and Caitlin & Reuniclus. When players defeat the Elite Four, they'll be able to take on either Iris & Hydreigon or Alder & Volcarona, depending on when they defeated the Elite Four. This version of the Champion Stadium will run from April 4 at 11 p.m. PT until May 2 at 10:59 p.m. PT.
Pokemon Masters EX is available to download for free on iOS and Android devices. To learn more about the game, check out our previous coverage.