The game is giving away 100 million Gems.
Pokemon Masters EX is celebrating the arrival of 2022 with new in-game content on iOS and Android devices.
To start, the game is hosting a giveaway of 100 million Gems, the game's premium currency. Players will be automatically entered into the giveaway if they login to the game between now and January 7 at 9:59 p.m. PT.
Once the entry period is complete, five players will win 60,000 Gems each, 30 players will win 12,000 Gems each, 100 players will win 6,000 Gems each, 1,000 players will win 3,000 Gems each, and every other player will receive between 300 and 1,000 Gems. Players will be able to claim their free Gems by logging into the game between January 12 at 10 p.m. PT and February 12 at 9:59 p.m. PT.
Elsewhere, the game's latest update allows players to collect two "New Year's 2022"-themed sync pairs: Volkner & Electivire and Sabrina & Chingling. These sync pairs are available through the Volkner and Sabrina Seasonal Scouts, which will be available until January 17 at 9:59 p.m. PT.
As a reminder, the game's "Scouts" are like mystery boxes, so you won't know which sync pair(s) you'll receive before spending premium currency. There's also no guarantee you'll receive these new, seasonal Sync Pairs, even if you try multiple times.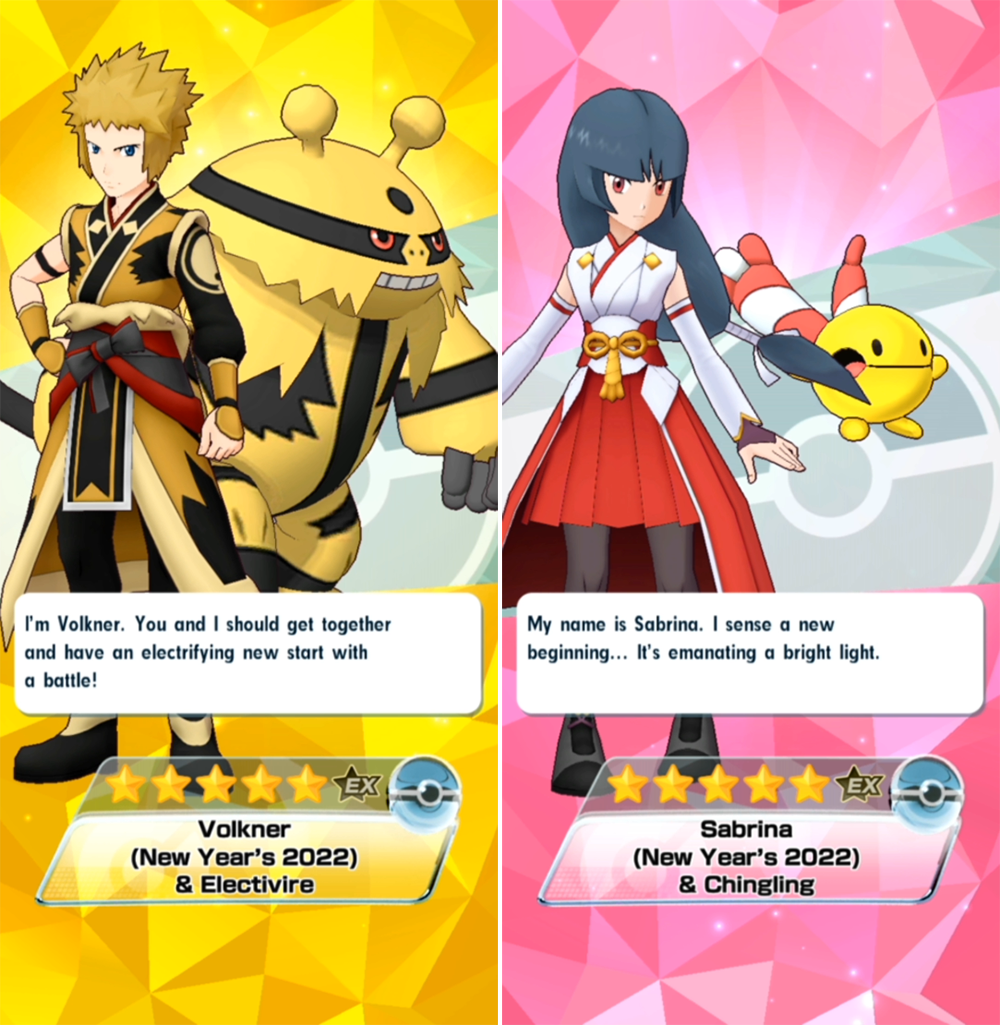 Next, players can complete a new Story Event called "New Year and New Friends," which will be available until January 17 at 9:59 p.m. PT. This event features New Year's-themed Volkner and Sabrina, who are participating in the New Year's Battle Tournament.
Lastly, players who login to the game before January 15 at 9:59 p.m. PT will receive a free prize of 3,000 Gems. Players can also earn another 7,000 Gems if they login to the game each day during this event.
In addition to adding New Year's-themed content to the game, the latest update for Pokemon Masters EX also added two more sync pairs for players to collect through the game's Spotlight Scouts: Sygna Suit Cynthia (Renegade) & Giratina and Sonia & Yamper.
Finally, a new Galactic Nightmare Villain Event Prelude is available from now until January 12 at 9:59 p.m. PT.
Pokemon Masters EX is available to download for free on iOS and Android devices. The game allows players to compete in three-vs-three battles using trainers and their partner Pokemon. You can learn more about the game in our SuperParent First Look.