A new event will allow players to influence the rewards the community will receive.
Pokemon Masters EX has received its latest update on mobile devices. This update introduces a new event for players to complete, and the actions players complete during the event will determine the rewards the entire community will receive.
The Special Event Phase 2: Land and Sea Awaken festivities will run from May 16 at 11 p.m. PT until May 27 at 10:59 p.m. PT. During this time, players can earn "weather survey tickets" that they can use to battle either Kyogre or Groudon.
Players will earn a "bonus reward" of Gems, Move Candies and 5Star Power-Ups once this event ends, with the specific number of rewards being determined by the number of battles the overall community completed during the event. Plus, players will receive a Team Magma or Team Aqua badge for their profile, depending on whether the overall community defeats Kyogre or Groudon more times during these festivities.
Finally, by participating in this event, trainers can earn rewards that can be exchanged for prizes like 5Star Power-Ups and co-op sync orbs. Players only need to login to Pokemon Masters EX once during this event period to receive the Team Magma or Team Aqua badge, as well as the bonus rewards.
Elsewhere, Pokemon Masters EX has two new sync pairs that players can add to their teams: Nessa & Drednaw and Bea & Sirfetch'd. Both sync pairs are available through the game's sync pair Spotlight Scout, which is the game's mystery box feature. They'll be available to collect until May 28 at 10:59 p.m. PT.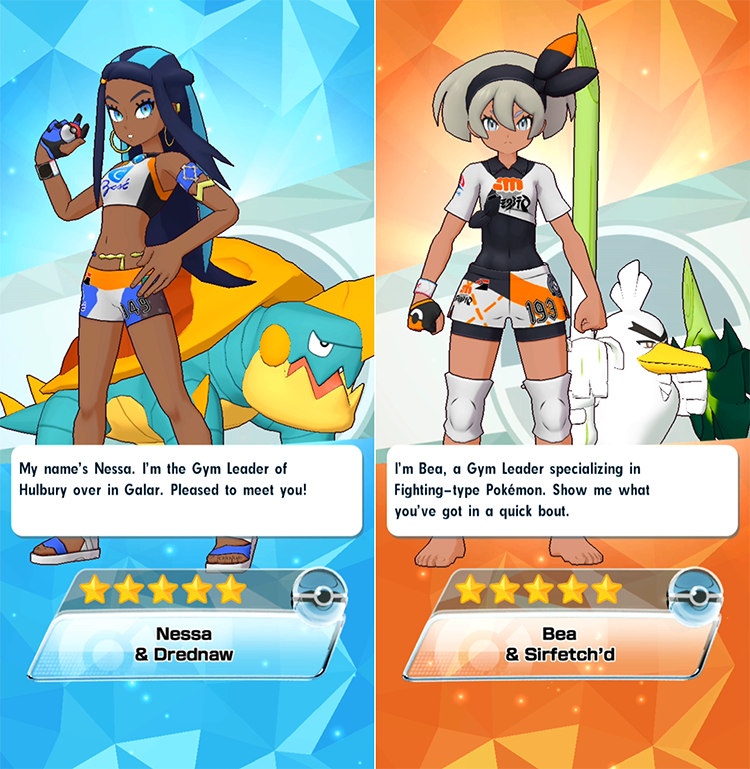 Lastly, a Splash and Punch solo event is available to complete from now until May 28 at 10:59 p.m. PT. This event features Nessa and Bea, who will compete in Pokemon battles against Misty and Maylene. As players complete battles during this event, they'll earn vouchers that they can exchange for prizes such as 5Star-Guaranteed Scout Tickets and Support Move Candy Coins.
Pokemon Masters EX is available to download for free on iOS and Android devices. It allows players to compete in three-vs-three Pokemon battles on the island of Pasio. Learn more about the game in our previous coverage.