Trainers will have the chance to collect Gigantamax Melmetal.
In early 2020, Pokemon Home launched on Switch, iOS, and Android devices, giving trainers a way to transfer their Pokemon between games (like Sword and Shield), as well as store their collection of pocket monsters safely in the cloud.
When Pokemon Home was first revealed back in 2019, we learned that the platform would eventually support Pokemon Go, though this functionality wasn't available at launch.
Now, in a video presentation Tuesday, we learned that Pokemon Go support will be added to Pokemon Home before the end of 2020.
With this update, trainers will be able to transfer Pokemon out of Pokemon Go and into Pokemon Home. From there, these pocket monsters can be moved into Pokemon Sword and Pokemon Shield. However, you won't be able to move any Pokemon out of Pokemon Home and into Pokemon Go — the connection only goes one way.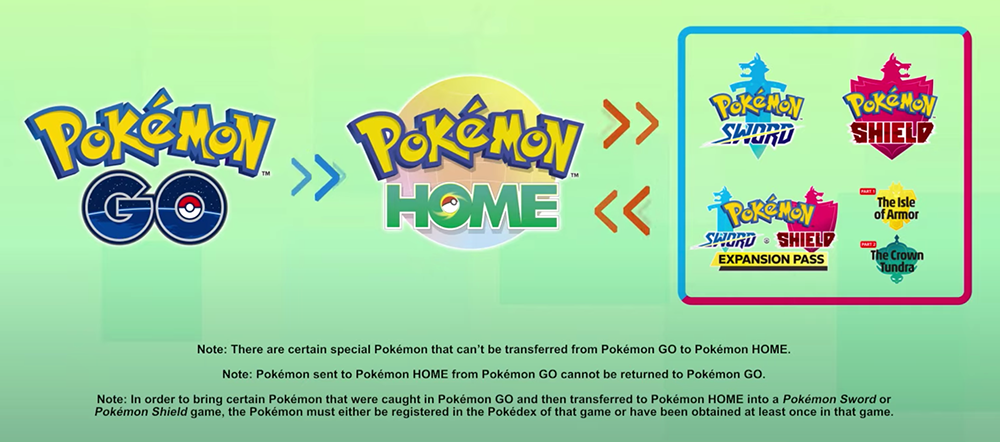 In addition, the video presentation said that certain Pokemon won't be eligible to transfer out of Pokemon Go at all, though it didn't specify which ones (we're guessing this may refer to Mythical Pokemon such as Victini and Mew).
There's also an additional limitation that will apparently only apply to "certain" pocket monsters: In order to transfer "certain" Pokemon from Pokemon Go into Home and then into Sword or Shield, you'll need to have already registered that Pokemon in your Pokedex in Sword or Shield, or have already obtained the Pokemon at least once in either game.
To put this another way, if you want to fill out your Pokedex in Sword or Shield by transferring in pocket monsters that you captured in Pokemon Go, you may not be able to do so (depending on the Pokemon). We'll make sure to bring you more information about these particular limitations as we learn more.
When you transfer a Pokemon out of Pokemon Go into Pokemon Home, you'll be able to open the "Mystery Box" in Pokemon Go, which causes Meltan to temporarily appear in the wild in the mobile game. Currently, the only way trainers can open the Mystery Box is to transfer a Pokemon from Pokemon Go into Pokemon: Let's Go, Pikachu or Eevee.
Finally, when you first transfer a Pokemon out of Go and into Home, you'll be able to collect a Mystery Gift in the mobile version of Pokemon Home that contains a Melmetal (the evolved version of Meltan) that has the ability to Gigantamax.
While we don't have a specific release date for this new Pokemon Go support in Pokemon Home, The Pokemon Company and Nintendo said the update will be released before the end of 2020. Keep checking back with SuperParent, as we'll make sure to bring you more details as they're revealed.
Are you excited about this new update for Pokemon Home? Let us know on Twitter at @superparenthq.