Starting soon, players will be able to interact with their Buddy Pokemon in new ways.
Niantic, the developer of Pokemon Go, revealed an exciting new feature coming to the free-to-play mobile game: Buddy Adventure.
The Buddy Adventure feature will be a total upgrade to the game's existing Buddy system, which lets you set a Pokemon as your Buddy in order to earn Pokemon Candy for that species by walking.
With this new feature, you'll be able to rise through different friendship ranks, or Buddy Levels, with your Buddy Pokemon by interacting with them. For instance, you can feed them Berries and play with them in the game's augmented reality (AR) camera mode.
Once you reach the first Buddy Level with your Buddy Pokemon, it will be able to walk behind your avatar on the in-game map.
There are four Buddy Levels to reach in total, and reaching each one unlocks different abilities or in-game bonuses.
Niantic broke down the four levels in a blog post:
"Good Buddy: Your buddy can join you on your map view! You'll also see how your buddy feels on the buddy profile page.
Great Buddy: Having a hard time catching a Pokémon? Your buddy may help you out in Pokémon encounters! It can also bring you items that can help you in your Pokémon GO journey.
Ultra Buddy: Your buddy will help you explore the world around you by letting you know about interesting places nearby! Your buddy will also bring you Souvenirs, which you can keep track of on the buddy profile page.
Best Buddy: Become Best Buddies, and your buddy will sport a Best Buddy Ribbon to show off to everyone just how close you two are! Pokémon that you're Best Buddies with can get a CP boost in combat as long as they're still assigned as your Buddy Pokémon."
To rise through the ranks, you'll need to earn "affection" with your buddy, which is represented by hearts. These hearts can be earned in a variety of ways, such as by walking together with your Buddy, battling with them, taking a picture of them, playing with them, and so on.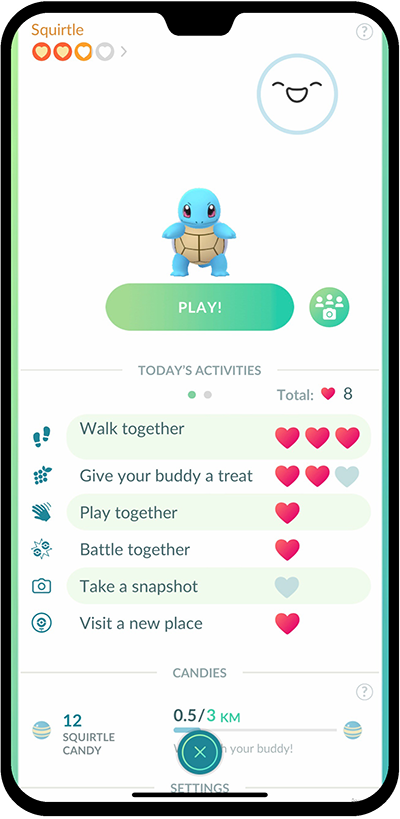 As you earn more affection with your Buddy, its mood will increase. Once it reaches the "excited" level, which is the highest mood, you'll only need to walk half the normal required distance with that Buddy to earn Pokemon Candy. Plus, you'll earn double the amount of hearts for each in-game action. You'll be able to view all of the available tasks and information about your Buddy Pokemon on the new Buddy profile page.
Once this update launches, you'll still be able to switch between Buddy Pokemon whenever you want, but you'll no longer lose your walking progress toward your next Pokemon Candy when you switch.
While Niantic didn't announce a specific release date for the Buddy Adventure feature, it did say it "will roll out to Trainers around the world by 2020."
Finally, at some point after the Buddy Adventure feature goes live in the game, a "Shared AR Experience" mode will be added to Pokemon Go that will allow up to three trainers to take a group photo of their Buddies through the game's AR+ camera.
Are you excited about this new Buddy Adventure feature? Let us know in the comments, or tweet us at @superparenthq.