The long wait is finally over!
Update (6/15/18): A previous version of this post said there were only four friendship levels, rather than five. We've updated our article with the correct information.
After almost two years of waiting, Pokemon Go will finally receive its promised trading feature, letting players trade pocket monsters with their friends nearby.
Pokemon trading is part of a larger social update that will begin rolling out to players this week. There's a lot going on here, so let's break it down.
Everything in this social update revolves around a new Friends List feature. Each player will receive a unique Trainer Code that can be shared with others. When someone enters your Trainer Code in their Pokemon Go app, they can send you a friend request. When you accept, you'll become in-game friends, and can start sending each other in-game gifts.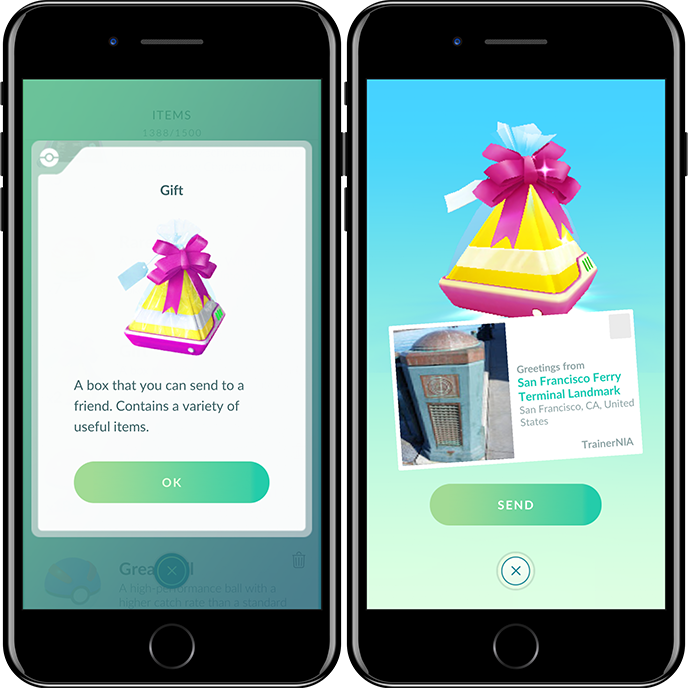 "Gifts" can be earned by spinning the Photo Disc at nearby PokeStops and Gyms. Players can't open these gift boxes themselves; instead, they'll be able to send them to their in-game friends. Gift boxes contain a variety of in-game items, and they may even include a special Pokemon Egg that contains an Alolan (tropical) form of a Pokemon originally seen in the Pokemon Sun and Pokemon Moon video games.
Players who want to trade Pokemon with friends will need to be at least level 10 in Pokemon Go, and be in the same location as the user they want to trade with. Each trade costs Stardust, the game's free currency, to complete, and users will earn free Pokemon Candy as part of a trade.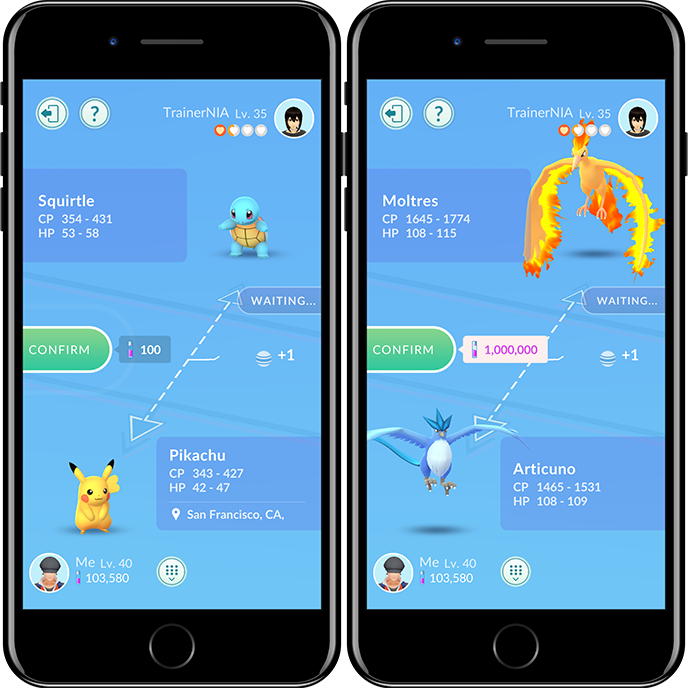 Before you get too excited, trading special Pokemon, like Legendary or shiny creatures, as well as those the recipient has never captured, will be a bit more complicated. These "Special Trades" can only be done once per day, and they'll typically require way more Stardust to pull off. Plus, Special Trades can only be done by users who have a "Great" or "Best" friendship level.
Wait, what are friendship levels? Each time you make a new in-game friend in Pokemon Go, you'll start out with a "Friend" friendship level. As you send gifts to a friend, participate in Raid or Gym battles with that player, or trade Pokemon with them, your friendship level will increase. There are five levels in all: Friend, Good Friend, Great Friend, Ultra Friend, and Best Friend.
As an extra bonus, the Stardust required to trade Pokemon with someone at a higher friendship level will be discounted. In addition, when you participate in a Gym or Raid battle with someone at a higher friendship level, your Pokemon will receive an Attack bonus in that encounter.
So, that's it! Now you're ready to tackle this new feature players have been waiting so long for.
Are your kiddos excited to start trading Pokemon with their friends? Let us know in the comments, or tweet us at @superparenthq.