This nine-part quest line will only be available for a limited time.
Trainers, the first part of Pokemon Go's Throwback Challenge event is now live!
From now until May 8 at 1 p.m. local time, you can complete a nine-part series of Special Research tasks that are focused on the Kanto region of the Pokemon universe. (For a complete look at everything that's going on during the Kanto-themed week, check out our previous coverage).
We're here with a guide to these Kanto Special Research tasks, so you'll know what to expect going in.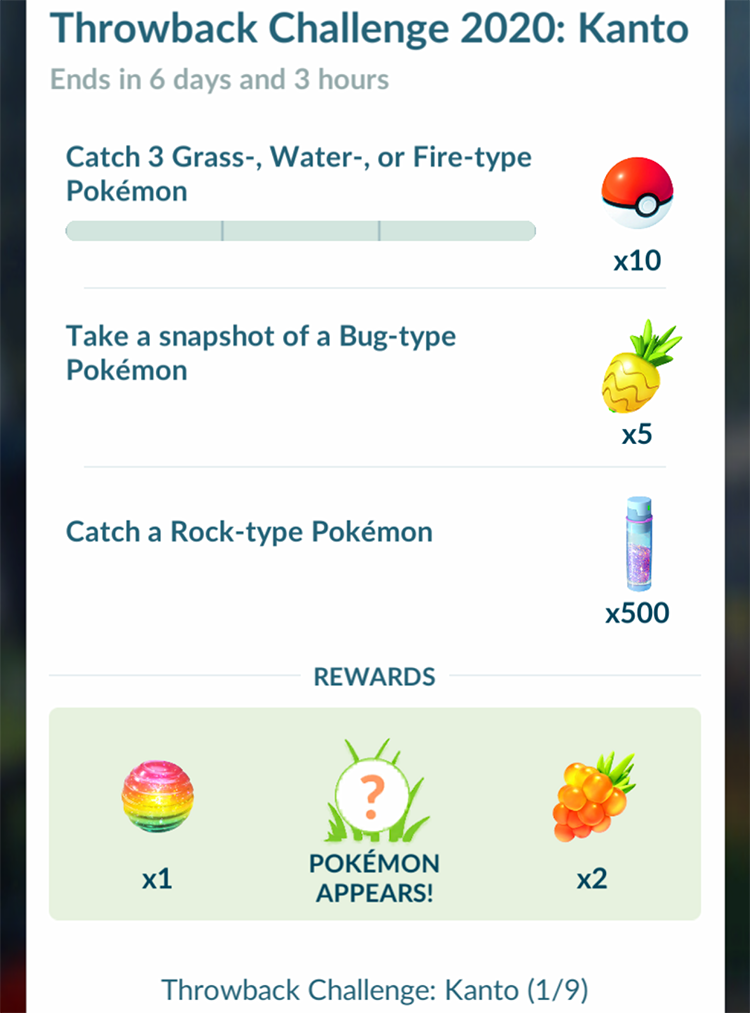 Throwback Challenge: Kanto Part 1
Catch 3 Grass-, Water-, or Fire-type Pokemon
Take a Snapshot of a Bug-type Pokemon
Catch a Rock-Type Pokemon
Rewards: 10 Poke Balls for completing the first task, 5 Pinap Berries for completing the second task, and 500 Stardust for completing the third task; 1 Rare Candy, 2 Golden Razz Berries, and an encounter with Onix when all three tasks are completed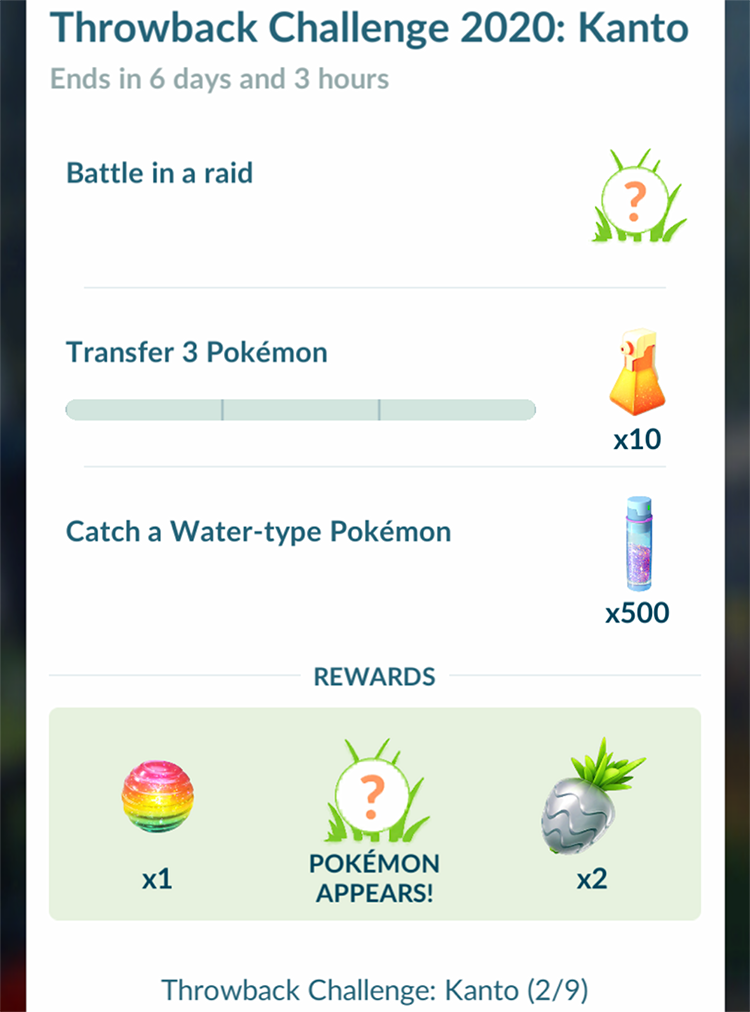 Throwback Challenge: Kanto Part 2
Battle in a Raid
Transfer 3 Pokemon
Catch a Water-Type Pokemon
Rewards: An encounter with Clefairy for completing the first task, 10 Super Potions for completing the second task, and 500 Stardust for completing the third task; 1 Rare Candy, 2 Silver Pinap Berries, and an encounter with Starmie when all three tasks are completed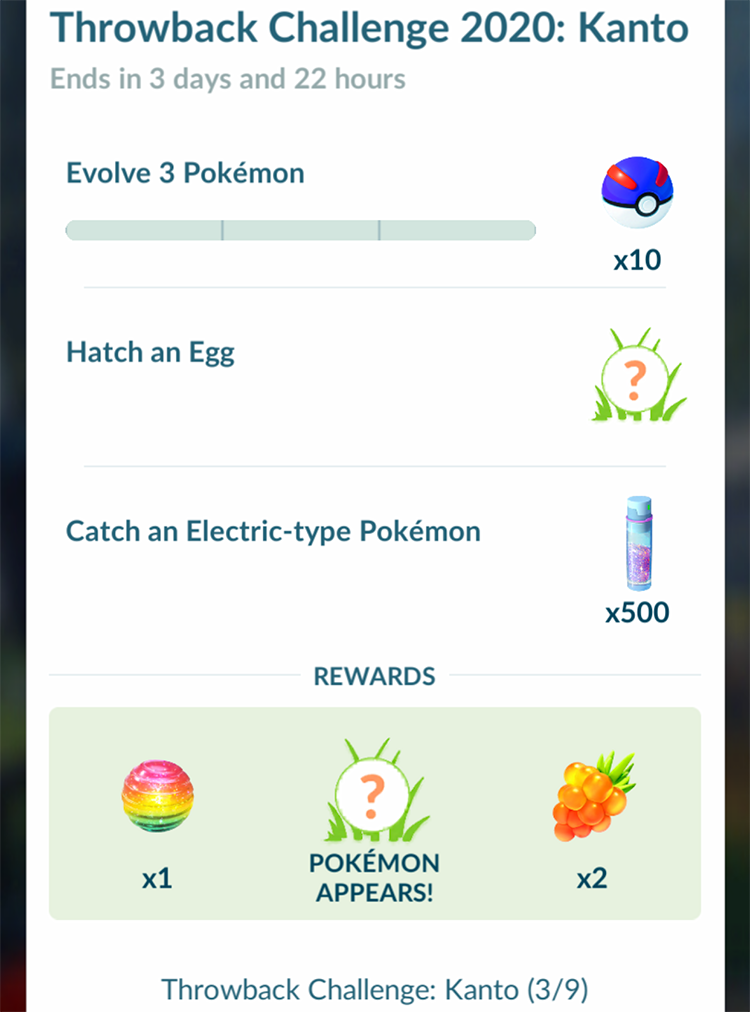 Throwback Challenge: Kanto Part 3
Evolve 3 Pokemon
Hatch an Egg
Catch an Electric-Type Pokemon
Rewards: 10 Great Balls for completing the first task, an encounter with Snorlax for completing the second task, and 500 Stardust for completing the third task; 1 Rare Candy, 2 Golden Razz Berries, and an encounter with Raichu when all three tasks are completed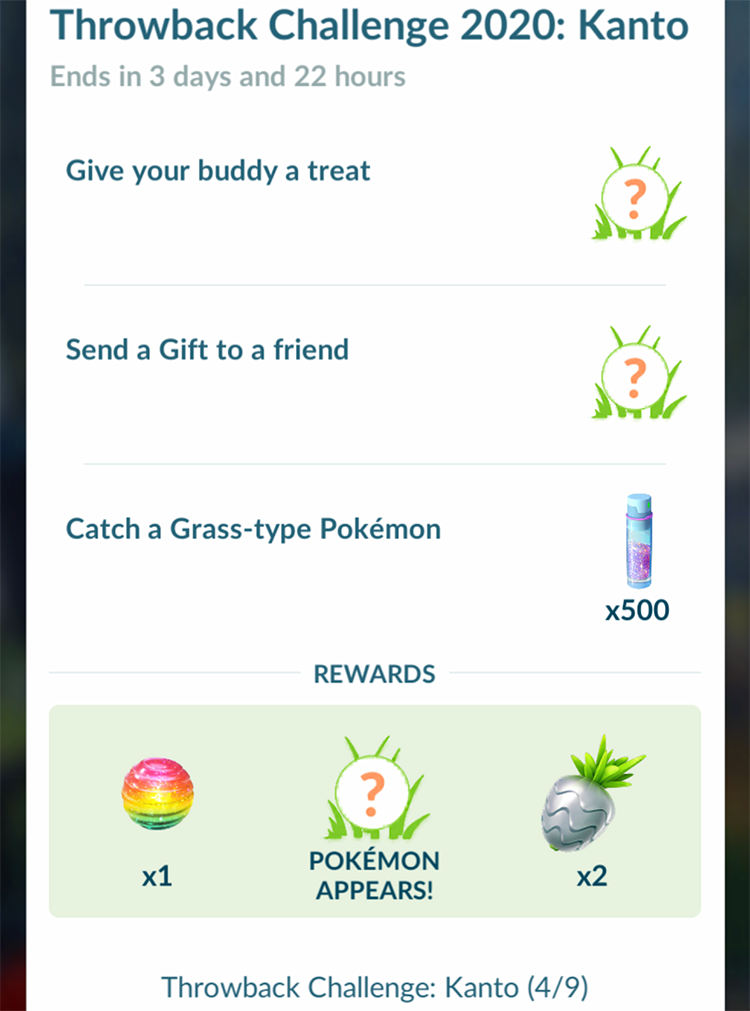 Throwback Challenge: Kanto Part 4
Give Your Buddy a Treat
Send a Gift to a Friend
Catch a Grass-Type Pokemon
Rewards: An encounter with Gastly for completing the first task, an encounter with Dratini for completing the second task, and 500 Stardust for completing the third task; 1 Rare Candy, 2 Silver Pinap Berries, and an encounter with Tangela when all three tasks are completed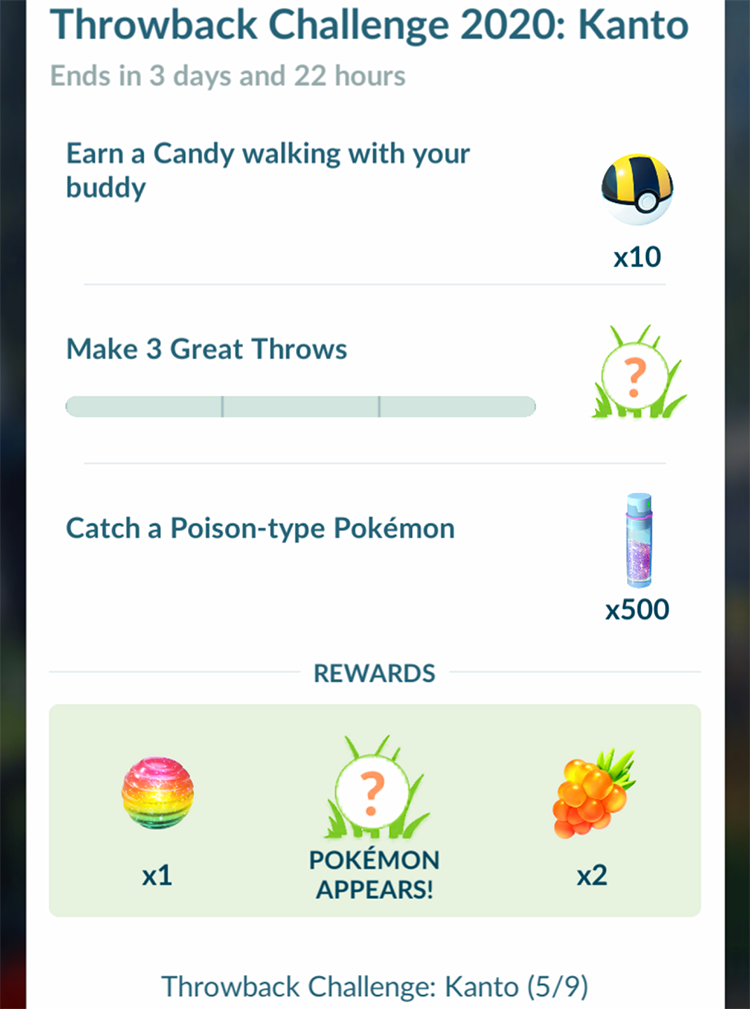 Throwback Challenge: Kanto Part 5
Earn a Candy Walking With Your Buddy
Make 3 Great Throws
Catch a Poison-Type Pokemon
Rewards: 10 Ultra Balls for completing the first task, an encounter with Chansey for completing the second task, and 500 Stardust for completing the third task; 1 Rare Candy, 2 Golden Razz Berries, and an encounter with Weezing when all three tasks are completed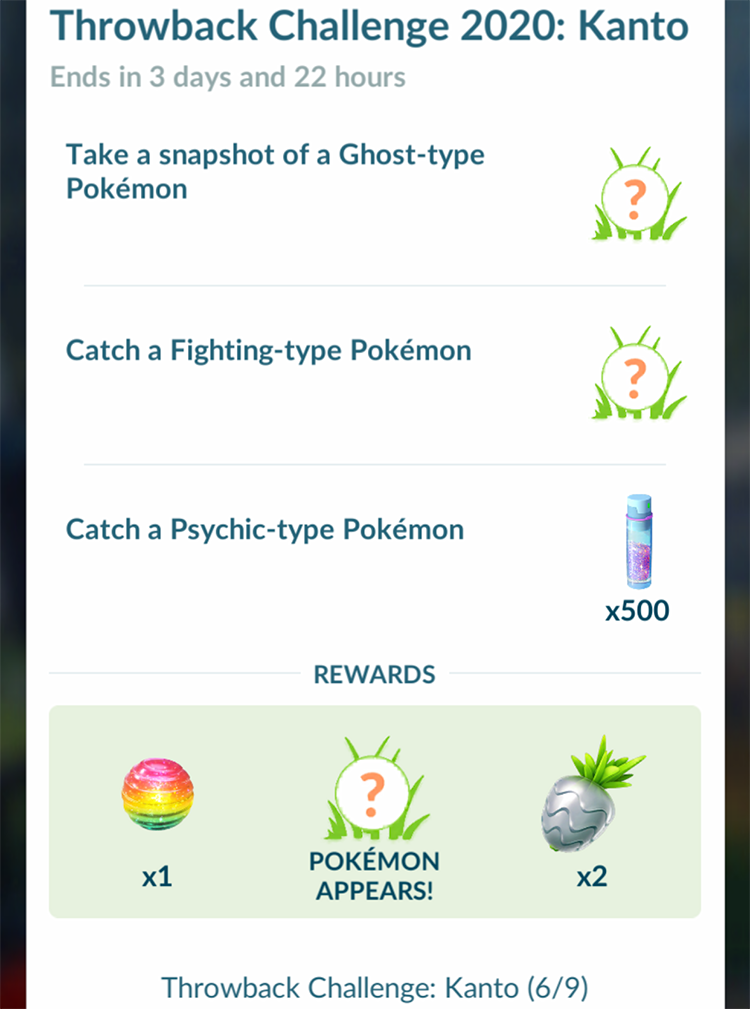 Throwback Challenge: Kanto Part 6
Take a Snapshot of a Ghost-Type Pokemon
Catch a Fighting-Type Pokemon
Catch a Psychic-Type Pokemon
Rewards: An encounter with Hitmonchan for completing the first task, an encounter with Lapras for completing the second task, and 500 Stardust for completing the third task; 1 Rare Candy, 2 Silver Pinap Berries, and an encounter with Alakazam when all three tasks are completed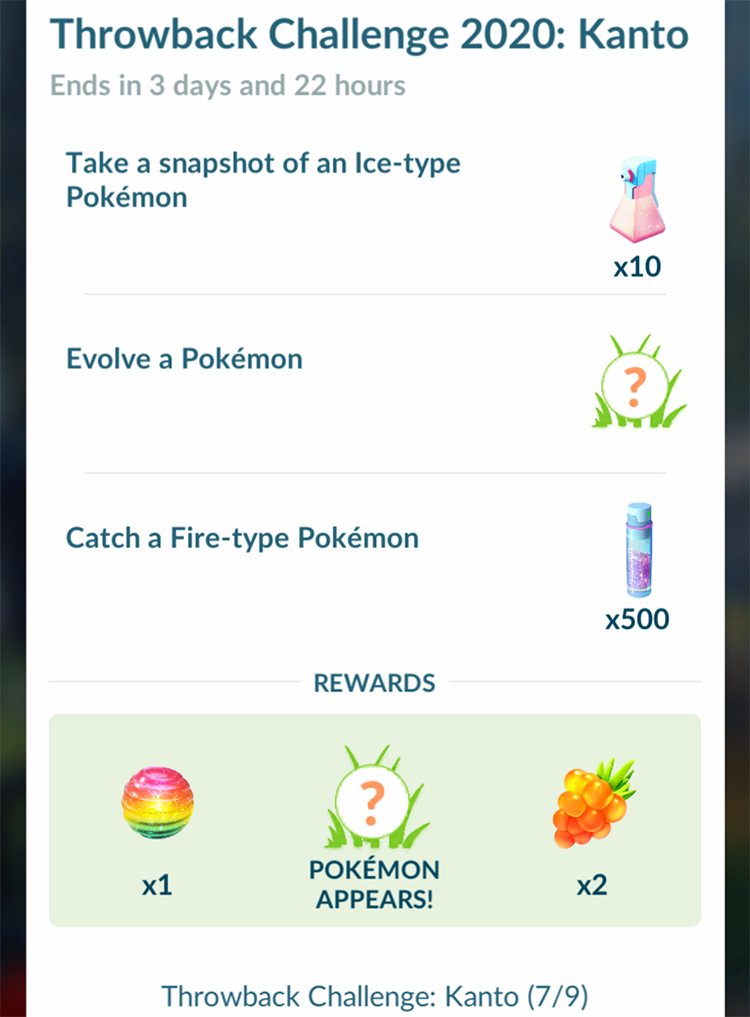 Throwback Challenge: Kanto Part 7
Take a Snapshot of an Ice-Type Pokemon
Evolve a Pokemon
Catch a Fire-Type Pokemon
Rewards: 10 Hyper Potions for completing the first task, an encounter with Aerodactyl for completing the second task, and 500 Stardust for completing the third task; 1 Rare Candy, 2 Golden Razz Berries, and an encounter with Arcanine when all three tasks are completed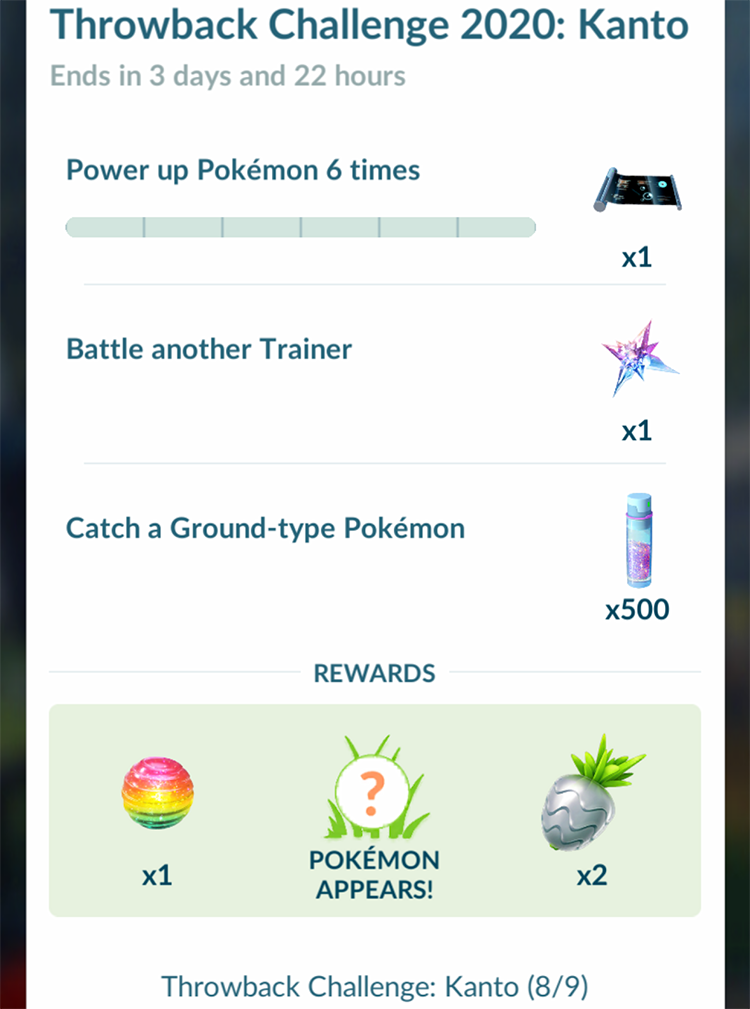 Throwback Challenge: Kanto Part 8
Power Up Pokemon 6 Times
Battle Another Trainer
Catch a Ground-Type Pokemon
Rewards: 1 Fast TM for completing the first task, 1 Star Piece for completing the second task, and 500 Stardust for completing the third task; 1 Rare Candy, 2 Silver Pinap Berries, and an encounter with Nidoking when all three tasks are completed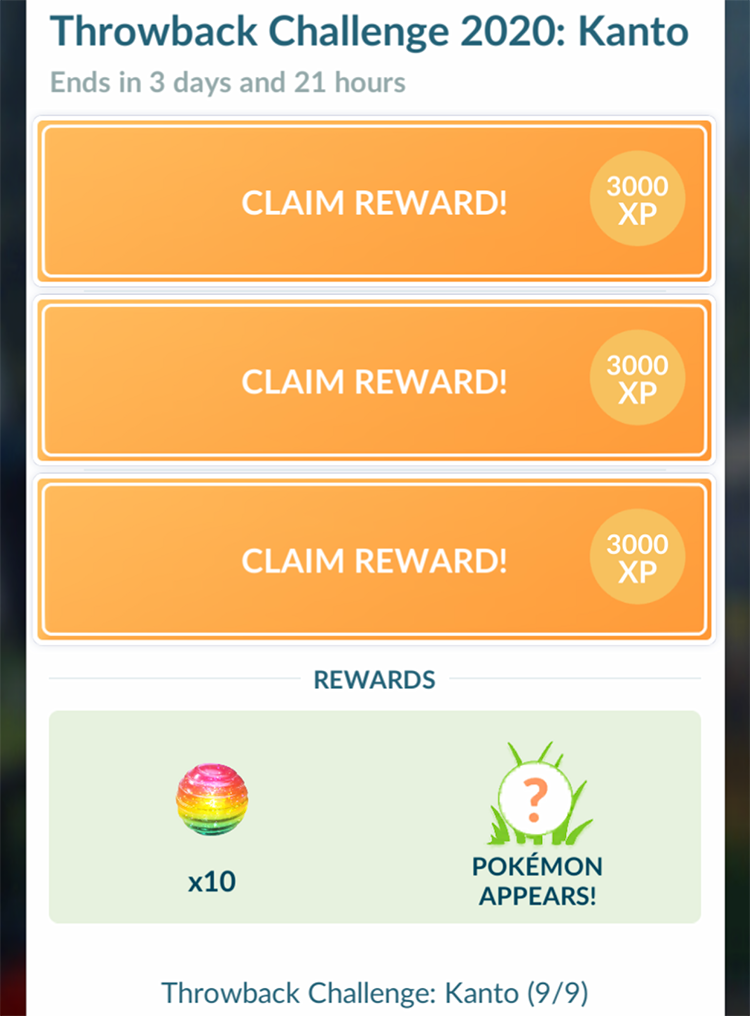 Throwback Challenge: Kanto Part 9
Three Automatically Completed Tasks
Rewards: 3,000 experience points for turning in each task (9,000 experience points in total); 10 Rare Candy and an encounter with a Mewtwo that knows Psystrike when all three tasks are turned in