Collect nine Pokemon to receive useful rewards!
Trainers, the 2021 Sinnoh Celebration Event has begun in Pokemon Go!
This limited time event will run from January 12 at 10 a.m. local time until January 17 at 8 p.m. local time. It will give players the chance to encounter lots of different Pokemon from the Sinnoh region of the Pokemon universe, which will appear in the wild, in Raids, and more! (Learn more about this event in our previous coverage.)
As part of the Sinnoh Celebration, players can complete a new Sinnoh Collection Challenge in order to earn some fun rewards.
This Collection Challenge asks players to collect nine Pokemon before the Sinnoh Celebration event ends. Here's the full list:
Turtwig
Chimchar
Piplup
Buizel
Combee
Shadow Stunky
Shadow Snover
Cranidos
Shieldon
You can keep track of the Pokemon you need to capture, as well as those you've already collected, by going to the "Today View" menu in Pokemon Go.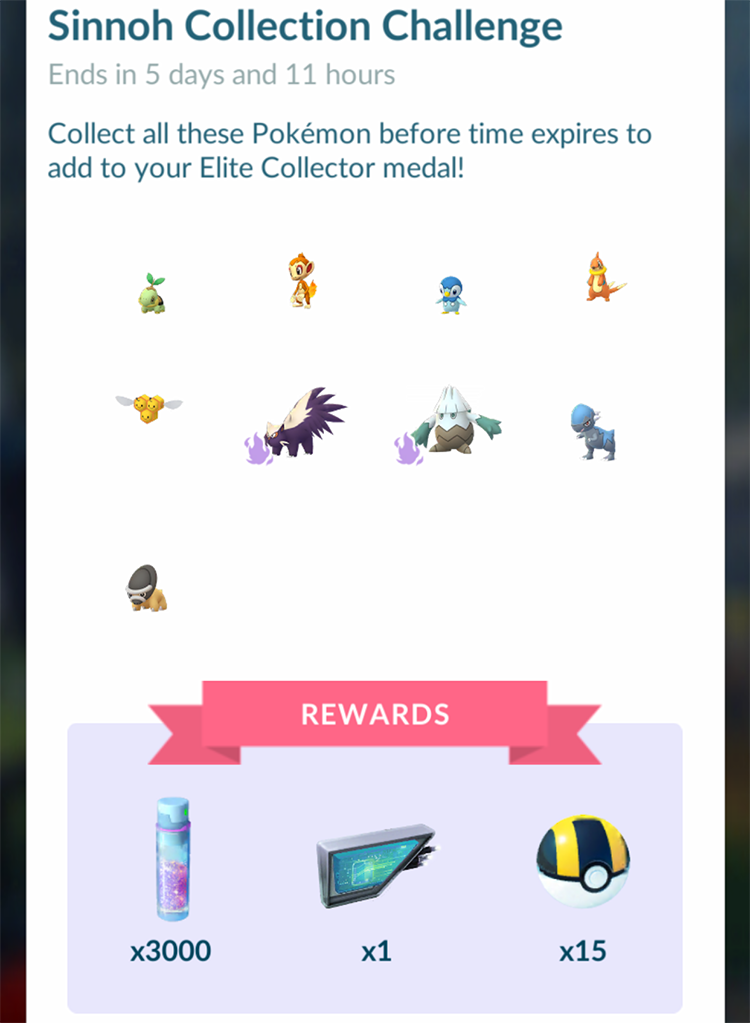 If you can collect all nine Pokemon before the Sinnoh event ends, you'll receive 3,000 Stardust, 15 Ultra Balls, and a Magnetic Lure Module. You'll also earn a point for your "Elite Collector" medal.
Keep in mind, you must collect "new" versions of these Pokemon during the Sinnoh event to complete this challenge. That is, if you already have these Pokemon in your collection, they won't count toward completing the Challenge. Traded Pokemon also won't count (we tried it). This means you'll need to capture these Pokemon on your own during this limited time event.
To learn more about the Collection Challenge feature in Pokemon Go, check out our previous coverage.