Getting to level 50 will take some serious work.
Trainers, the Go Beyond update for Pokemon Go is set to change the free-to-play mobile game in some serious ways. Not only will the update add new Pokemon to collect from the Kalos region of the Pokemon universe, but it will also introduce a new Seasons system to the game and allow trainers to reach a higher maximum level: Level 50! (Learn more about the Go Beyond update in our previous coverage.)
Here's everything you need to know about this level cap increase in Pokemon Go!
The Go Beyond update will launch the week of November 30. At that time, Pokemon Go's maximum level will be increased from 40 to 50.
To reach Levels 41-50, players will need to earn experience points as well as complete new "Level-Up Research" tasks for each level. For instance, one task may require players to complete 100 Field Research tasks, while another may challenge them to make 50 "Excellent" throws. There's no time limit for completing these tasks, but you won't be able to reach the next in-game level without completing them, even if you've already earned the required number of experience points for your current level.
Speaking of experience points, if you're one of the many trainers who has already earned far more experience points than Level 40 required, you won't lose those points with this update. Those experience points will simply be added to your overall total.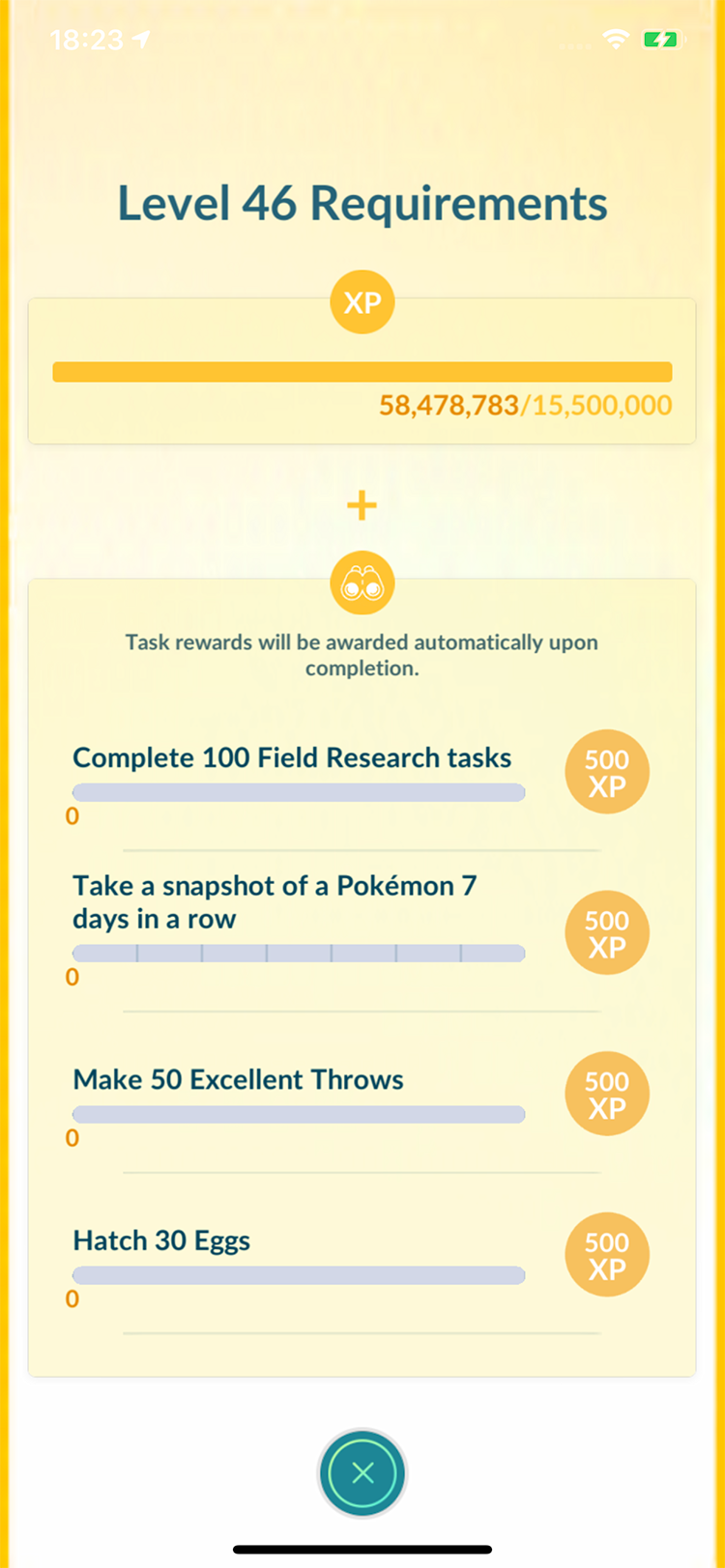 For instance, if you've already reached Level 40, and you've since earned 10 million experience points that have "gone to waste," those experience points will automatically be added to your progress bar for reaching Level 41 and beyond (you can see an example of this in the screenshot above).
In addition to increasing the game's level cap, the Go Beyond update will also increase the number of experience points players earn when catching and evolving Pokemon, hatching Eggs, registering new Pokemon in the Pokedex, and more.
Plus, a new type of Pokemon Candy called Candy XL is also being introduced with this update. You can use this Candy XL to power-up your Pokemon to a higher maximum CP. You'll be able to collect Candy XL by completing in-game tasks (such as catching Pokemon), and you'll also be able to convert your regular Pokemon Candy into Candy XL. Niantic, the developer of Pokemon Go, said it will reveal more details about Candy XL in the future.
Finally, to help players reach Level 40 (and beyond) faster, players will earn two times the normal amount of experience points when capturing Pokemon from November 18 to December 31.
All players who reach Level 40 before December 31 at 11:59 p.m. local time will receive a Legacy 40 Medal for their account, as well as access to special Timed Research tasks that will reward them with an exclusive Gyarados Hat for their avatar.
While this update won't go live for everyone until the week of November 30, in a news post, Niantic announced it will begin testing these leveling changes with "[a] portion of level 40 Trainers in Australia" starting on November 18. Players in the test who reach Level 41 before the test ends will be asked to complete a survey to provide their feedback about the changes.
To learn more about this testing process, head over to the Pokemon Go website.
What do you think about these leveling changes in Pokemon Go? Let us know on Twitter at @superparenthq.