Complete new tasks to receive some fun in-game rewards.
As part of Pokemon Go's third birthday celebration, from June 28 at 4 p.m. ET to September 2 at 4 p.m. ET, players can complete a series of "Jump-Start Research" tasks, which are broken into six different parts.
Here's a look at what these tasks ask you to do, and the rewards you'll receive for completing them.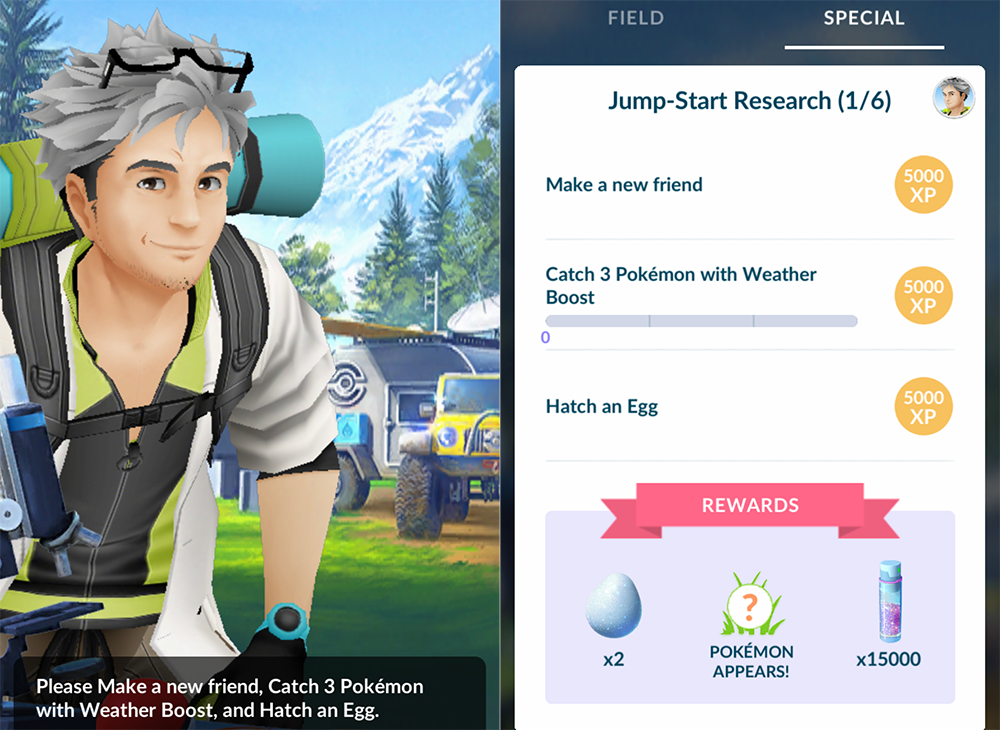 Jump-Start Research Part 1
Make a new friend
Catch 3 Pokemon with Weather Boost
Hatch an Egg
Rewards: 5,000 experience points for each completed task; 2 Lucky Eggs, 15,000 Stardust, and an encounter with Dratini when all three tasks are finished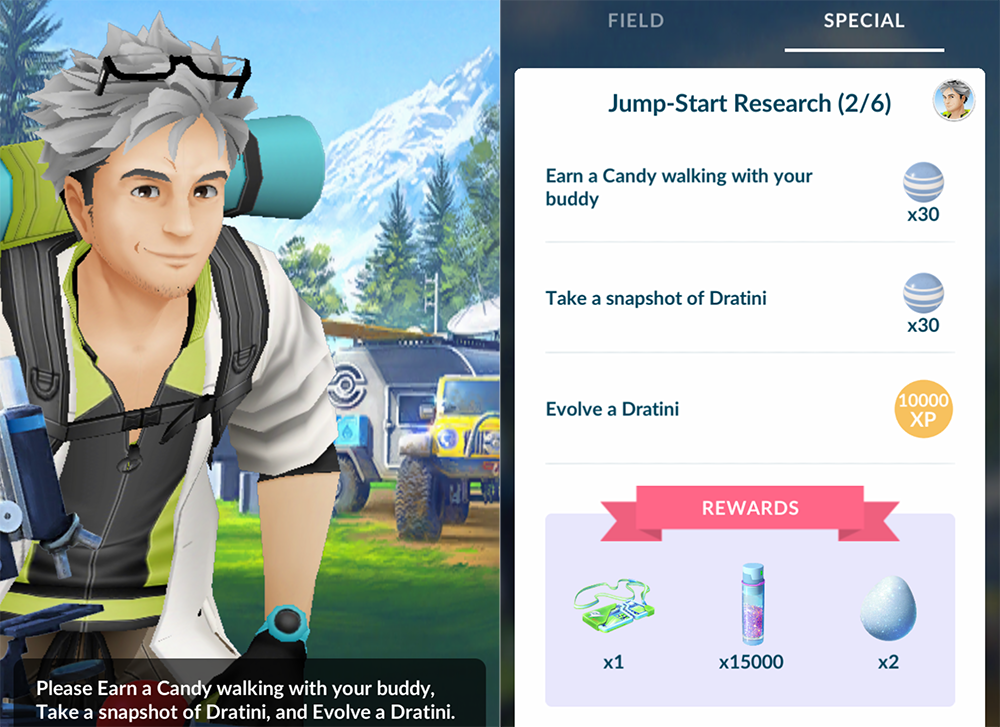 Jump-Start Research Part 2
Earn a Candy walking with your Buddy
Take a snapshot of Dratini
Evolve a Dratini
Rewards: 30 Dratini Candy for completing the first and second tasks (60 Candy total) and 10,000 experience points for completing the third task; 1 Premium Raid Pass, 15,000 Stardust, and 2 Lucky Eggs when all three tasks are finished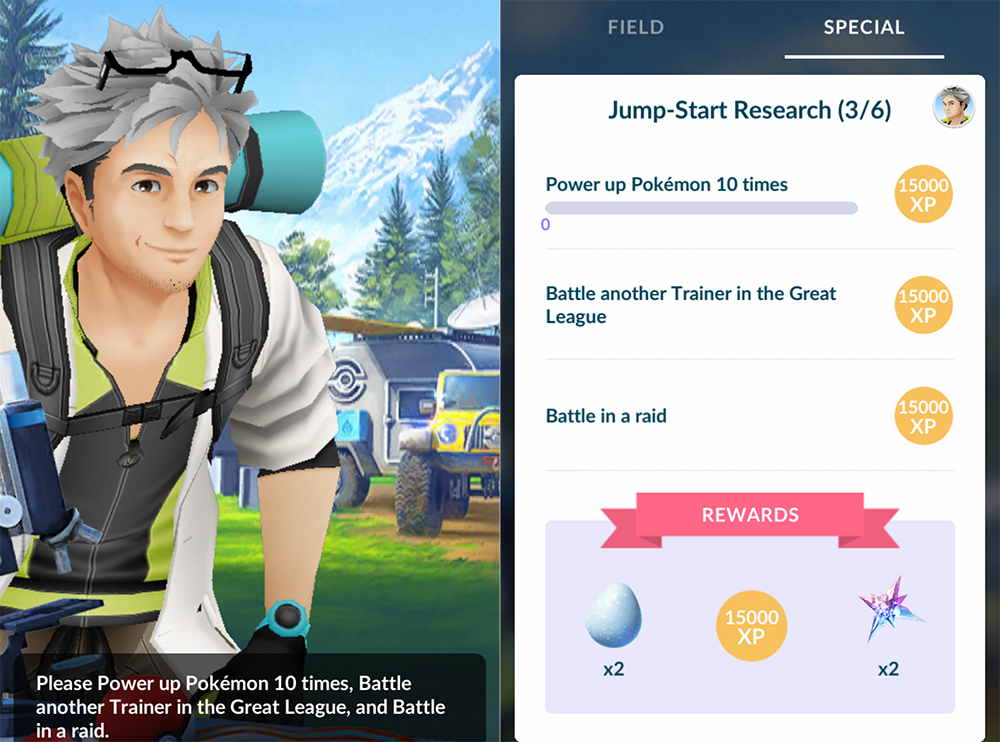 Jump-Start Research Part 3
Power up Pokemon 10 times
Battle another Trainer in the Great League
Battle in a Raid
Rewards: 15,000 experience points for each completed task; 2 Lucky Eggs, 15,000 experience points, and 2 Star Pieces when all three tasks are finished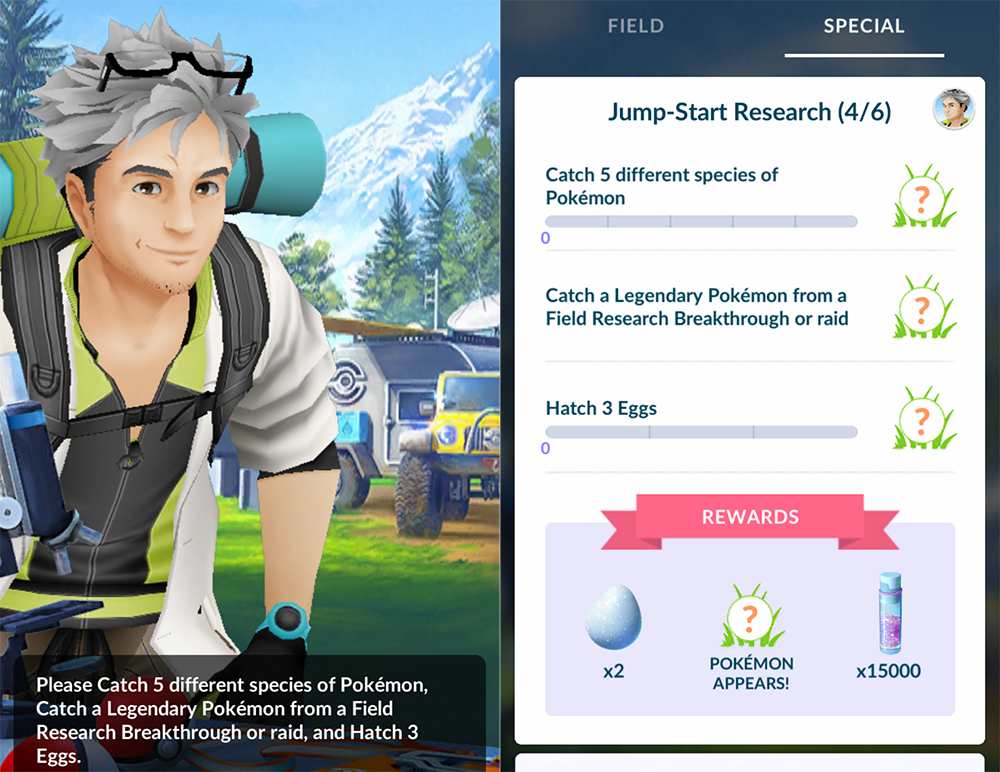 Jump-Start Research Part 4
Catch 5 Different Species of Pokemon
Catch a Legendary Pokemon from a Field Research Breakthrough or Raid
Hatch 3 Eggs
Rewards: An encounter with Chimchar for completing the first task, an encounter with Piplup for completing the second task, and, as reported by Pokemon Go Hub, an encounter with Turtwig for completing the third task; 2 Lucky Eggs, 15,000 Stardust, and an encounter with a Shiny Eevee when all three tasks are finished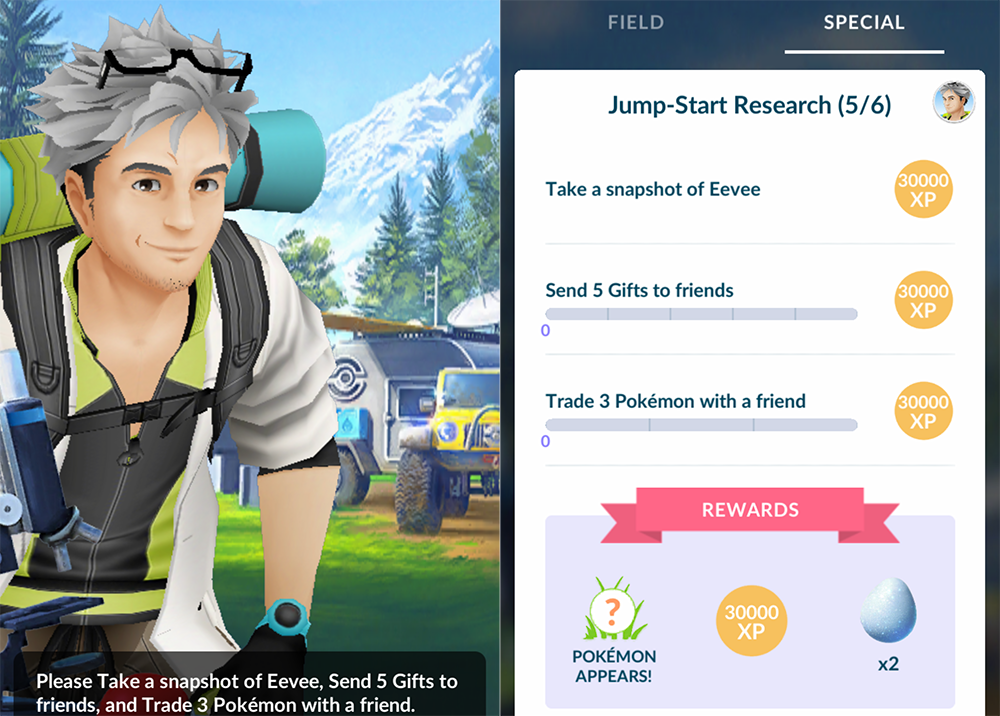 Jump-Start Research Part 5
Tap a Snapshot of Eevee
Send 5 Gifts to Friends
Trade 3 Pokemon with a Friend
Rewards: 30,000 experience points for each completed task; 30,000 experience points, 2 Lucky Eggs, and an encounter with Lapras when all three tasks are finished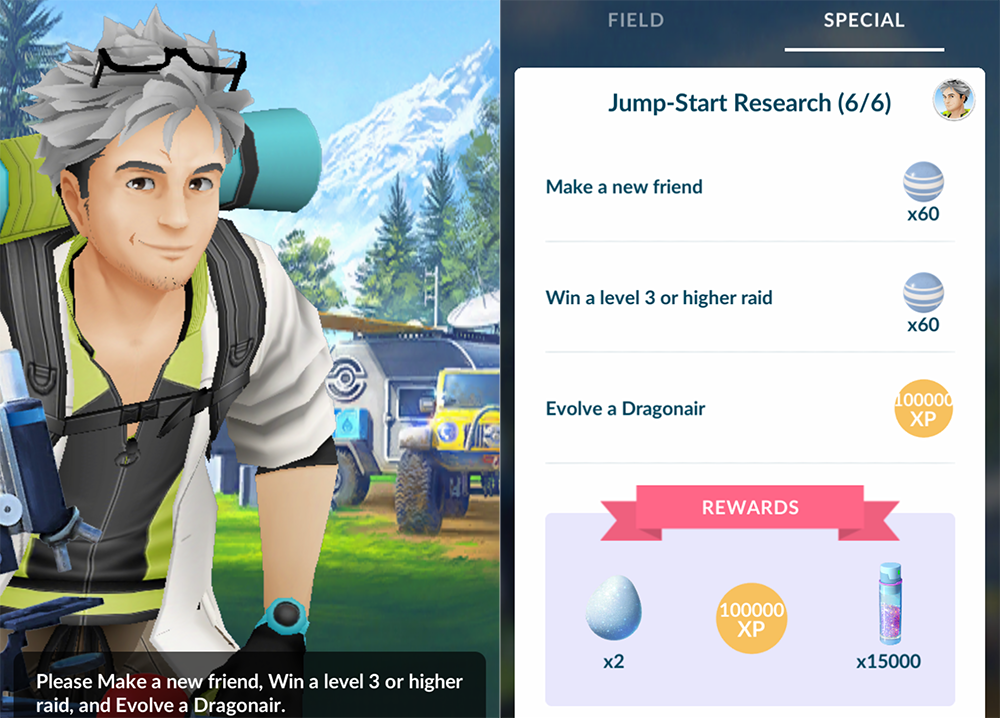 Jump-Start Research Part 6
Make a New Friend
Win a Level 3 or Higher Raid
Evolve a Dragonair
Rewards: 30 Dratini Candy for completing the first and second tasks (60 Candy total) and 100,000 experience points for completing the third task; 2 Lucky Eggs, 100,000 experience points, and 15,000 Stardust when all three tasks are finished