Here's your chance to earn another point for your Elite Collector medal.
The 2021 Johto Celebration event has officially begun in Pokemon Go!
From January 26 at 10 a.m. local time until January 31 at 8 p.m. local time, Pokemon from the Johto region of the Pokemon universe will appear more frequently in the wild, in Raids, and more. (To see everything that's going on during this event, check out our previous coverage.)
As part of this Johto Celebration event, players can complete a Johto Collection Challenge by collecting nine Pokemon:
Chikorita
Cyndoquil
Totodile
Smeargle

Sudowoodo

Murkrow

Sunkern

Miltank

Larvitar
If players can collect all nine of these Pokemon before the Johto Celebration ends, they'll receive 15 Poke Balls, 10 Ultra Balls, an Incense, and a point for their Elite Collector medal. You can keep track of the Pokemon you still need to collect by opening the game's "Today" menu.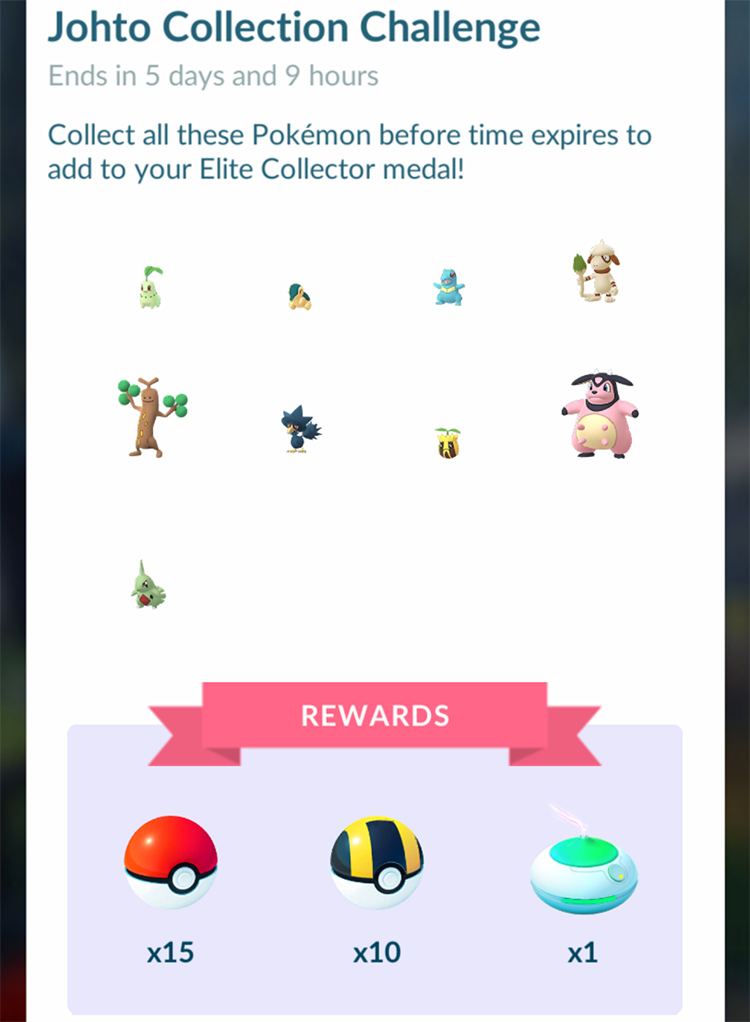 According to The Silph Road subreddit, every Pokemon in this challenge except for Smeargle can be found in the wild. To collect Smeargle, you'll need to take pictures of Pokemon using the game's Go Snapshot feature until Smeargle appears as a photobomb. To learn more about catching Smeargle, check out our guide.
Finally, keep in mind that even if you already have these Pokemon in your collection, they won't count toward this Collection Challenge. This means you'll need to collect "new" Pokemon during this event in order to complete the Challenge.
What do you think about this Johto Collection Challenge in Pokemon Go? Let us know on Twitter at @superparenthq.

Brandy Berthelson has been writing about video games and technology since 2006, with her work appearing on sites including AOL Games, Digital Spy, and Adweek. When she's not gaming, Brandy enjoys crafting, baking, and traveling with her husband.