You'll need to fulfill a certain requirement first.
While many Pokemon in Pokemon Go can be evolved by simply collecting the required number of Pokemon Candy, there are a number of pocket monsters that have unique evolution requirements. For instance, you can only evolve Magneton into Magnezone when you're near a PokeStop with an active Magnetic Lure Module.
Another one of these unique Pokemon is Swirlix, a Fairy-type Pokemon from the sixth generation of the Pokemon universe.
Here's how to evolve Swirlix into Slurpuff in Pokemon Go!
When you tap on Swirlix in your Pokemon inventory, you'll see the text "Adventure together to evolve" under the Pokemon's Evolve button. When you tap the down arrow next to this text, you'll see the requirement "Give your buddy 25 treats." You'll need to complete this task before you can evolve Swirlix into Slurpuff.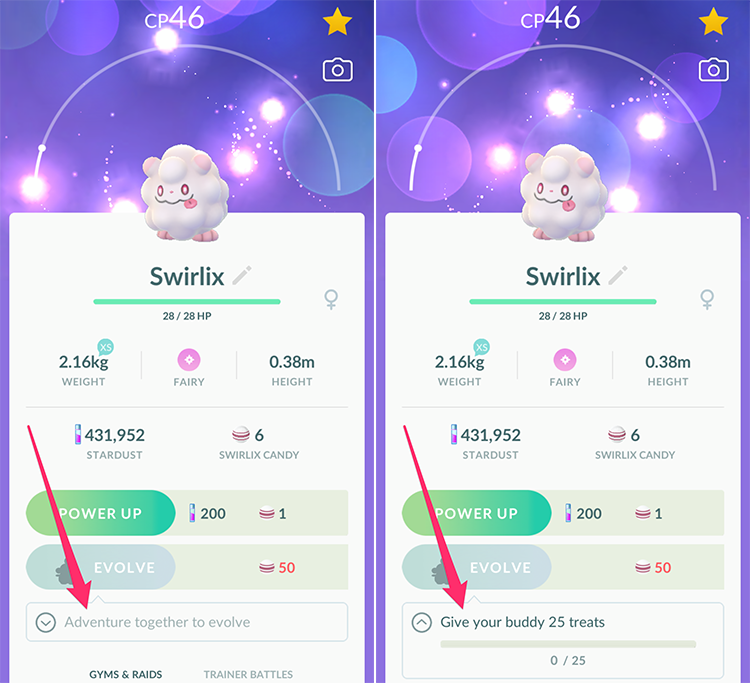 To finish this task, you'll need to make Swirlix your Buddy Pokemon and then feed it 25 Berries. Once you feed Swirlix three Berries, it will show up on your in-game map. Even though Swirlix is already on the map, you can keep feeding the Pokemon Berries until you've given it 25. That is, you don't have to wait for Swirlix to leave the map before feeding it again. It also doesn't matter which Berries you feed Swirlix.
Once you've fed Swirlix 25 Berries, you can return to the Pokemon's screen to see that the task has been fulfilled. From there, you can evolve Swirlix into Slurpuff using 50 Swirlix Candy.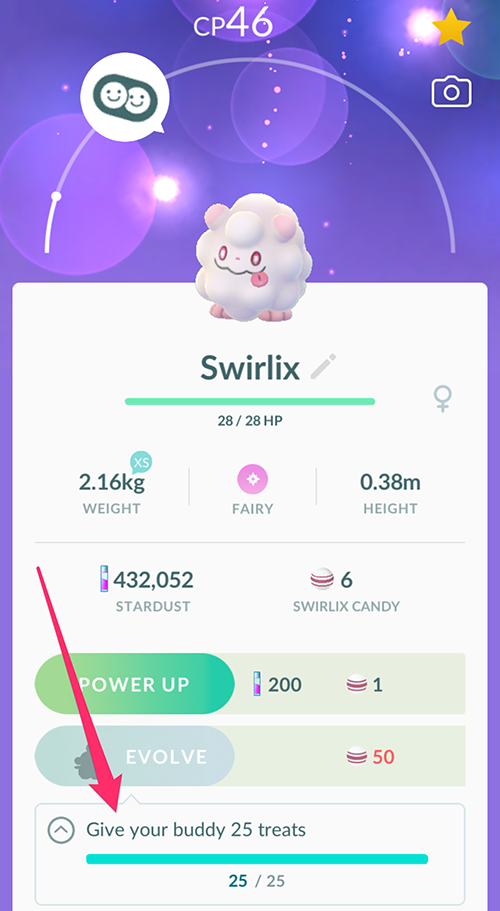 Keep in mind, this evolution requirement will need to be fulfilled separately for every Swirlix you want to evolve. That is, each time you want to evolve a Swirlix, you'll need to make it your Buddy and feed it 25 treats.
To learn more about Pokemon Go, or to view the rest of our guides for the game, check out our previous coverage.