Everything you need to know!
The Festival of Colors event has kicked off in Pokemon Go! This event will run from March 15, 2022 at 10 a.m. local time until March 20, 2022 at 8 p.m. local time. (You can learn more about the Festival of Colors event in our previous coverage.)
During the Festival of Colors event, players can complete a Collection Challenge in order to earn experience points, Stardust, and a Pokemon encounter!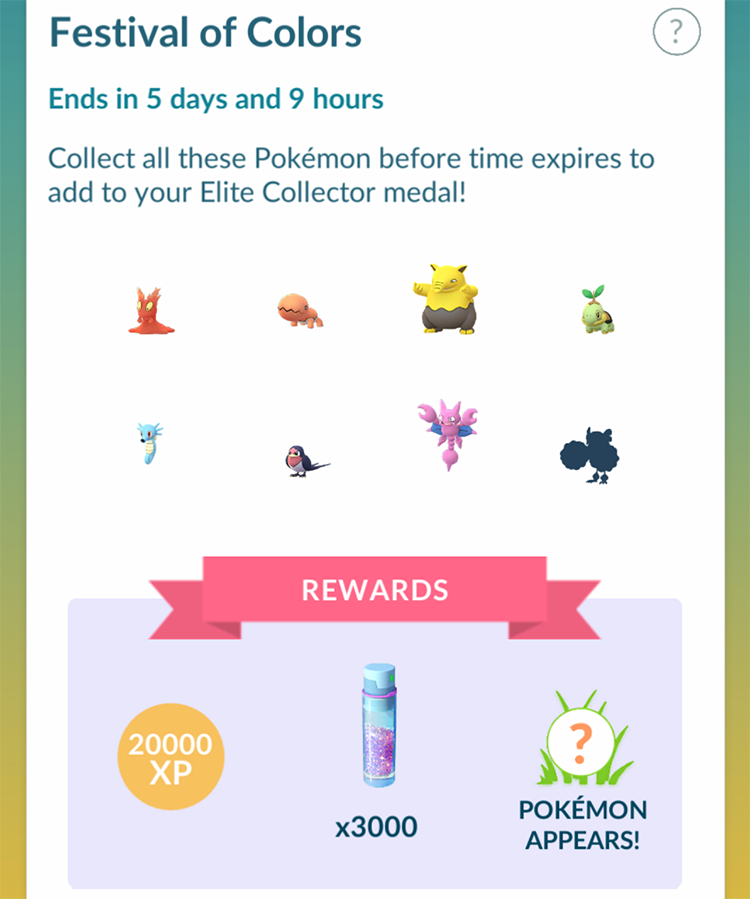 The Festival of Colors Collection Challenge asks players to collect eight Pokemon:
Slugma
Trapinch
Drowzee
Turtwig
Horsea
Taillow
Gligar
Oricorio
All of these Pokemon will have the chance to appear in the wild during the Festival of Colors event. Keep in mind, Oricorio has four different forms, and each form will be available to capture in different parts of the world. That means the menu you see for the Collection Challenge event in Pokemon Go may look slightly different than the menu in our screenshot, depending on the form of Oricorio that's available to capture in your area.
Here are Oricorio's four different forms, and where they can be found:
Baile Style Oricorio – Europe, the Middle East, and Africa
Pom-Pom Style Oricorio – Americas
Pa'u Style Oricorio – African, Asian, Pacific, and Caribbean Islands
Sensu Style Oricorio – Asia-Pacific
If players can complete this Collection Challenge before time runs out, they'll receive 20,000 experience points, 3,000 Stardust, and an encounter with Oricorio. They'll also earn a point for their Elite Collector medal.
To learn more about Pokemon Go, or to view the rest of our guides for the game, check out our previous coverage.
Have you completed this Collection Challenge in Pokemon Go? Let us know on Twitter at @superparenthq.