Here's everything we know so far about this year's virtual event!
In late May, we learned that this year's Pokemon Go Fest would be a virtual event that everyone around the world will be able to participate in, regardless of where they live. Now, tickets for the event are on sale!
Here's everything we know about this year's two-day event so far.
Pokemon Go Fest 2020 will take place on July 25 and July 26, 2020. A ticket to the event costs $14.99, and it will give you access to both days of Pokemon Go Fest. If you want to buy a ticket, you can now do so in the in-game Shop. However, tickets can not be purchased with PokeCoins. If you purchase a ticket, you'll receive an in-game medal before the event begins.
Day 1 of Pokemon Go Fest will run from 10 a.m. to 8 p.m. local time on July 25. During Day 1, ticket holders will be able to encounter over 75 different species of Pokemon in the wild, in Raids, and as reward encounters for completing Special Research tasks. These Pokemon will be part of five different "habitats" that will rotate each hour of the day.
These five habitats will be themed after Fire, Water, Grass, Battle, and Friendship. In a news post, Niantic, the developer of Pokemon Go, said each habitat "will feature special Pokémon that go along with that habitat's theme."
Since Day 1 of Pokemon Go Fest will run for 10 hours, each habitat will appear two different times on that day.
Also on Day 1, ticket holders will be able to work together with other players around the world to complete special timed challenges as part of a Global Challenge Arena. Each hour during Day 1, a different challenge will be available to complete. For instance, a challenge may ask players to send a large number of Gifts before the hour ends.
If players successfully complete a challenge, they'll unlock an in-game bonus that will remain active for the rest of the hour. This means that the faster the community completes a challenge, the more time its bonus will remain active before the next challenge starts.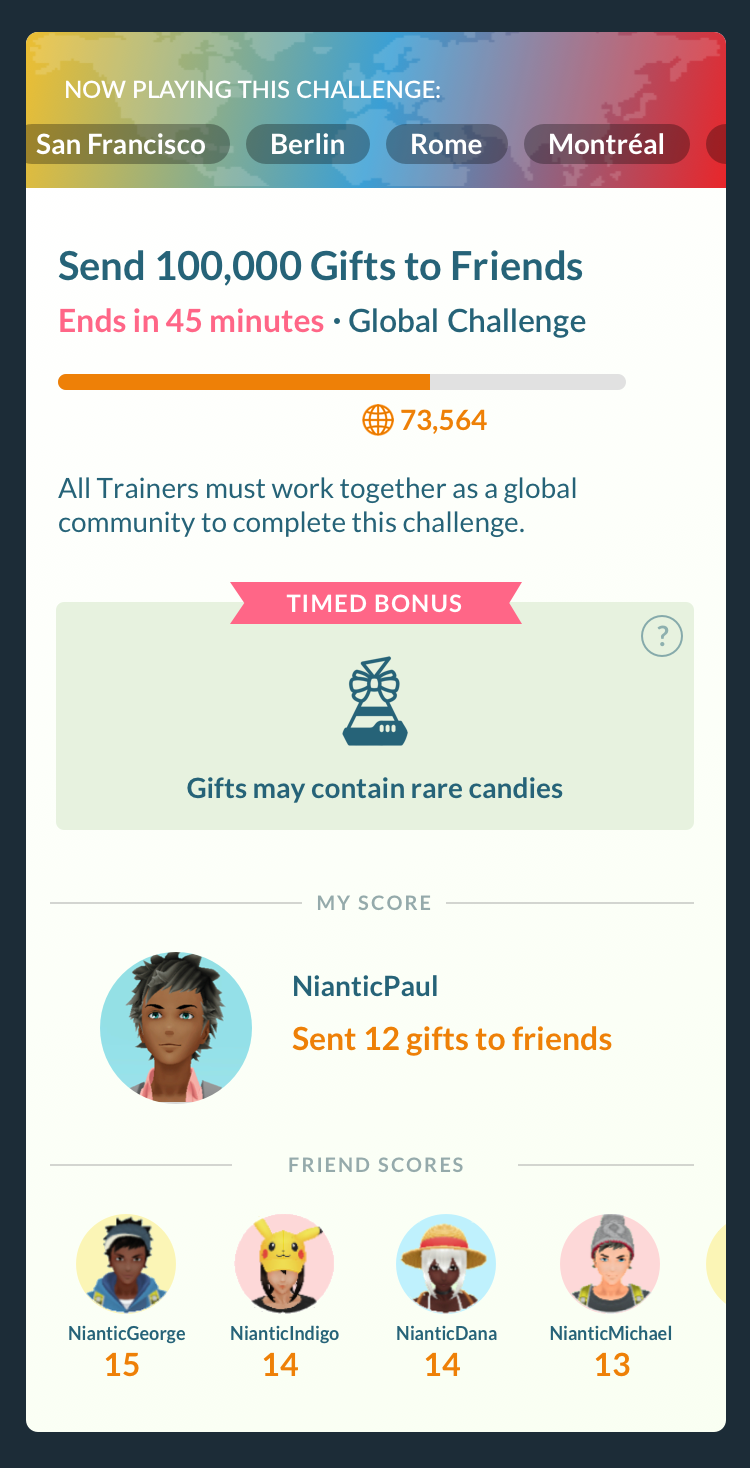 On July 26, Day 2 of Pokemon Go Fest will run from 10 a.m. to 8 p.m. local time. Niantic hasn't revealed many details about Day 2, as the developer said it wants "the Day 2 experience to be a surprise." However, we do know that ticket holders will receive a second Special Research story to complete on Day 2.
In addition, while ticket holders will need to login to Pokemon Go on July 25 and July 26 to claim each day's Special Research story, Niantic said you will be able to complete these stories at any time, even after the event ends.
Finally, Niantic will launch a special website for this year's Pokemon Go Fest that will allow trainers to interact with other players, enter giveaways, and receive updates about the event. Players will also be able to download free printable paper crafts themed after the event, and trainers in the U.S. will be able to buy a T-shirt celebrating Go Fest from the Pokemon Center website.
Niantic said it will donate the proceeds from this year's Pokemon Go Fest. In its news post, the developer provided more details about this donation:
"We'll be donating Niantic proceeds from GO Fest ticket sales, committing a minimum of $5 million. Half of the proceeds donated will be used to fund new projects from Black gaming and AR creators that can live on the Niantic platform, with the goal of increasing content that represents a more diverse view of the world. The other half will go to US nonprofit organizations that are helping local communities rebuild."
As we get closer to Pokemon Go Fest, Niantic said all players — even those who haven't purchased a ticket for the event — will be able to complete three sets of Pokemon Go Fest 2020 Timed Research tasks. A different set will be released each week for three weeks. If trainers complete these Timed Research tasks, they'll "unlock additional Pokémon appearances during Pokémon GO Fest 2020."
Keep checking back with SuperParent, as we'll bring you more details about this year's Pokemon Go Fest — and these Timed Research tasks — as they're revealed.