Everything you need to know!
The Alola to Alola event has kicked off in Pokemon Go!
The Alola to Alola event will run from May 25, 2022 at 10 a.m. local time until May 31, 2022 at 8 p.m. local time. The event is inspired by the Alola region of the Pokemon universe. (You can learn more about this event in our previous coverage.)
As part of the Alola to Alola event, players can complete the "Alola to Alola Collection Challenge" in order to receive 15,000 experience points, 15 Ultra Balls, an encounter with Rockruff, and a point toward their "Elite Collector" medal.
This Collection Challenge asks players to collect eight Pokemon before time runs out:
Gumshoos
Trumbeak
Dartrix
Torracat
Brionne
Cubone
Alolan Rattata
Toucannon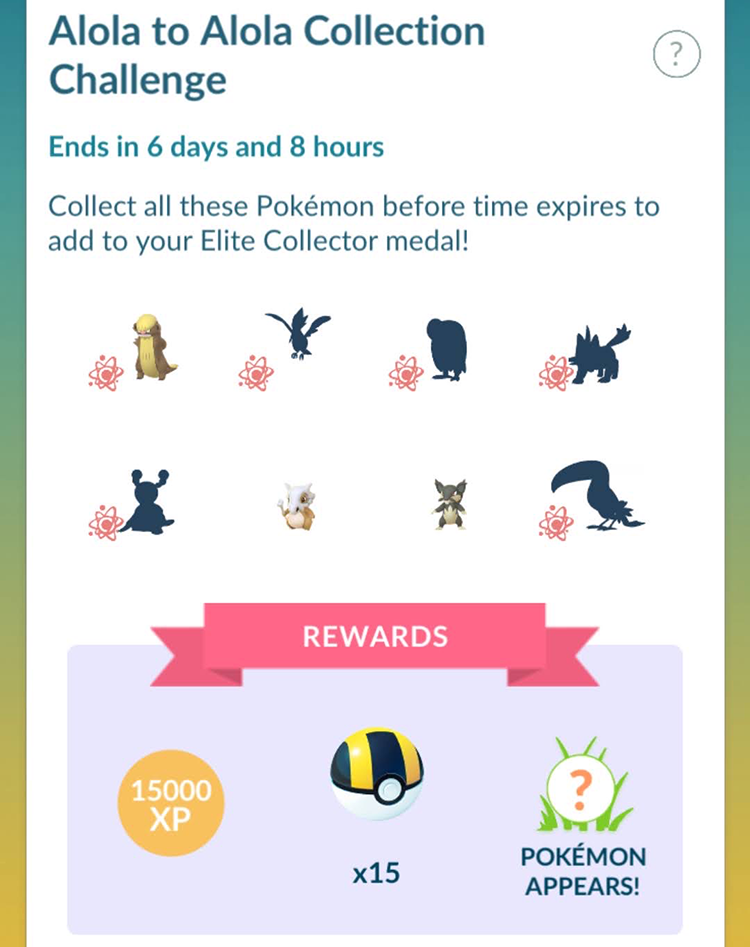 During this event, Cubone and Alolan Rattata will appear more frequently than normal in the wild. In order to collect the other six Pokemon, players will need to evolve their earlier forms.
Here's the list of evolutions players will need to complete in order to finish this Collection Challenge, and the number of Pokemon Candy each evolution requires.
Evolve Yungoos into Gumshoos (Requires 50 Yungoos Candy)
Evolve Pikipek into Trumbeak (Requires 25 Pikipek Candy)
Evolve Rowlet into Dartrix (Requires 25 Rowlet Candy)
Evolve Litten into Torracat (Requires 25 Litten Candy)
Evolve Popplio into Brionne (Requires 25 Popplio Candy)
Evolve Trumbeak into Toucannon (Requires 100 Pikipek Candy)
Keep in mind, even if you already own Pokemon like Gumshoos and Trumbeak, they won't count for this Collection Challenge. In order to complete this Collection Challenge, you must perform the required evolutions during this event.
In addition, keep in mind that Yungoos has a special evolutionary requirement. Specifically, you can only evolve Yungoos into Gumshoos during the day. You can learn more about evolving Yungoos into Gumshoos in our guide.
To learn more about Pokemon Go, or to view the rest of our guides for the game, check out our previous coverage.
What do you think about this Alola to Alola event in Pokemon Go? Let us know on Twitter at @superparenthq.