Here's your intro to Mega Evolution.
Trainers, the highly anticipated Mega Evolution feature has officially launched in Pokemon Go! With this feature, you can now collect a new resource called Mega Energy, which can be used to Mega Evolve certain Pokemon to make them stronger for a limited time.
As part of this launch, a new storyline of Special Research tasks related to Mega Evolution is now available to complete. This storyline is called "A Mega Discovery," and it contains four sets of tasks for you to complete.
Here's what these tasks ask you to do and the rewards you'll receive for completing them.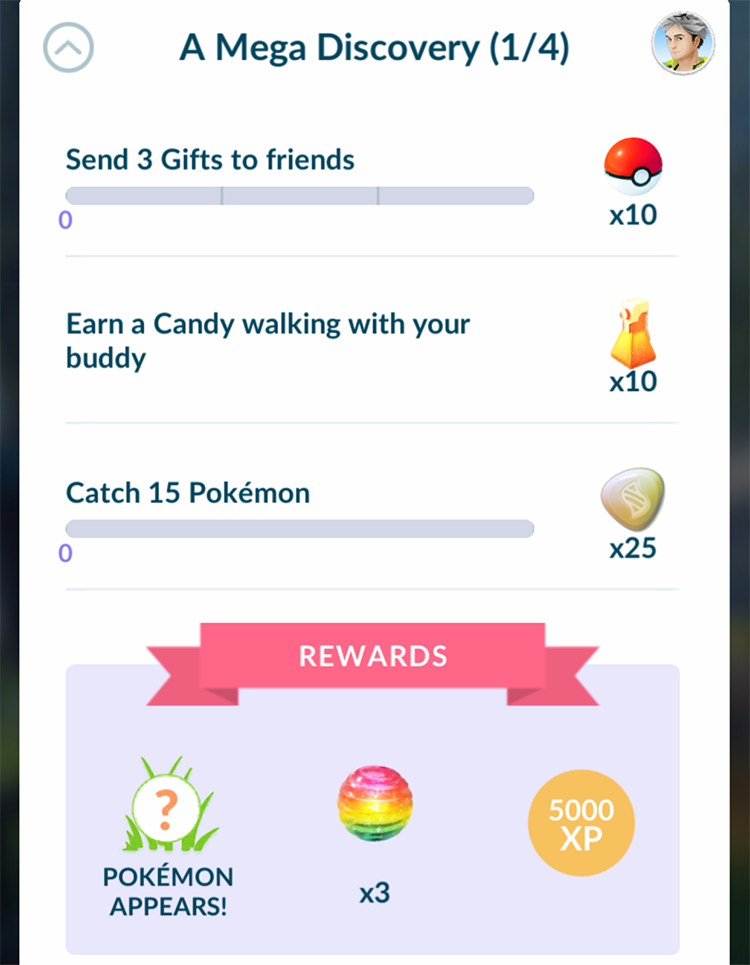 A Mega Discovery Part 1
Send 3 Gifts to Friends – 10 Poke Balls
Earn a Candy Walking With Your Buddy – 10 Super Potions
Catch 15 Pokemon
Final Rewards: According to Future Game Releases (via The Silph Road subreddit), you'll receive 25 Beedrill Mega Energy for completing the third task, along with three Rare Candy, 5,000 experience points, and an encounter with Weedle when all three tasks are completed.
Here are the tasks and rewards for Parts 2 – 4, according to Future Game Releases.
A Mega Discovery Part 2
Power Up Pokemon 5 Times – 20 Weedle Candy
Evolve 1 Weedle – 2,000 Stardust
Defeat 3 Team Go Rocket Grunts – Premium Raid Pass
Final Rewards: 100 Beedrill Mega Energy, a Charge TM, and 5,000 experience points
A Mega Discovery Part 3
Win a Raid – 6 Revives
Battle in a Mega Raid – 2 Silver Pinap Berries
Catch 10 Pokemon – 6 Hyper Potions
Final Rewards: 25 Beedrill Mega Energy, 3 Rare Candy, and 5,000 experience points
A Mega Discovery Part 4
Automatically Completed Task – 1,500 Stardust
Automatically Completed Task – 1,500 Stardust
Automatically Completed Task – 1,500 Stardust
Final Rewards: 25 Beedrill Mega Energy, 1,500 Stardust, and 5,000 experience points