It's a cutie!
Build-A-Bear Workshop revealed the newest addition to its line of Pokemon stuffed animals: Teddiursa.
The Teddiursa plush can be purchased on Build-A-Bear's website in the "Online Exclusive Teddiursa Bundle," which is priced at $65. The bundle includes the 13-inch Teddiursa stuffed animal, a Teddiursa hoodie, a Teddiursa Sleeper, and a "5-in-1" sound module that will be placed inside the stuffed animal to allow it to make noise.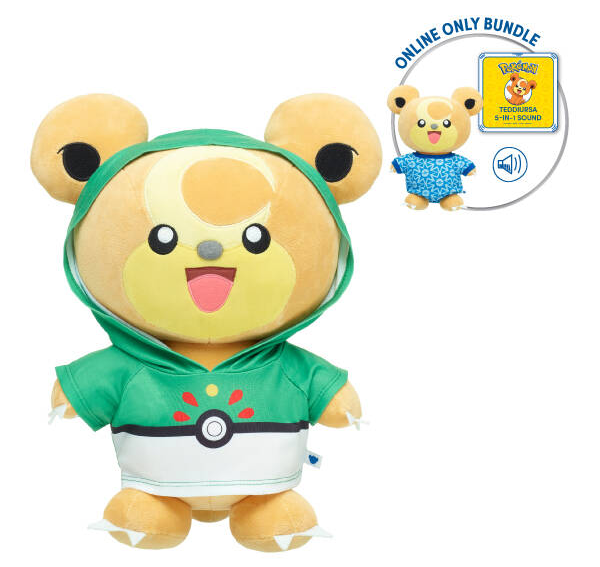 The Teddiursa plush can't be purchased outside of this bundle on Build-A-Bear's website, but you should be able to purchase the stuffed animal on its own in real-world Build-A-Bear stores if you don't want the extra accessories.
In addition to releasing this Teddiursa plush, Build-A-Bear is hosting a 20 percent off sale on some of its previously released online Pokemon bundles. For instance, you can purchase the Online Exclusive Gengar Bundle for $61.65 (normally $68.50) or the Online Exclusive Grookey Bundle for $52 (normally $65). You can browse Build-A-Bear's complete selection of Pokemon-related products on the company's website.
Are you going to pick up this Teddiursa plush from Build-A-Bear Workshop? Let us know on Twitter at @superparenthq.

Brandy Berthelson has been writing about video games and technology since 2006, with her work appearing on sites including AOL Games, Digital Spy, and Adweek. When she's not gaming, Brandy enjoys crafting, baking, and traveling with her husband.