Scorbunny will be available through an event that's coming in July.
Pokemon Cafe Mix has officially launched on Switch and mobile devices. The free-to-play puzzle game allows trainers to create a Pokemon cafe where they can work alongside Pokemon friends to serve dishes to other pocket monsters. (You can learn more about the game in our SuperParent First Look).
As part of the game's "Grand-Opening Celebration," players have the opportunity to earn a free Pikachu for their cafe's staff. Here's how!
Each day you login to Pokemon Cafe Mix during the game's Grand-Opening Celebration, you'll earn a stamp on the game's Daily Stamp Board. Each stamp rewards you with a different prize, such as golden acorns, the game's premium currency. You'll need to play the game for a bit on your very first day before you earn your first stamp.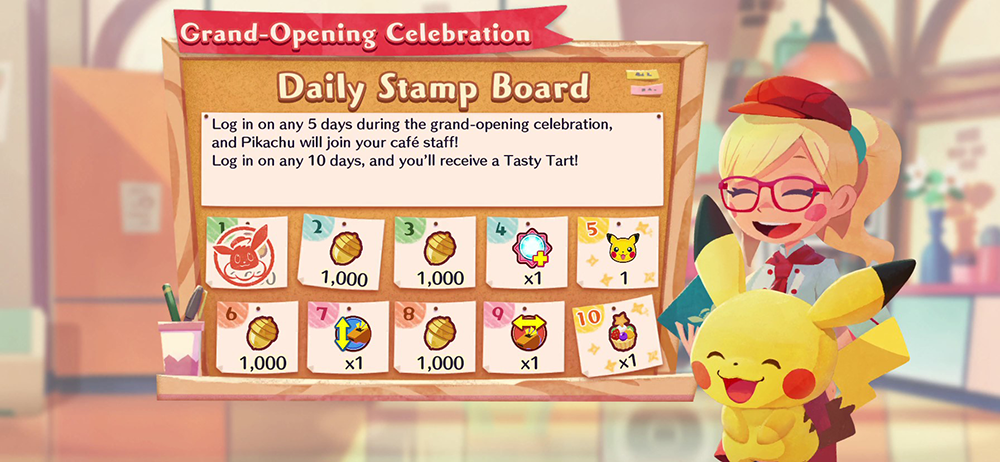 Once you reach the fifth stamp during this celebration, you'll receive a free Pikachu worker for your cafe! From what we can tell so far, this Pikachu appears to be different from the Pikachu you can earn by purchasing the "Special Pikachu Pack" in the in-game store (the latter wears a special costume).
After you've added Pikachu to your cafe's staff, there's still another in-game event to look forward to soon.
From July 1 to July 15, the Fire-type Pokemon Scorbunny will appear at your cafe as a customer. If you feed Scorbunny enough times during these visits, you can raise your friendship level with the Pokemon to the point that it will want to join your cafe's staff.
Keep checking back with SuperParent, as we'll make sure to let you know about any additional limited-time events that are added to Pokemon Cafe Mix in the future.
Pokemon Cafe Mix is available to download for free on Switch, iOS, and Android devices. The game is rated 4+ on iOS, and E for Everyone on Switch and Android.