We had the chance to chat with the team behind this new app.
If you're looking for a new toy or mobile app that will spark your little's creativity, you may want to check out Pok Pok Playroom on iOS. This digital toy box features a variety of open-ended toys that allow kids to explore and tinker to see everything they can do.
Rather than being games with rules to follow, quests to complete, and so on, the toys in the Pok Pok Playroom app are simply that: toys. Kids can do whatever they want with them, and the more they tinker, the more they may be able to discover. The app was designed to be used by kids as young as 2.
The Pok Pok Playroom app features six different toys. For instance, the "Town" toy lets kids explore a colorful, hand drawn town from an overhead view. They can tap on people and objects to make them move or play sounds. They can also drag the people to different areas around town as they use their imaginations to help them live their lives.
Another toy allows kids to mix and match blocks representing heads, torsos, and legs to create people. This is similar to how kids build Lego minifigures piece-by-piece.
There's also a coloring toy that lets kids draw whatever they can imagine, a globe toy that allows kids to interact with objects representing different regions and cultures around the world, and so on.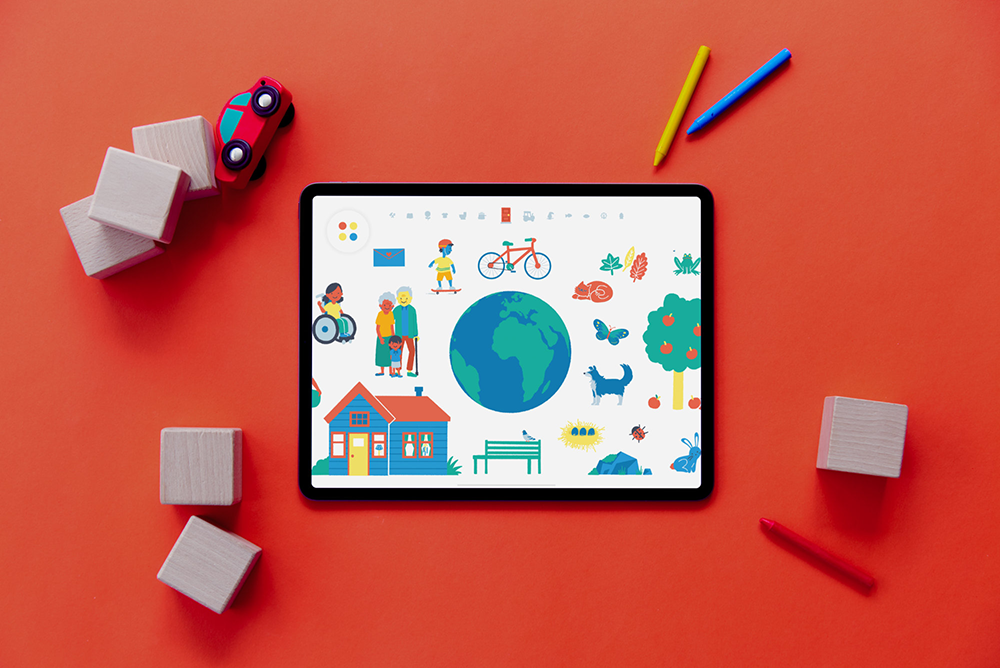 While six toys are available to start, additional toys will be added to the app in the future.
Pok Pok Playroom is available to download for free on iOS devices. The app offers a two-week free trial. After that, you can unlock unlimited access to the app for $3.99 per month or $29.99 per year. The app doesn't require an internet connection, and it doesn't feature any advertising.
SuperParent had the chance to chat with Pok Pok's Melissa Cash (co-founder and CEO), Esther Huybreghts (co-founder and creative director), and Mathijs Demaeght (co-founder and art director) about Pok Pok Playroom and some of the inspirations behind the app.
SuperParent: There are lots of children's apps and games available on mobile devices. What inspired the Pok Pok Playroom team to create something new?
Esther & Mathijs: Our story never really started with a goal like: "Let's create a new kid's app." It was never a big game studio driving that idea. Instead, it has a very small, personal beginning.
Mathijs and I have a background in classical animation, and we've always loved working together, building something, creating art from the ground up. After college, when we found ourselves deep in the trenches of combining parenthood and work, we longed for a new, small side project, just the two of us, to take our mind off toddlers and newborns, diapers, spit-up, all that fun stuff. Our oldest son, James, was about to turn two at the time, and our youngest, Jack, had just entered our lives a few weeks prior. I had been in a deep creative rut after our oldest was born, figuring out who I was after becoming a mother, and I didn't want that creative block to happen again, so we decided we'd start that new hobby project to give us something to look forward to during nap time.
At the same time, we'd been handing our phone to James occasionally to keep him busy—not yet an app, just our photos for him to scroll through. Since he was about to turn two, we started looking for something new on the App Store. While we found a bunch of great apps, none of them felt really appropriate for our son, who was too young to learn ABCs and 123s, and we didn't want anything too gamified, with levels to beat, menus to figure out, or something that got him too riled up. We worried he'd get stuck all the time and feel discouraged not being able to play independently.
That's when we decided we would build it ourselves. Something simple: a digital look-and-search book (since that was James' favorite at the time), with a multitude of objects all connected through association, that would move and animate on a tap. Mathijs had been wanting to try out an app called GameMaker, and it would give me a chance to hone my animation skills. That's how Pok Pok Playroom was born; wanting to build something for our kids that we couldn't really find anywhere else.
Melissa: We were all very inspired by Mathijs and Esther's kids, but we were also really motivated by the opportunity to approach creative learning in an entirely new way. When we started working on Pok Pok Playroom a few years ago, we were really keen to find a way to make an app that felt just like another toy in a child's playroom, not a video game on a device. We also wanted to find a way to focus on nurturing creative thinking and imagination specifically, as we feel they're going to be some of the most important life skills in the future (especially skills that technology cannot duplicate—we know that many of today's toddlers will grow up to have jobs that haven't been invented yet). Ultimately, we wanted to do our part to help raise and inspire this next generation of creative thinkers.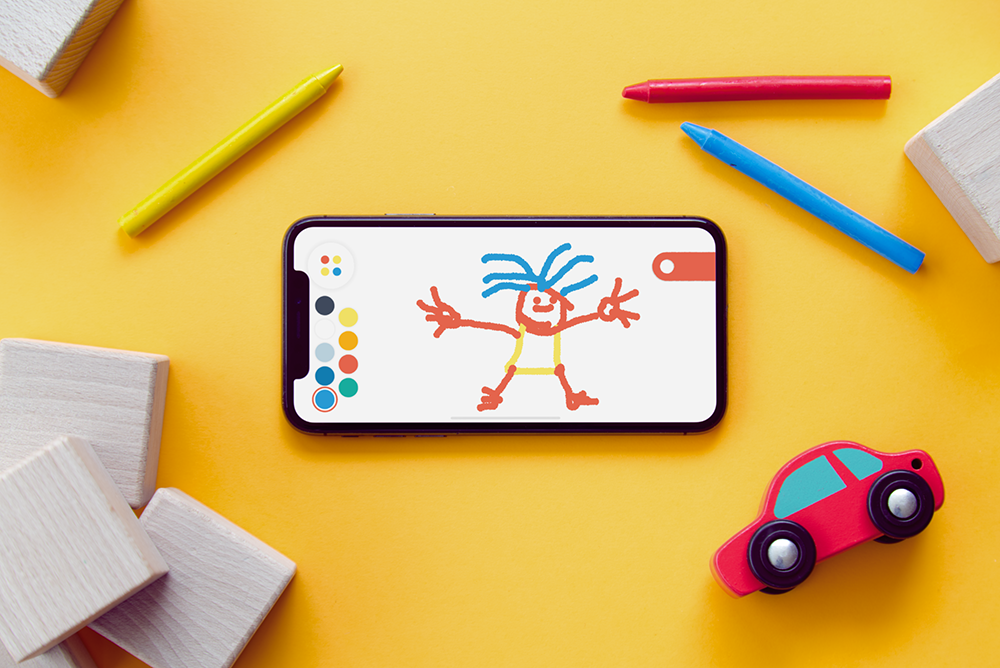 SuperParent: What has the Pok Pok Playroom team done to ensure the app feels different from other digital toys and is entertaining for kids over the long term?
Esther & Mathijs: The first big difference started within the limits of my own skills. I am a classically trained 2D animator, that's the "flip book style" of animation where every frame is hand drawn (and our generation knows and loves from old cartoons). When Mathijs and I sat down to brainstorm what Pok Pok's overall art style was going to look like, we both felt adamant it should all be hand drawn and hand animated. It has a slightly imperfect quality to it sometimes, which makes it all the more charming, and drives home the feeling that it was a person who drew this, not a computer. It's a very lengthy process though, which is part of why we've been working on the app for so long!
We also wanted to make sure there were no annoying sounds or repetitive music in Pok Pok Playroom. As parents ourselves, we know very well how these sounds can be perceived in daily life, with theme songs of certain kid's shows getting stuck in our head for days on end, so we felt strongly that we didn't want any background music, irritating voices or over-the-top sounds. Every sound is carefully recorded by our sound designer in Toronto, and is designed to feel organic and gentle.
During play testing, we also discovered that Pok Pok Playroom really lends itself to collaborative play. Because it's not a game, it doesn't have a "single player" point of view. Without that point of view, no points or coins to collect, no big rewards aimed at one player, collaborative play comes naturally. The fact that an iPad is, comparatively, a giant screen underneath all those little fingers and hands really helps, too. After we saw collaborative play happen within the preschools and daycares we tested in (pre-pandemic!) and with our own kids, we began designing our toys specifically for that type of play.
Melissa: Our goal has always been for Pok Pok Playroom to feel completely integrated into a child's real playroom—tucked away in between a stack of books, puzzles and toys on a playroom shelf (albeit with the device in a shockproof case on Guided Access). We want to empower kids to lead the way and be able to follow their noses.
Pok Pok Playroom lets kids be completely in control of their own play. With no right or wrong way to play, there is no congratulations or applause when kids do things that adults may perceive as "correct." Kids will feel satisfied and proud when things come together for them, but not because an adult told them it was the right way to do it. This empowers them to identify their own problems to solve (or not solve) and learn a lot about themselves.
Since play is entirely self-guided, our toys grow as kids do. As they get older and become more curious, our toys will reveal deeper understandings and more unique opportunities for play.
Something unique about the world of Pok Pok is that it exists in the real world. While we all love fun animal characters, we wanted to do something completely different to help highlight the beauty in everyday life. We are proud to represent a diverse world filled with people of different races, body types, abilities, family constructs, and genders. We think this is really important, especially during these critical first years when kids are forming their opinions and biases about the world.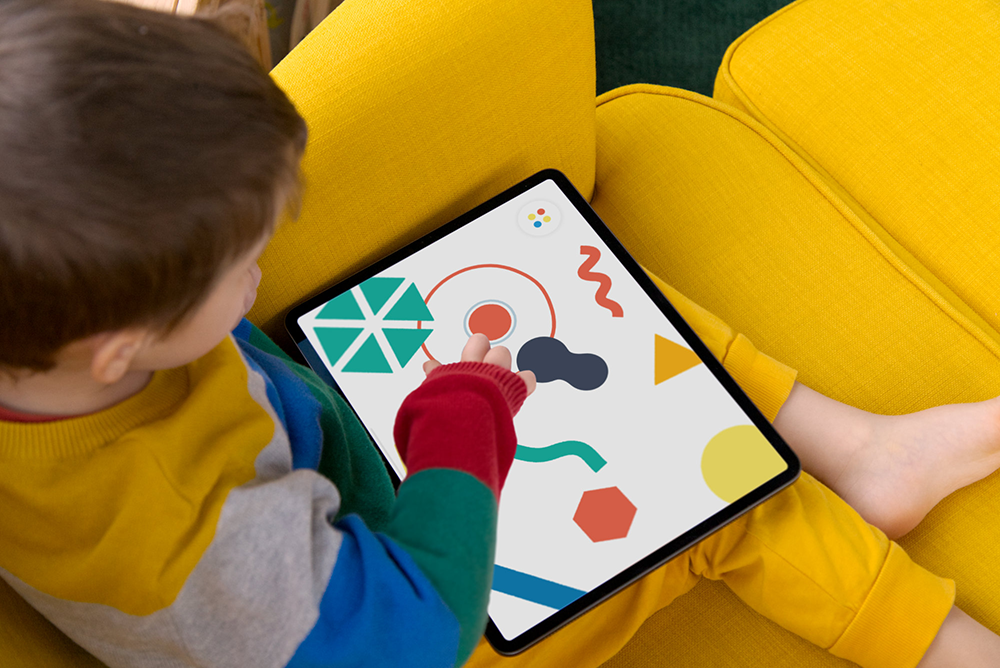 SuperParent: Can you describe your target age for Pok Pok Playroom, and how the app has been designed to grow with kids over time?
Melissa: Each toy in the Playroom is designed to grow with kids from 2-6 years-old. We know that kids are all very different, and they grow and evolve very quickly. Some are tinkerers, builders, artists, organizers, storytellers, etc…and depending on what makes them tick, they can explore that within each toy. For example, we've seen some of our playtesters spend time in our Town toy simply sorting all of the vehicles by colour in one corner of the neighbourhood. Others will pick up the people and narrate incredibly detailed stories out loud of what those people are doing, who they are, and where they're going. Another example is that for some, it takes them months or even years to discover a certain mechanic in our busy board, or realize that they can explore something more deeply with three fingers at a time instead of just one. The more curious kids are, the more they'll discover.
Esther & Mathijs: Something that other kid's apps tend to do, is ask for the age of the child at the beginning of setting up the app so they can tailor the content that they deem appropriate for that child's age and level in development. For kids so young as 2 and 6, that always felt counterintuitive to us. They grow, learn, and evolve so much even within a week of their lives (and every single one at a uniquely different pace). Who are we to decide what level they should be at? Maybe they have very-developed fine motor skills for their age, or maybe it's the opposite.
Our toys are all designed to accommodate for exploration, stretching the limits of their imagination and skill set, pushing their boundaries not because an app tells them to, but because they want to see where they can take it. The child is in charge of their own growth and learning; they are more than capable to do so.
SuperParent: Can you talk a bit about how parents and kids can use the app together?
Melissa: Parents can join in on the play and follow their child's lead by supporting their exploration and asking questions about their play. Some of our educators have helped us craft Learning Prompts — quick one-liners to ask kids while they're playing to spark deeper play and learning. Things like: Can you draw a picture of how you're feeling? or Tell me how that works. They work in all forms of play, not just in the Playroom (can be found in the grown-ups area of the app).
Esther & Mathijs: While Pok Pok Playroom is often used here to hand to our kids so we can get ten more minutes of sleep in a morning that started way too early, or when we need to finish up something for work, a lot of the time we'll also join them in play and explore the app together. Sometimes we'll let them take the lead and engage in storytelling play or simply drawing together, and sometimes we'll gently nudge the exploration into a deeper conversation about the world around us. Like a good book can trigger a whole new set of questions about anything and everything, we hope the Playroom can inspire kids to look at their world from a different point of view and learn something new.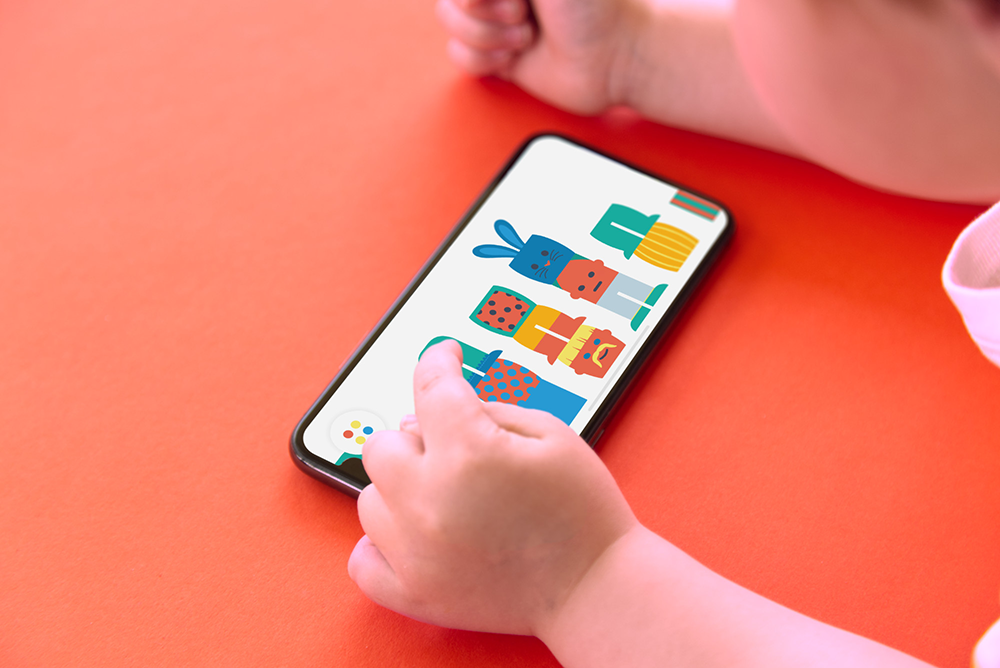 SuperParent: Can you give parents a preview of some of the new toys that will be added to the experience in the future?
Melissa: While we can't share anything too specific just yet, we can tell you that we've been working on some of them for years, and that they're going to be a combination of expansions to some of our existing toys and entirely new ones dreamt up by our team and our playtesters.
Esther & Mathijs: The entire Pok Pok team are still kids at heart. Finding new ways to bring classical, timeless toys to a device is something that comes naturally for us. Kids are our biggest inspiration here: they can still tap into level [sic] of imagination that adults can only dream of. Kids will keep reinventing their world (and ours), and we have to make sure we meet them at their level.
SuperParent: Is there anything else you'd like to add?
Melissa: If parents are ever wondering "What's the point" or "How does my child play with this," we just say — hand your child the device, sit back, and watch. Kids always know where the fun is and instinctively know how to play. It's pretty incredible.
Disclosure: SuperParent received access to the Pok Pok Playroom app for coverage purposes.