Players can test their animal-caretaking and zoo management skills in a new timed scenario.
The latest downloadable content (DLC) pack has launched for Planet Zoo, a realistic zoo simulation game that allows players to build zoos and care for exotic animals.
The Africa Pack DLC adds four new habitat animals to the game for players to take care of: the Meerkat, Fennec Fox, African Penguin, and Southern White Rhinoceros. These habitat animals require large spaces, enrichment items, food and water stations, and more to thrive. For instance, players can keep their African Penguins entertained with a new Disco Ball enrichment object.
The DLC also comes with one new exhibit animal, the Sacred Scarab Beetle. Exhibit animals are more low-maintenance, as they live in small, prefabricated enclosures, but they still allow players to generate profits for their zoos through nearby donation boxes.
The Africa Pack DLC also includes more than 180 new scenery pieces inspired by North Africa. This includes a variety of architecture pieces for constructing buildings (like mosaic tiles and mudbrick), as well as new plants and benches.
Finally, the Africa Pack includes a new timed scenario called "Once in a Blue Dune." This scenario takes place at a desert oasis called the El Darar Bazaar, which deals with frequent power outages. The scenario challenges players to complete objectives such as having nine different habitat animals in their zoo, having at least 1,200 guests in their zoo, and earning a yearly profit of at least $5,000 from drink sales. On the medium difficulty setting, players will need to complete the scenario's challenges in under 1 hour and 10 minutes to earn the gold star rating.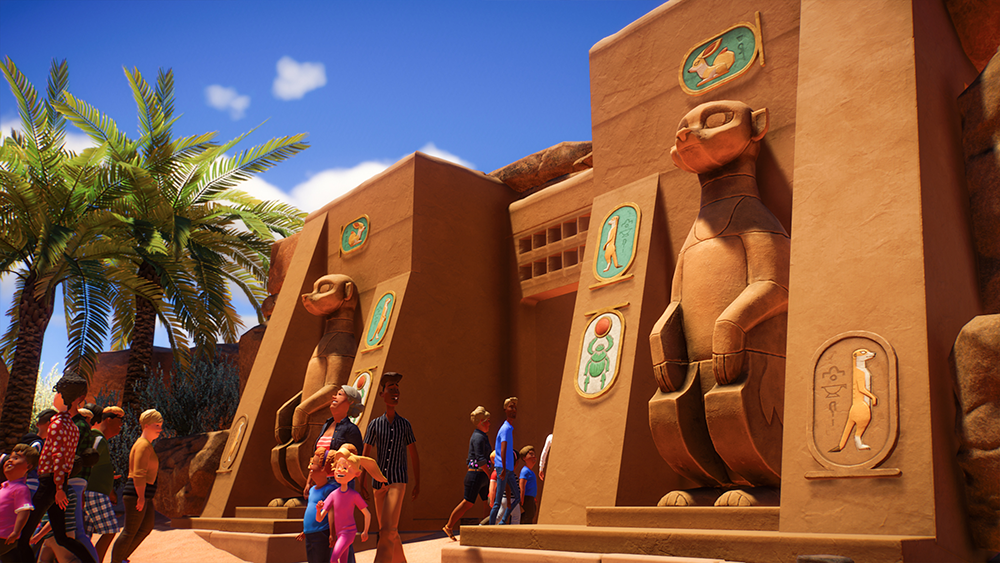 In addition to this new DLC, a free update has been released for all Planet Zoo players, which includes a timed scenario set in Guatemala, as well as habitat webcams, vista points, and "behavior updates."
The Africa Pack is now available to download on PC for $9.99. You'll need to own the base game of Planet Zoo to access the DLC's content. Planet Zoo itself is available for $44.99. The game is rated E10+ for Everyone 10+ by the ESRB.
Learn more about Planet Zoo in our review.
Disclosure: Frontier Developments gave SuperParent a code for the Africa Pack for coverage purposes.