Kids can also share their games with others.
Tech company BitOGenius has released a new video game design system called Pixicade, which allows kids to draw elements on paper in the real world, and then turn those drawings into video games in a mobile app on iOS, Android, and Kindle devices.
Pixicade has two recommended age levels. Kids 6+ may be able to create games with some help, while kids 10+ may be able to complete the activities on their own.
The Pixicade kit can be purchased on Pixicade's website and Amazon for under $30. The kit includes three workbooks, a set of five markers, a page of avatar stickers, and a setup guide that walks parents through the download and setup process for the Pixicade mobile app and teaches them about its features. Parents will need to sign up for a Pixicade account, and from there, they can connect the Pixicade kit to a maximum of two mobile devices.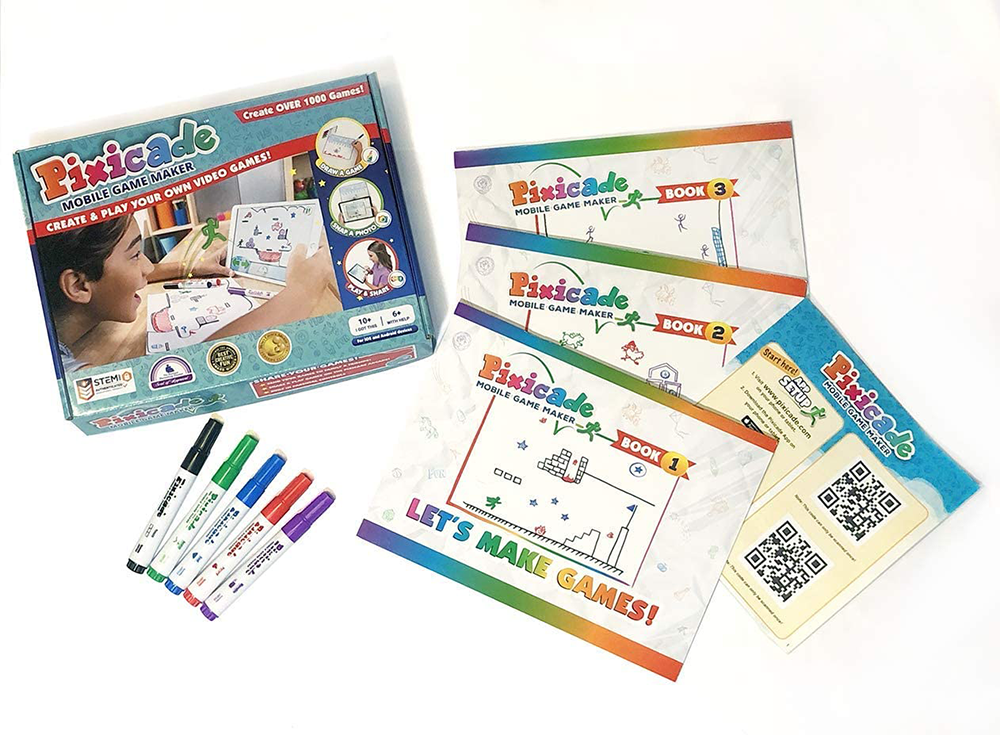 Once the app is ready (or while it's being set up), kids can begin making their way through the three workbooks. Each has around 40 pages, and includes both example games and spaces for kids to draw.
The first book introduces kids to the Pixicade platform, and helps them create a series of side-scrolling games that focus on helping a character reach a particular goal in the stage. The book also teaches kids how to fix mistakes, and it provides activities related to a variety of in-game power-ups that are supported by the Pixicade platform.
The second workbook introduces kids to different kinds of games, like mazes and slingshot games (think Angry Birds), among others. The book also introduces kids to different game design concepts, like balance, polishing, and sequences.
Finally, the last workbook includes activities related to even more game types ("Paddle Battle" and "Volley Versus"). It also encourages kids to use their imaginations to create games related to specific themes (like a sport or a memory), and to combine everything they've learned to form original games from scratch.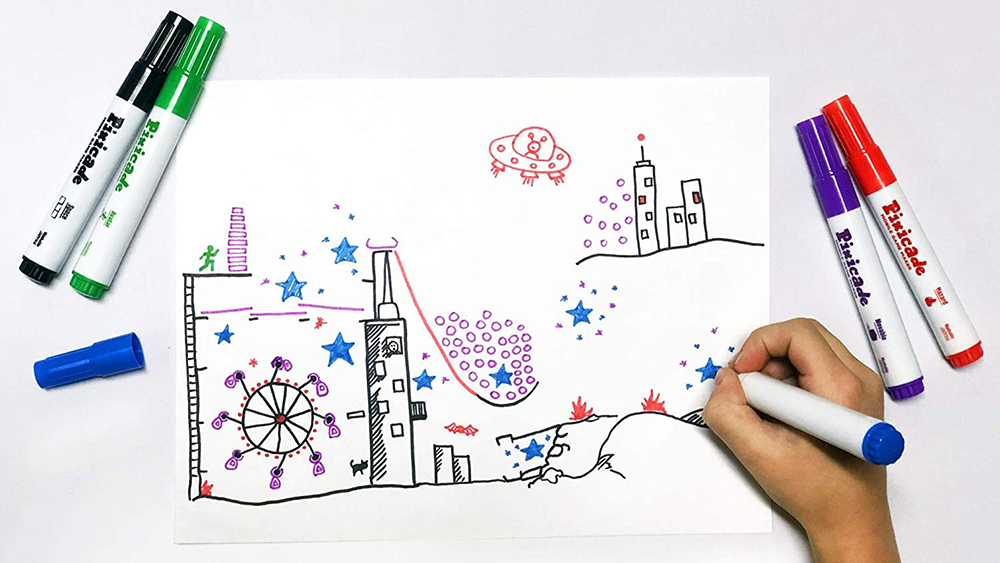 Each game consists of hand-drawn elements. The Pixicade app recognizes all of the different objects on the page, and it assigns certain traits to objects based on their colors. For instance, platforms, walls, and boundaries (including the ground) should be drawn in black to tell Pixicade these are stationary objects
Depending on the game, the other colors will relate to different traits. As an example, in a side-scrolling game, red objects are considered hazards that players should avoid touching, while in sports games, red may be used to mark one of the goal areas on the screen, and so on.
Finally, when games need an avatar (that is, a character to move around the screen), kids can either draw them in green, or place one of the kit's green avatar stickers on the page to use that character in their game.
Once kids complete an activity in a workbook, they can use the camera on their smartphone or tablet to import the drawing into the Pixicade application, where it will be turned into an interactive game (this transformation takes about 30 seconds).
Each game uses simple controls, like left and right arrows for movement and a button to jump (the controls will vary depending on the game type). If something doesn't work correctly (for instance, if kids didn't leave enough space for their character to move through the world), they can edit their games within the app to move objects around, make objects smaller or larger, and more.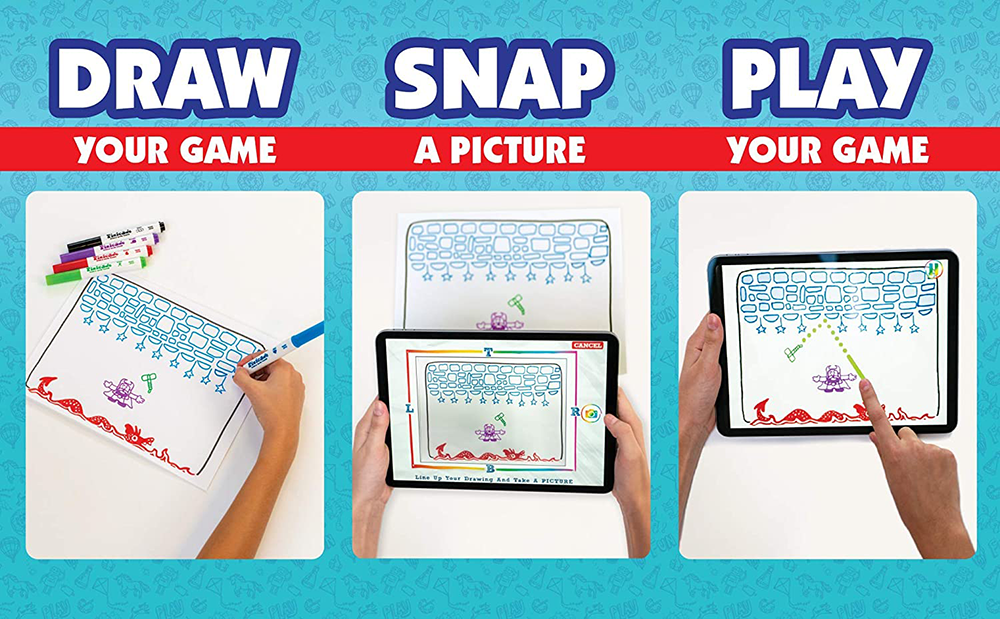 Once players successfully complete their game in the Pixicade app, they'll have the option to name it and share it to the app's Arcade, where it can be tried by other Pixicade players. Kids can also share their games through an email, text message, etc. People who click a game's link outside of the Pixicade app can play the game in a web browser without downloading the application.
When kids want to take a break from creating their own games, they can try games shared by other players in the app's Arcade.
Finally, once players have finished the activities in the three workbooks, they can continue making games on any white background. In addition, BitOGenius says kids can create games using objects other than markers (like blocks and pipe cleaners), so long as they have the same colors recognized by the app (red, black, green, blue, and purple). Each Pixicade account can create/process up to 1,000 games.
To learn more about Pixicade, check out the platform's website.
Disclosure: BitOGenius sent a Pixicade kit to SuperParent for coverage purposes.