It's the latest game from the creator of 'Pokemon Go.'
Niantic, the creator of Pokemon Go, has released Pikmin Bloom on iOS and Android devices. The game is inspired by Nintendo's Pikmin video game franchise, which allows players to recruit colorful, friendly critters called Pikmin who can help them complete in-game tasks.
Pikmin Bloom is similar to Pokemon Go, in that it uses the player's real-world location to show them an in-game map. As players walk around in the real world, their in-game character will walk around on the map.
When you first open Pikmin Bloom, you'll be asked to give the application permission to use your location, as well as access your health data (on iOS, this permission is called "Access Your Motion & Fitness Activity"). iOS players will also be asked to give the app permission to access the "Steps" data from the iOS Health app. These permissions allow the game to present you with an in-game map based on your real-world location, as well as track your steps so that you can grow Pikmin for your collection.
In Pikmin Bloom, Pikmin are sleeping all around the world in a "seedling" form, and players will be able to collect these seedlings as they walk around the real world. Seedlings can be grown into Pikmin by walking a required number of steps, with different varieties of Pikmin having different step requirements.
Once a Pikmin has grown, players can interact with them by feeding them Nectar. This will cause the flower on each Pikmin's head to grow, which will allow players to collect flower petals. While players start with a small amount of Nectar in their inventory, their Pikmin will bring them fruits that contain Nectar over time. Pikmin may also bring players postcards from the places players have visited in the real world.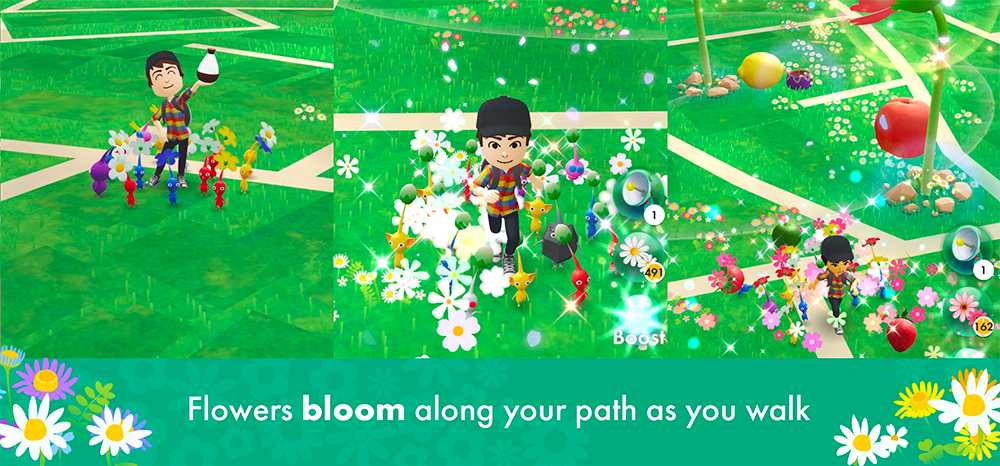 Players can spend flower petals to grow flowers on the in-game map as they walk. Players will be able to see the flowers other players have planted, so the in-game map will become covered with flowers over time. Players can also turn on a "With Others" mode, which will allow their avatar to become visible for other players to view on the map. When this feature is turned on by multiple people, it will look like there are lots of people exploring the world and planting flowers together. Since this means players will be able to see other players' locations, the "With Others" mode should only be used when walking around public spaces.
Pikmin Bloom will keep track of how many steps a player has taken each day, and they can view this information in the game's "Lifelog." After 9 p.m. local time each day, players will be able to visit the Lifelog to view their "lookback" for the day, which will show them their step count for the day, as well as any places they've visited.
Players can also add their own entries to the Lifelog manually. These entries can be text notes (like journal entries) or photos of anything players want to remember from their days. Players can also give the game access to their device's camera roll, so that Pikmin can choose their favorite pictures to add to the Lifelog.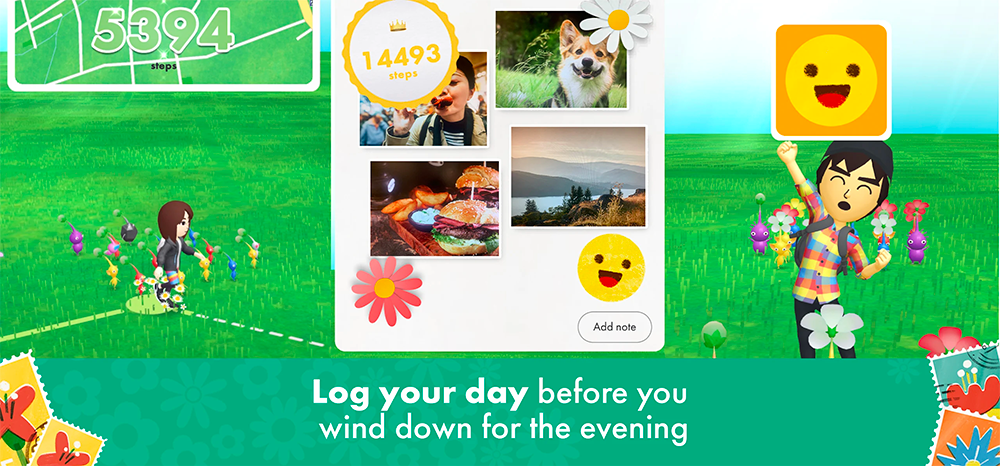 Elsewhere, players can level up in the game by walking a required number of steps (for instance, players can reach Level 3 by walking a total of 500 steps). They can also interact with their Pikmin in an augmented reality mode, which makes it look like Pikmin are really in the world in front of them.
When players start Pikmin Bloom, they can only grow two Pikmin seedlings at a time. They'll have the option to spend in-game coins (the equivalent of real money) to purchase more growth slots, though these slots will disappear after they've been used to grow a Pikmin.
The game also offers other optional in-game purchases. For instance, players can only hold 300 Pikmin in their collection when they first begin the game, but they can increase this capacity by 50 slots for $1.99. Make sure to manage your device's settings to prevent kids from accidentally spending money while playing the game.
Pikmin Bloom is now available to download for free on iOS and Android devices. The game is rated 9+ on iOS and E for Everyone on Android.
Has your family tried Pikmin Bloom? Let us know on Twitter at @superparenthq.