Creating real-world challenges lets kids earn virtual currency.
If getting your kids to do their homework or help out around the house is a pain, consider doing what Reddit user SinJinC did, and use their love of Fortnite to inspire them to hit the books and do their chores.
SinJinC, whose name is John, created a list of challenges for his 9-year-old brother, Ryan, to complete, which involve doing homework, getting to bed on time and ditching electronics for a day. For each challenge Ryan completes, he'll receive free V-Bucks, the digital currency Fortnite players can use to purchase the game's optional cosmetic items and Battle Passes.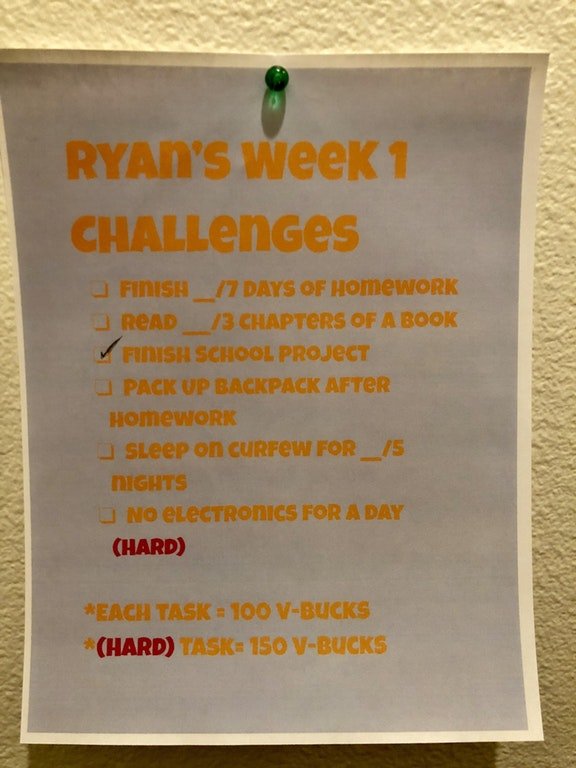 John told SuperParent, "It takes sometime [sic] for [Ryan] to get started [on homework] and (thankfully) he is a big fan of Fortnite. It just clicked and I decided to bring the game to him with real life challenges."
John explained, "He was very excited when he saw the challenges since it resembled what you would see in game. The first day he saw it, he was very enthusiastic about finishing homework and attempting to complete as many challenges [sic] he can in a day."
John said he intends to keep adding new weekly challenges for Ryan as long as possible. He added, "I believe that this is a very fun and interactive way to complete chores, giving him [sic] feeling of achievement for earning V-Bucks from his own hard work."
If your kids aren't into Fortnite, try changing the challenges and prizes to suit the games they love. If a game lacks optional purchases, make the prize a few extra minutes of game time instead. Your kids will love earning extra time or items in their favorite games, and you'll be happy they did their chores without a fight. Win-win.