Nintendo revealed more information about the characters and features in this upcoming game.
Ahead of the release of Paper Mario: The Origami King next month, Nintendo revealed new information about the adventure game, which takes place in a world made of paper.
In The Origami King, the evil King Olly wants to fold the world, and as part of his plan, he's taken control of Princess Peach's castle and surrounded it with paper streamers. Mario will need to travel through a desert, explore a mansion filled with ninjas, navigate sewers, and more on his quest to remove those streamers from the castle and save the day. In total, there will be five different streamers to remove on Mario's quest.
Like in other Paper Mario games, Mario and other elements of this in-game world are made out of paper. For instance, grass may be made of green paper, while wood may be made of brown paper.
As you make your way through The Origami King, you'll meet a variety of new and familiar characters, including a Bob-omb that has lost its memory, a Toad professor, and Kamek, a Magikoopa that typically works alongside Bowser. And speaking of Bowser, Mario's longtime rival will also appear in the game.
Another new character, Olivia, is the sister of King Olly. However, instead of being a villain, she actually serves as Mario's traveling companion, and will help him on his quest to defeat the king.
As you explore the in-game world, you'll need to defeat enemies in battles that take place on a series of rings.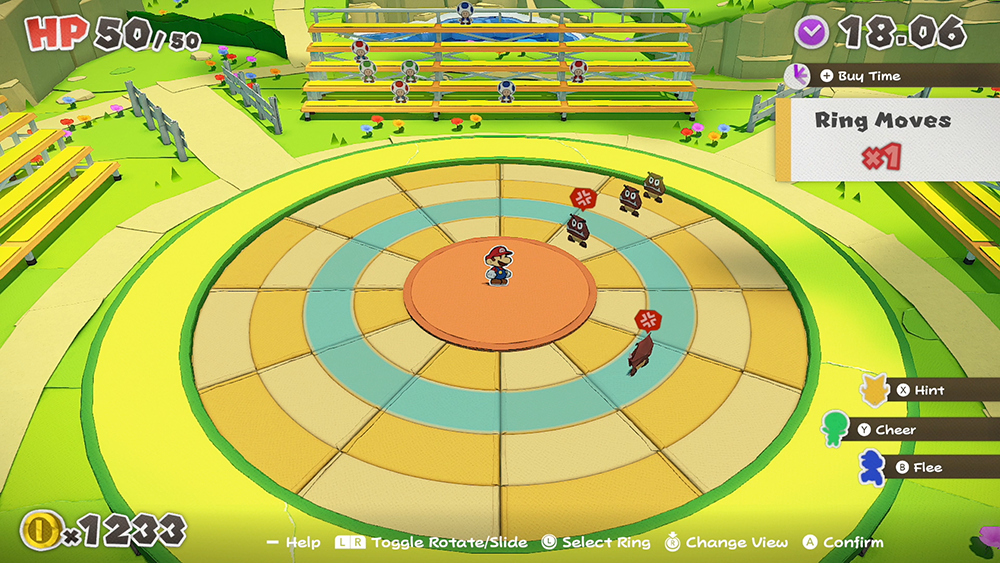 During each battle, Mario will stand in the center of the ring formation. You'll be able to move the different rings around Mario, and even slide enemies from one ring to another, to line them up before attacking. However, you'll only have a limited amount of time to do so.
Once the enemies are lined up, Mario can attack them in multiple ways. For instance, Mario can jump on their heads, hit them with a hammer, or use a power like the fire flower to deal damage from far away.
In addition to regular enemies and battles, The Origami King will also contain boss battles against pieces of stationary, like colored pencils and a tape dispenser. These boss battles work differently than regular battles, and you can check out some of the differences between the two battle types in the trailer we've embedded above.
Finally, The Origami King will allow you to find hidden toads, play mini-games to earn in-game items, and more.
Paper Mario: The Origami King will be released on Switch on July 17. The game is rated E for Everyone.
To learn more about Paper Mario: The Origami King, head over to Nintendo's website, or check out the video above.