Players can customize the appearance of their own arcade.
Pac-Man Museum+ is now available on consoles and PC. The game allows players to play a collection of Pac-Man games in a virtual arcade. While all of the games can be played by a single-player, a selection of games also support local multiplayer gameplay for multiple people in the same room.
Pac-Man Museum+ features 14 complete Pac-Man games:
Pac-Man
Super Pac-Man
Pac & Pal
Pac-Land
Pac-Mania
Pac-Attack
Pac-in-Time
Pac-Man Arrangement Arcade ver.
Pac-Man Arrangement CS ver.
Pac-Man Championship Edition
Pac Motos
Pac'N Roll Remix
Pac-Man Battle Royale
Pac-Man 256
Seven of these games can be played in standalone arcade cabinets found around the game's virtual arcade, while the other seven can be played in a larger "console" arcade machine. The seven standalone games (like Pac-Man, Super Pac-Man and Pac & Pal) require virtual coins to play, while the seven "console" games do not.
When players first begin playing Pac-Man Museum+, only a selection of the game's 14 titles will be available to play, and players will need to play specific games to unlock the others. For instance, in order to unlock Pac & Pal, players need to play Pac-Land twice.
Once players select a game, they can read the rules for the game, as well as view the game's controls and a short history about the game in the game's menu.
As players complete games, they'll receive coins based on their performance. Since seven games can be played for free, players will always have a way to generate more coins so they can play the coin-operated machines.
Players can also spend coins in the vending machine and Gachapon machine in the arcade. The vending machine contains a variety of decorations and furniture items for the arcade, while the Gachapon machine contains a variety of Pac-Man-themed statues. Each time players use the Gachapon machine, they'll receive a random Pac-Man-themed statue, and it's possible to receive duplicates.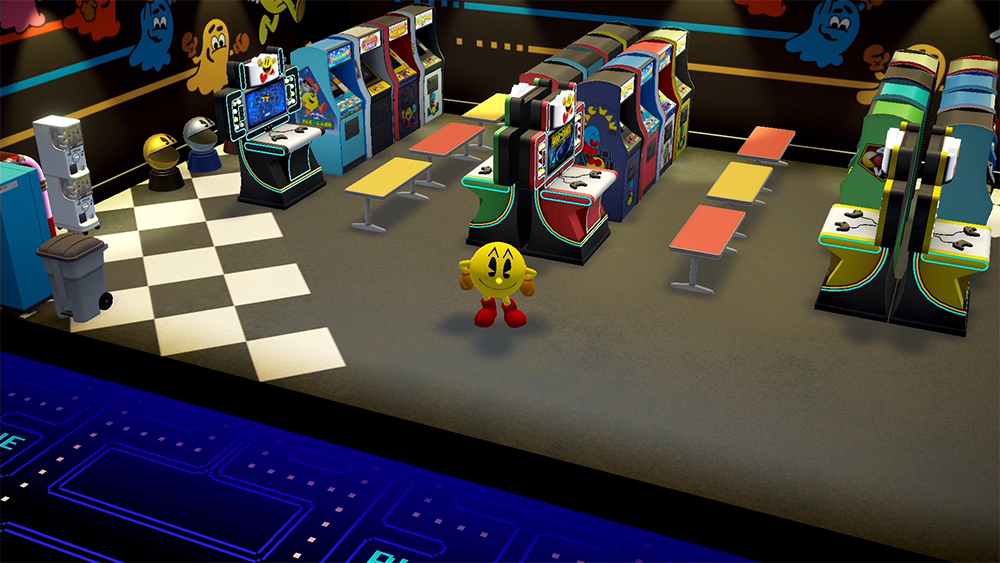 Each game in Pac-Man Museum+ has a variety of missions to complete. For instance, in the game of Pac-Man, one mission challenges players to earn a score of at least 5,000 points, while another mission challenges players to eat five ghosts in a game. As players complete missions, they'll receive additional decorations, wallpapers, and more for the arcade.
Players can use the statues, decorations, and furniture items they collect to customize the appearance of their arcade. Players can also change their arcade's flooring and wallpaper, as well as change the arcade's background music.
Finally, each game in Pac-Man Museum+ offers online leaderboards, which allow players to compare their high scores with the high scores of other players.
Pac-Man Museum+ is now available for $19.99 on Switch, PlayStation 4, Xbox One, and PC. The game can also be played through Xbox Game Pass. Pac-Man Museum+ is rated E for Everyone by the ESRB.
Disclosure: SuperParent received a code for Pac-Man Museum+ for coverage purposes.