Run as far as you can as the cute little monster from the Cut the Rope games.
Om Nom: Run is a free-to-play endless runner starring Om Nom, the cute green monster from the Cut the Rope franchise (the first Cut the Rope game was released on iOS in 2010).
In Om Nom: Run, players are asked to help Super Nom (a superhero version of Om Nom) run through city streets, forests, and more while avoiding obstacles and collecting items like power-ups and coins. In each run, your character will run forward automatically, and you can swipe up and down to jump over and slide under obstacles (respectively), as well as swipe left and right to move between running lanes.
Om Nom: Run has multiple gameplay modes. The Free Run mode is a traditional endless runner experience, which challenges you to run as far as you can to earn a high score. The other mode is a mission mode, which gives you tasks to complete as you run. In this mode, your run will end after you've successfully completed your active mission.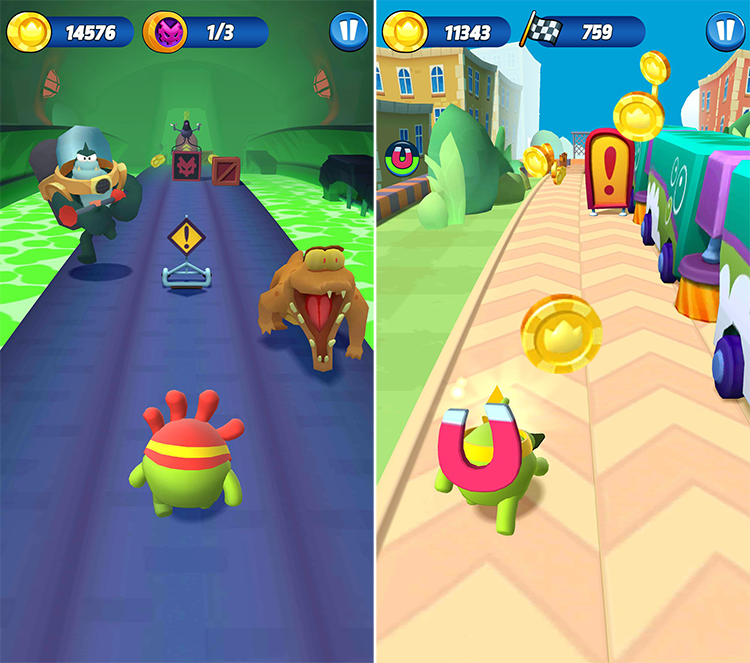 For instance, one mission may ask you to run a certain distance, while another may ask you to collect the required number of tokens that are scattered in the path. You can earn up to three stars on each mission, with each star having a different unlock requirement.
As an example, if a mission asks you to run a certain distance, you may unlock the three stars as you reach the 700m, 1,300m, and 1,900m marks.
Regardless of the requirement, as soon as you earn the third star on the current mission, the game will end and you'll be taken back to the main menu where you can begin the next mission.
If you fail a mission before reaching the first star requirement, you can retry the mission from the beginning. If you fail a mission after earning the first star but before earning all three stars, you'll pass the mission and can move onto the next. You'll also have the option to come back to the mission later on to try and collect the star(s) you missed.
As you play Om Nom: Run, you'll collect coins that you can spend to unlock additional playable characters and more. You'll also unlock different running environments as you clear missions, so that future runs will have a bit more variety than those that came before.
Finally, even though Om Nom: Run is a free-to-play game, you can spend real money on extra coins and a bundle that includes coins and a new playable character. You also have the option to watch ads while you play to receive various in-game rewards. For instance, you can watch an ad to continue running after you've hit an obstacle that would otherwise end the game.
Om Nom: Run is available to download for free on iOS and Android devices. The game is rated 4+ on iOS and E for Everyone on Android.
Check out nine minutes of Om Nom: Run gameplay in our SuperParent First Look below.