Compete in 18 Olympic events on your own or against other people.
Olympics Games Tokyo 2020 – The Official Video Game is an arcade sports game inspired by the 2020 Summer Olympics, which begin on July 23, 2021.
In Olympic Games Tokyo 2020 – The Official Video Game, players can compete in 18 Olympic sports on their own against computer-controlled opponents, as well as against other players in the same room or through online play. The game supports multiplayer for up to eight players.
Here are the game's 18 Olympic events:
100m
110m Hurdles
Hammer Throw
Long Jump
100m Freestyle
200m Individual Medley
BMX
Sport Climbing
4x100m Relay
Baseball
Basketball
Football
Beach Volleyball
Table Tennis
Tennis
Boxing
Rugby Sevens
Judo
Each event is a standalone mini-game, with different controls to learn and in-game medals to win. Events may ask players to tap buttons as quickly as possible, respond to on-screen prompts by pressing the right button at the right time, and so on. Some events, like the 100m (a track and field race), have very simple controls, while others, like BMX, are more complicated.
Players can test their skills in single events, or by completing medleys with multiple events. When they choose a single event, they'll start at the qualifying stage, and if they perform well enough, they can move onto the semifinals and eventually finals for each event, where they'll have the chance to earn an in-game medal for their performance.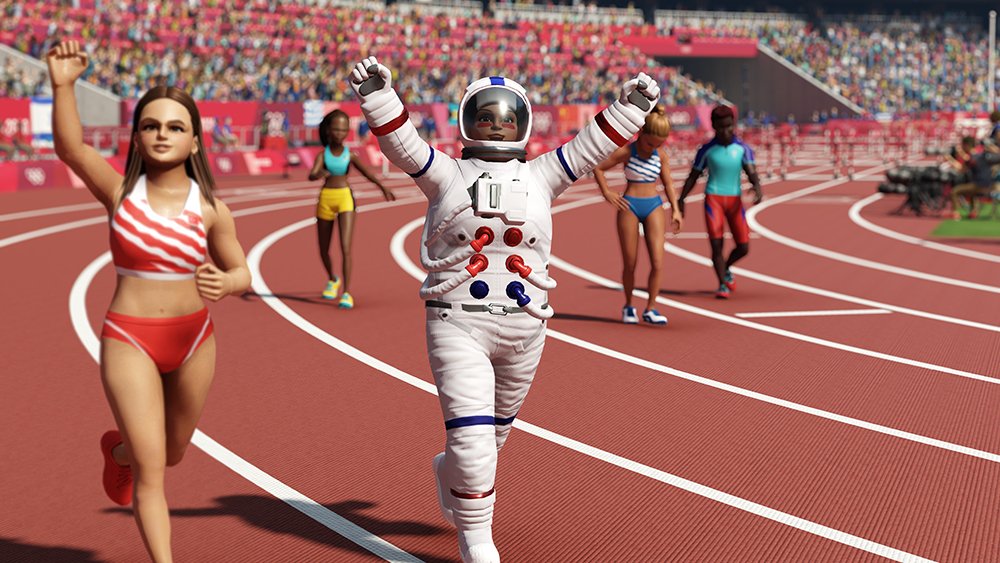 When players first begin the game, they're allowed to customize the look of their avatar by choosing from a variety of hairstyles, body shapes, and more. Players can also set their avatar to be left- or right-handed, based on their preference. Players can change the look of their avatar at any point even after they've started the game.
Players will also collect points as they participate in events (even if they lose), and they can use these points to unlock new clothing and accessories for their athlete. Some clothing items are appropriate for sports, while others are costumes, like a pirate costume. The game also features a free Sonic the Hedgehog costume that makes it look like the blue hedgehog (rather than a human) is competing in events. (This game is published by Sega, which is the company behind the Sonic the Hedgehog franchise, which explains this crossover.)
Olympic Games Tokyo 2020 – The Official Video Game is now available for $39.99 on Switch, PlayStation 4, Xbox One, PC, and Stadia. The game is rated E10+ for Everyone 10+ by the ESRB.
Check out some gameplay from Olympic Games Tokyo 2020 – The Official Video Game in our video below.
Disclosure: Sega gave SuperParent a code for Olympic Games Tokyo 2020 – The Official Video Game for coverage purposes.