This free-to-play narrative game is inspired by a real-world dog sanctuary.
Old Friends Dog Game is a free-to-play mobile game from Runaway Play that allows players to befriend senior dogs as they complete a single-player storyline. The game is inspired by the real-world Old Friends Senior Dog Sanctuary in Mt. Juliet, Tennessee.
In Old Friends Dog Game, players will open their own dog sanctuary and take care of a variety of friendly senior dogs. The first dog they'll meet is Mack, a blind cocker spaniel inspired by the real-world Mack, who is the mascot of the Old Friends Senior Dog Sanctuary.
Each in-game dog has a separate storyline to experience, which is broken into chapters. You'll need to build up your loyalty level with each dog over time to unlock more chapters in their stories. You can earn loyalty by making sure each dog's needs are taken care of. That is, you'll need to pet your dogs, as well as keep them fed and give them toys to play with.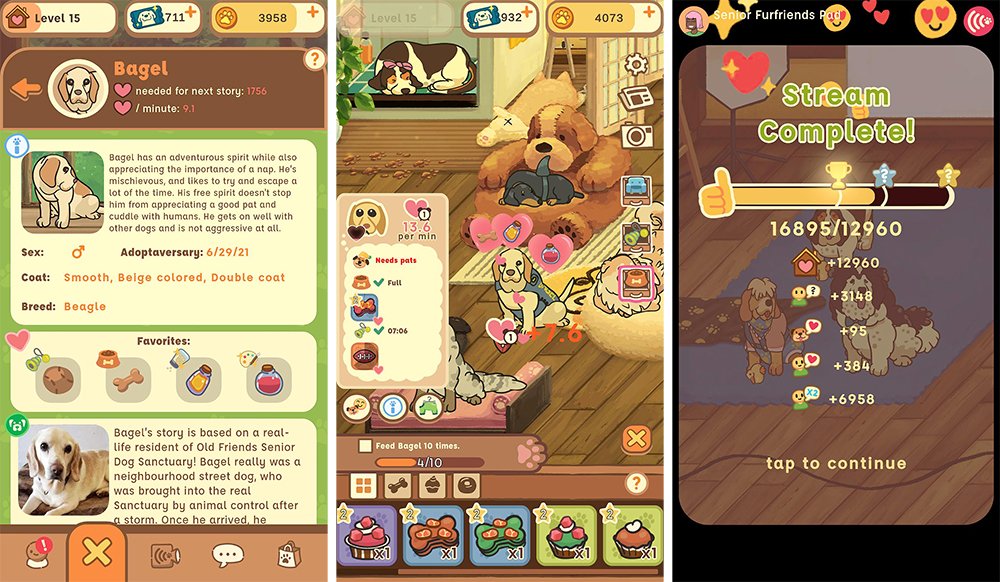 As you progress through the story, you'll be able to cook (craft) treats for your dogs, collect furniture and other items to decorate your sanctuary, and even unlock clothing items to dress up your dogs.
The game also features a fictitious social network where pictures are automatically shared as you reach certain milestones in the story. You can also host fake video livestreams and complete viewer requests in order to collect free in-game items.
While Old Friends Dog Game is free to download and play, it offers optional ways to spend real money. For instance, you can purchase premium currency that can be used, as an example, to speed up crafting timers. You can also purchase special item bundles containing decorations for your sanctuary and clothing items for your dogs.
Each month that Old Friends Dog Game is profitable, Runaway Play will sponsor a rescue dog at the Old Friends Senior Dog Sanctuary for a full year. While this is a good cause, it's worth noting that you aren't required to spend any real money to play the game.
Old Friends Dog Game is now available on iOS and Android devices. The game has an age rating of 4+ on iOS and E for Everyone on Android.
Check out some gameplay from Old Friends Dog Game in our video below.