The game is available to download for free on Switch.
Here's a lovely surprise: Nintendo launched Jump Rope Challenge on Switch. The exercise game was designed to encourage players to be physically active even without leaving the house.
In Jump Rope Challenge, you'll detach the Joy-Con controllers from the Switch and hold them in your hands as though you're holding the ends of a jump rope (you can play with the Switch docked or with it on a table). From there, you can jump up and down as if you were jumping rope, and an on-screen counter will keep track of your progress. You can also view your daily performance on an in-game timeline.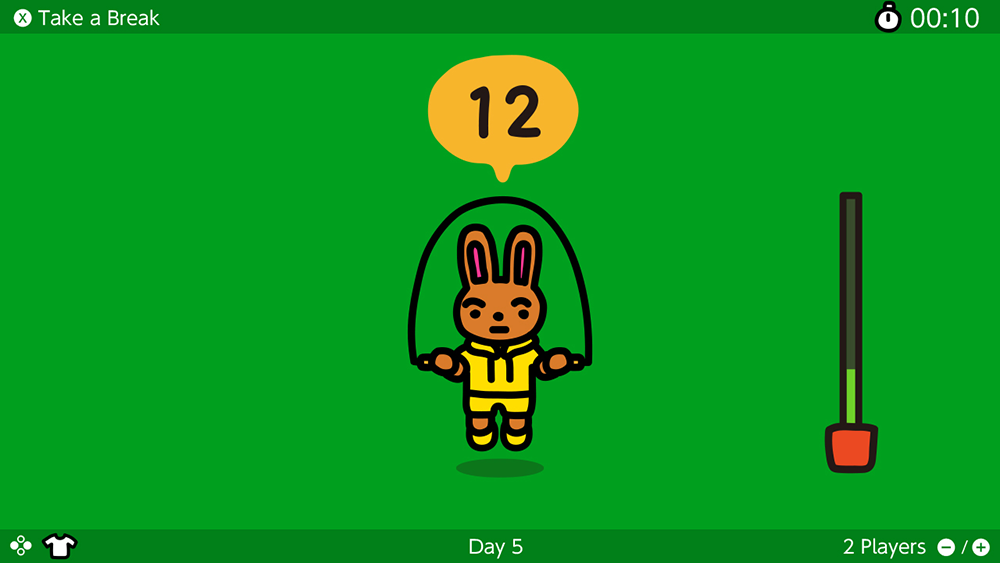 Jump Rope Challenge also supports two-player gameplay. In this case, both players can hold a single Joy-Con and imagine they're jumping over the same rope.
If jumping isn't possible (for instance, if you live in an upstairs apartment or are simply worried about making noise), you can also play by bending your knees or moving your arms instead of actually jumping.
In a press release, Nintendo shared some information about the game's creation:
"Jump Rope Challenge was created by a small group of Nintendo developers while working from home in Japan as a simple game to add some quick and fun movement into their daily lives."
You can download Jump Rope Challenge for free until the end of September 2020. The game is rated E for Everyone by the ESRB.

Brandy Berthelson has been writing about video games and technology since 2006, with her work appearing on sites including AOL Games, Digital Spy, and Adweek. When she's not gaming, Brandy enjoys crafting, baking, and traveling with her husband.