Players will be able to perform new moves while playing volleyball.
Nintendo announced a free update is coming soon to Nintendo Switch Sports, its family-friendly sports game that allows players to compete against friends and strangers in a variety of sports, including bowling, tennis, and more. (You can learn more about the game in our review.)
This free update will be released on July 26, 2022 at 6 p.m. PT.
The update will give players the option to use the Leg Strap accessory while playing Four-on-Four and One-on-One soccer matches. The Leg Strap accessory is designed to be worn around the player's thigh, and a Joy-Con controller can be inserted into the strap. If players compete in soccer matches while using the Leg Strap, they'll be able to perform kicking motions in the real-world in order to kick the soccer ball in the game.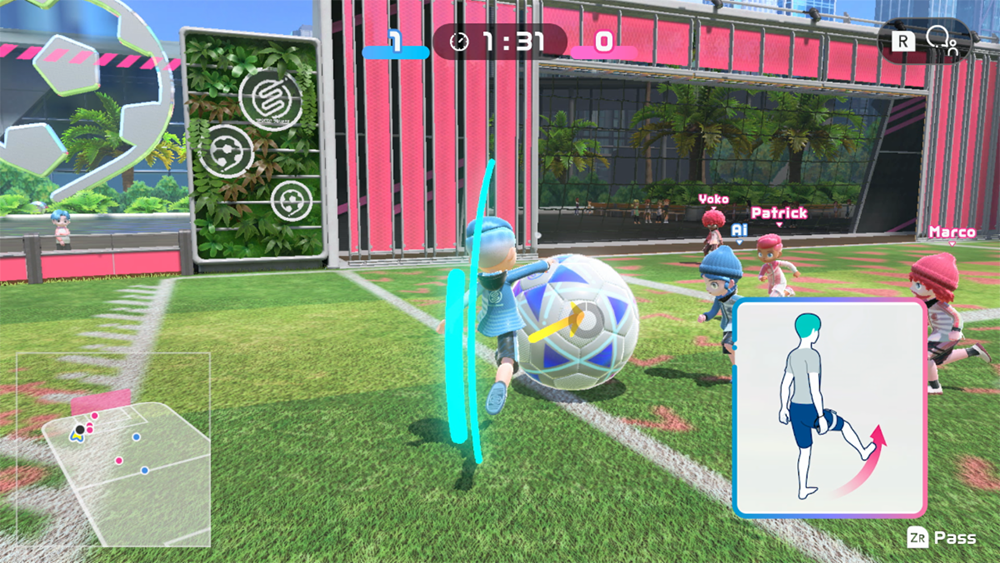 In addition, soccer games will also allow players to move their hands as though they're jogging in order to make their character dash in the game.
Elsewhere, this update will add Slide Attack and Rocket Serve moves to volleyball. It will also add the S Rank and the ∞ Rank to the game's competitive Pro League.
Finally, this update will allow players to join matches with their friends using "Room IDs." Players need to have a Nintendo Switch Online subscription to play Nintendo Switch Sports online with other players (including friends).
Nintendo Switch Sports is now available on Switch. The physical version of the game includes the Leg Strap accessory, while the digital version does not. The physical version of the game is priced at $49.99, while the digital version is priced at $39.99. Players can purchase the Leg Strap accessory separately for $9.99. If players already own Ring Fit Adventure, the Leg Strap included with that game can be used while playing Nintendo Switch Sports.
Nintendo Switch Sports is rated E10+ for Everyone 10+ by the ESRB.
What do you think about this update for Nintendo Switch Sports? Let us know on Twitter at @superparenthq.