Even folks who aren't at the show can get in on the fun.
The Electronic Entertainment Expo (E3) takes place in Los Angeles from June 11-13, 2019, bringing video game developers and publishers from around the world to the Los Angeles Convention Center to show off what they're working on.
Ahead of the show, Nintendo revealed the ways fans both in the L.A. area and worldwide can join in on the festivities.
The fun actually starts a few days before E3. On June 8, Nintendo will host a variety of gaming tournaments in L.A. The Super Mario Maker 2 Invitational 2019 will kick things off at 11 a.m. PT, followed by the Splatoon 2 World Championship 2019 and the Super Smash Bros. Ultimate World Championship 2019 3v3. Tickets are available for free for those in the L.A. area, but all of the action will also be livestreamed on Nintendo's Twitch and YouTube channels. The streams can also be viewed on Nintendo's website.
Then, on June 11 at 9 a.m. PT, Nintendo will stream its yearly Nintendo Direct presentation. This year, the presentation will feature games that are scheduled to come out before the end of 2019. Fans can watch the stream by visiting Nintendo's website.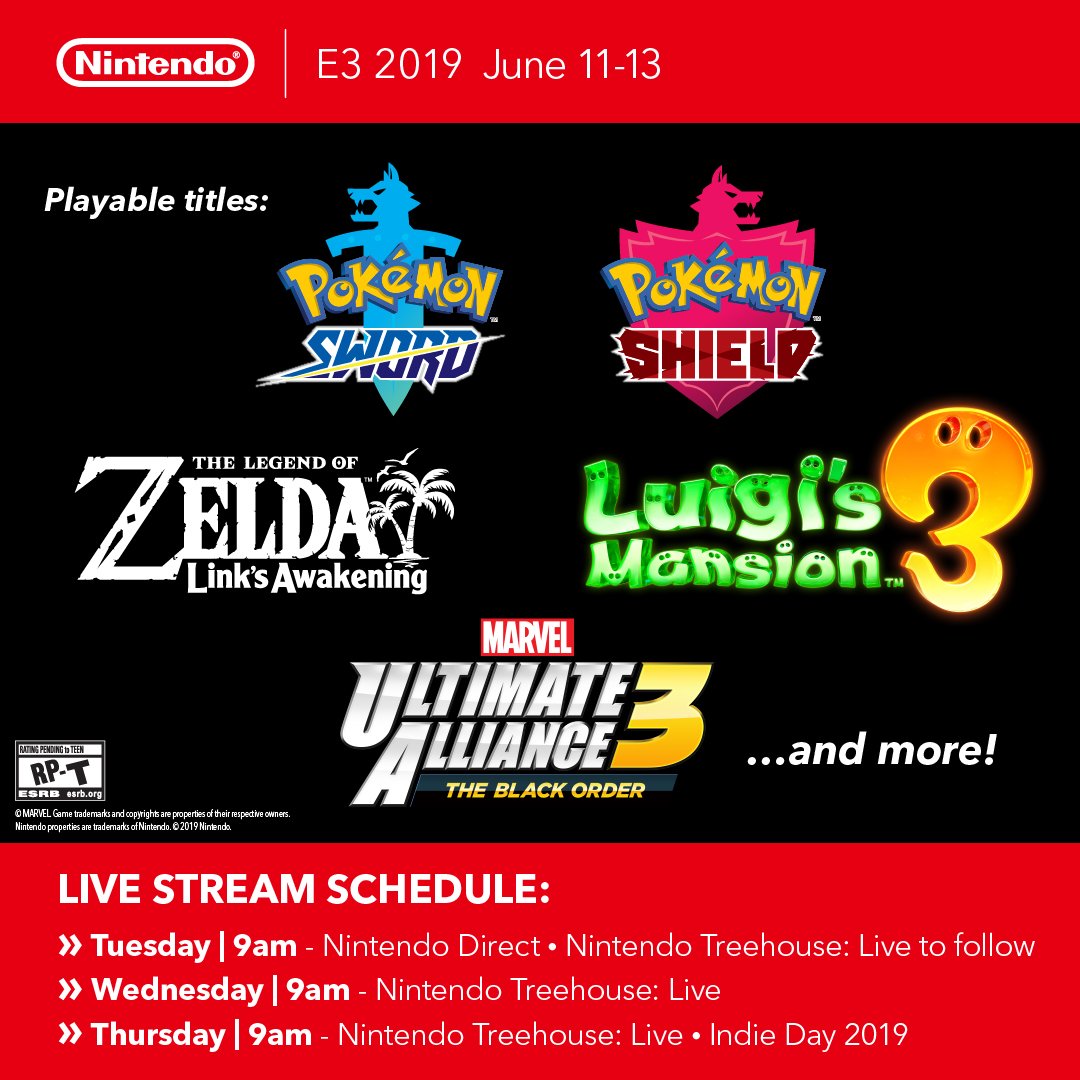 Immediately following the Direct presentation, the Nintendo Treehouse: Live stream will begin, with the livestream being broadcast from Nintendo's booth at E3. On Wednesday and Thursday, Nintendo Treehouse: Live will begin at 9 a.m. PT. These streams allow Nintendo to show off new and upcoming games for its platforms. While we don't know all of the games that we be shown off, we do know Thursday's Nintendo Treehouse: Live stream will be focused on indie games.
Fans who are attending E3 will be able to try out a selection of upcoming Switch games in Nintendo's booth, including Pokemon Sword, Pokemon Shield, The Legend of Zelda: Link's Awakening, Luigi's Mansion 3, Marvel Ultimate Alliance 3: The Black Order, and more. Attendees can sign up for a free Warp Pipe Pass to shorten the amount of time they'll need to wait in line to play Pokemon Sword, Pokemon Shield, and Luigi's Mansion 3.
Even if you're not at the show, you may still have a chance to demo Marvel Ultimate Alliance 3: The Black Order thanks to a promotion at 80 Best Buy locations around the U.S. Special demo events will take place on June 12 and June 15. Visit Best Buy's website to see if a store near you is holding one of these events.
Finally, Nintendo fans in the New York City area will be able to visit the Nintendo NY store to watch the tournaments, as well as the Nintendo Direct and Nintendo Treehouse: Live streams with other fans. Attendees will also be able to try some of the Switch games that are being featured at E3. Finally, Nintendo said fans will have "the chance to receive exclusive premium items from the show via giveaways (while supplies last)." For more details, head to the Nintendo NY website.
As part of its E3 2019 celebration, Nintendo will hold an eShop sale on Switch and 3DS games from 10 a.m. PT on June 11 until 11:59 p.m. PT on June 18. Unfortunately, we don't know which games will be on sale just yet.
Are you excited for Nintendo's E3 Direct Presentation? Let us know in the comments, or tweet us at @superparenthq.