Funko revealed a slew of new products that are coming soon.
At this year's New York Toy Fair, collectible company Funko revealed a wide variety of new Funko Pops and Paka Paka figures that will be released in the coming months.
Funko showed off so many new items that we can confidently say there's something here for everyone.
For fans of superheroes, there's a set of Pops based on the upcoming film Wonder Woman 1984, new Pops based on Marvel characters, and these fun clear Pops of Marvel and DC Comics characters that look like they're filled with candy.
Or, if you're into sports, there are Pops based on popular tennis players and "NBA Legends," and even a new line of Hello Kitty Pops celebrating Team USA and the Olympics.
Here are some more highlights from this year's Toy Fair lineup (the links will take you to a picture of each set):
In addition to revealing new Pops, Funko showed off four new lines of Paka Paka figures: Boo Hollow (perfect for Halloween decorating), Cloud Cats, Toilet Ninjas, and Twisted Treats (pictured above). Unlike Funko's Pop figures, Paka Paka figures are sold as "blind bags," meaning you won't know which item you'll receive before you make a purchase.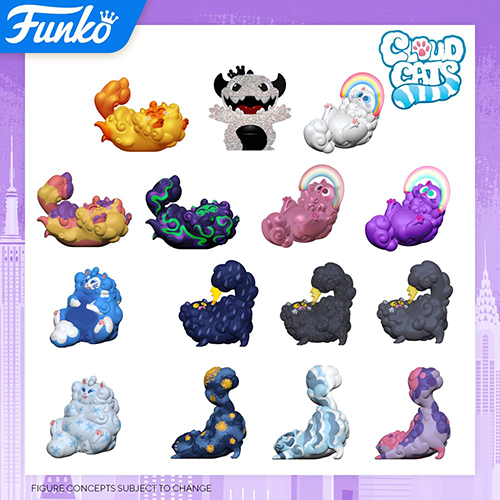 If you're interested in adding any of these Pop or Paka Paka figures to your collection, you can pre-order them now from Amazon, GameStop, Entertainment Earth, and Walmart. Keep in mind that prices may vary across stores.
These Pop and Paka Paka figures aren't the only things Funko showed off at the New York Toy Fair. For example, it also revealed a new toy line called Snapsies, as well as a series of tabletop games coming from Funko Games.

Brandy Berthelson has been writing about video games and technology since 2006, with her work appearing on sites including AOL Games, Digital Spy, and Adweek. When she's not gaming, Brandy enjoys crafting, baking, and traveling with her husband.