Musical monsters compete in mini-games in this multiplayer party game for all ages.
My Singing Monsters Playground is now available on consoles and PC.
We checked out the Nintendo Switch version of the game.
What's My Singing Monsters Playground about?
My Singing Monsters Playground is a multiplayer action game inspired by the My Singing Monsters franchise first seen on mobile phones. The game pits up to four players against one another (and/or against the computer) in 25 different mini-games, each with a different theme. Sessions are split into 10, 15, and 20 mini-games, and gems are earned depending on how each player finishes in each mini-game. Whoever has the most gems at the end of the session wins.
How do you play this game?
Each player will select a character from the seven available monsters; Congle, Entbrat, Furcorn, Kayna, Mammott, Pango, and PomPom. After all four players have selected, the four monsters will appear in a small overworld with buildings that signal different activities. There's Tournament, which is a standard 10 to 20 mini-game session; Solo Gauntlet, where those playing alone can try to win as many mini-games as possible while competing against computer-controlled opponents; and Free Play, where you can play any mini-game found in the other two modes as many times as you'd like.
Once the game's format has been decided, the mini-games begin. Tournament mode lets one random player pick the next game, while Solo Gauntlet picks a game at random to play.
Mini-games are, as the name suggests, small and fast challenges each with its own control scheme. Hazardous Hurdle, for example, tasks players to jump over a spinning beam of light, with the last one to get hit winning the challenge. Dipster Bop is essentially whack-a-mole, where each monster is given a hammer and is tasked with hitting as many tiny creatures that come out of the ground as possible — but don't worry, no monsters were harmed in the making of this mini-game.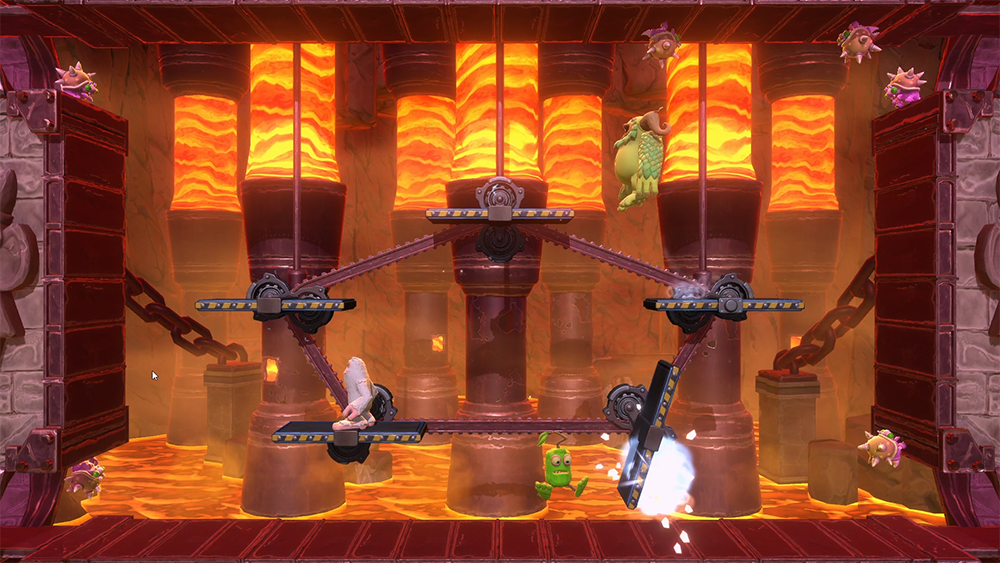 Fifteen of the 25 available mini-games are "free-for-alls," where all four players are in direct competition with one another. Five mini-games divide the group into pairs for a team-based game, while the remaining five games pit one player against the other three. While 25 mini-games seems like a lot on the surface, some of these games can end in a matter of seconds, which is short even for a "mini" game.
As the mini-games are played organically in Tournament and Solo Gauntlet, they are then unlocked in the Free Play section. Here, you can play any mini-game you like, as many times as you like, for as long as you like. Performing well in Tournaments and Gauntlets also earns you Relics, which can be exchanged at the Prize Machine for special unlockables including more decorations for the hub world and costumes for the monsters.
Everything in the world is clearly marked with visual aids, so even children who can't yet read will be able to navigate through the hub world and menus. That said, the skill level of the different mini-games varies from game to game, meaning some games might be harder than others for the youngest players.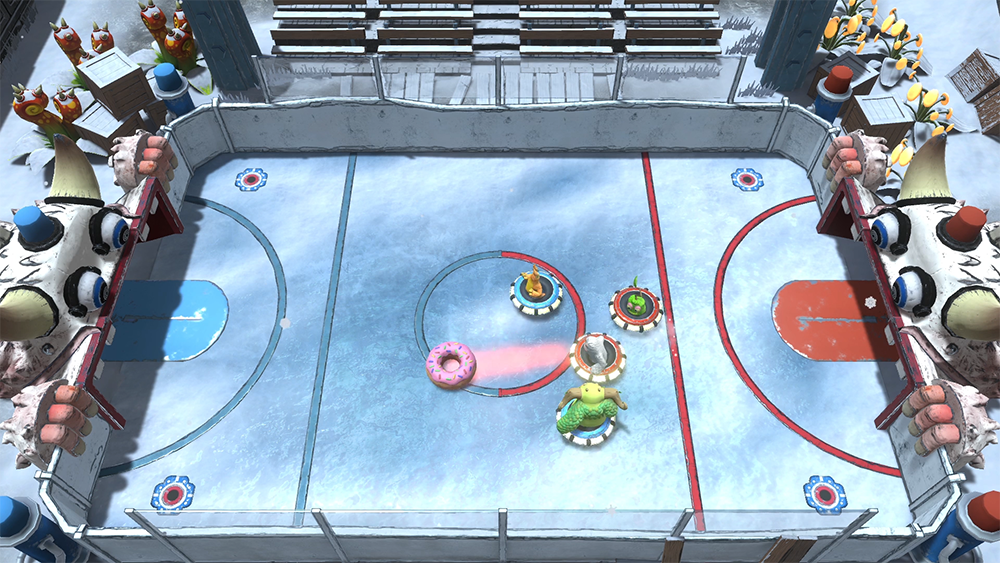 Is this game fun to play?
The 25 mini-games make My Singing Monsters Playground a good choice for a family game night, but it can't be the only choice. A 20 mini-game Tournament — the most time-consuming session in the entire game — still only lasts about 45 minutes tops.
Replaying the mini-games in Free Play can add to that total, but eventually the novelty wears off there as well. Also, while unlocking the different decor and costumes is fun, they don't add anything to the experience other than giving you more things to look at.
What's the final verdict?
My Singing Monsters Playground is a fun but fleeting multiplayer game designed for all audiences. It makes for a good choice during a sleepover or a family game night, but there's not enough content here for it to be the only available game at the gathering. The mini-games are fun, and playing through the different modes is a good way to experience them, but ultimately there are better choices if the family is looking for a more substantial game.
That said, it's a perfect game for the younger crowd to pick up and mess around with, even if some of the mini-games might be out of their skill range.
---
My Singing Monsters Playground is now available for $39.99 on Nintendo Switch, PlayStation 4, PlayStation 5, Xbox Series X|S, Xbox One, and PC. The game is rated E for Everyone by the ESRB.
Disclosure: SuperParent received My Singing Monsters Playground for Nintendo Switch for coverage purposes.