Hands on with the multiplayer game console that you can access from any screen and control with your phone!
Gaming on the go has been a part of our lives since the very early days of Nintendo's Game & Watch gizmos, and modern kids take it for granted that wherever they are they'll be able to play games somehow. Even today it's not that simple though. Consoles like the PS4 and Xbox One are hardly portable, and laptops capable of running online games aren't cheap. There's Nintendo Switch, of course, and whatever smartphone or tablet you prefer, but those are often solitary devices. If you want communal big-screen gaming for the whole family, wherever you are, your options are still surprisingly limited.
Enter AirConsole, a service that offers over 100 multiplayer and party games for up to eight players, that you can access pretty much anywhere. That's because AirConsole isn't a physical console at all — it's a website that connects to your phone, turning it into a controller. As long as you have smartphones or tablets, and a screen that can run a web browser, you can access AirConsole and have fun.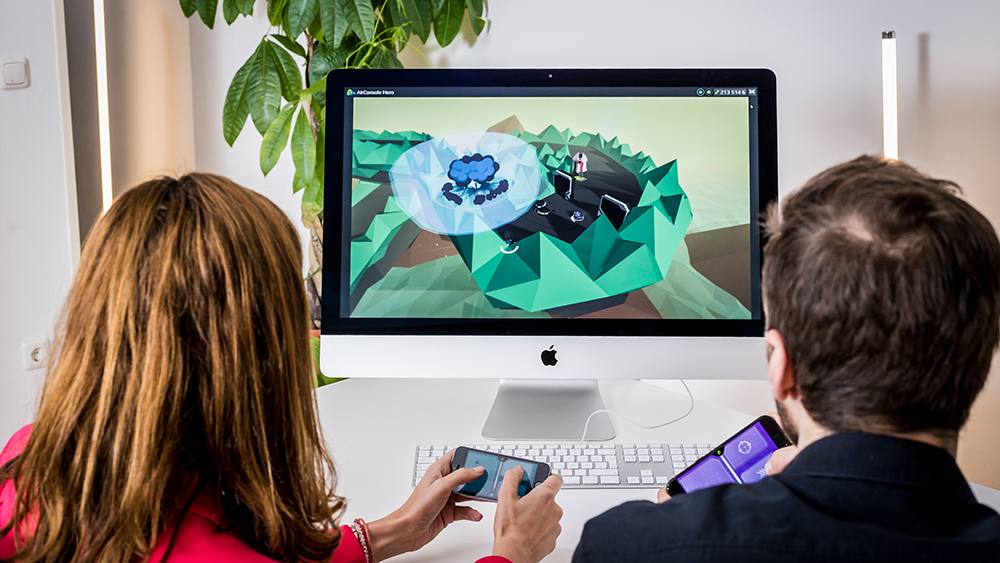 How does AirConsole's multiplayer experience work?
Getting started is really easy. When you visit AirConsole.com you'll be prompted to go to the same site on any devices you want to use as controllers. A code appears on the screen, you enter that code into the phone, and the two are connected. Now you can browse the AirConsole games library using your phone screen. Everyone else who is connected can join in the games. Simple!
There's no installation required and you can play through the phone's browser, but you can also download the AirConsole app, which has the advantage of allowing you to save your progress in games that support that feature. It also means you won't accidentally tap outside of the browser window during a frantic play session!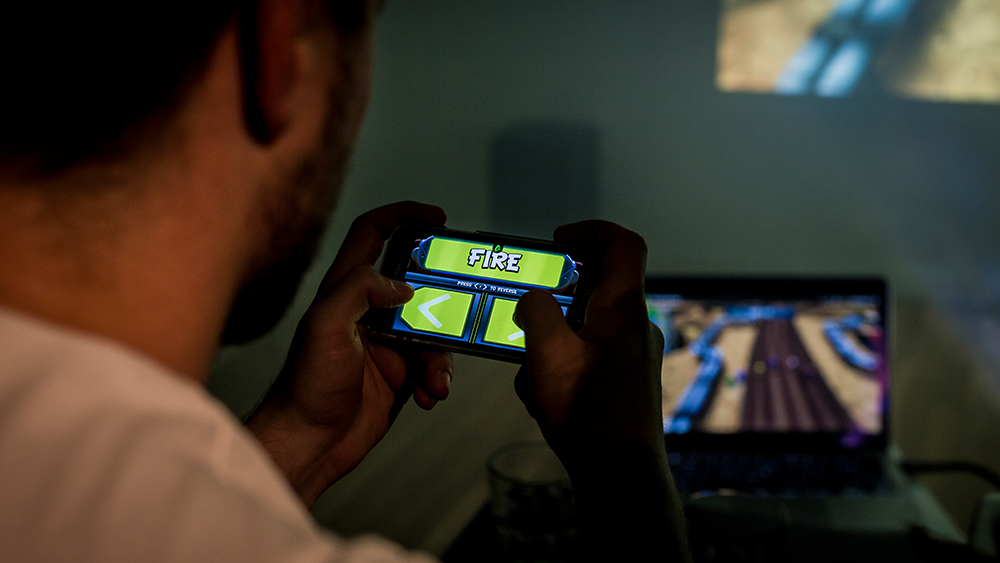 What sort of games can you play on AirConsole?
Pretty much any game genre you can think of is represented in AirConsole's ever-expanding library. There are trivia quizzes, puzzle games, driving games, sports, even fully 3D Fortnite-style action games. Some are co-operative, others are competitive, but they're all designed to be played with friends around the same screen. Don't worry too much if you fancy playing solo though – plenty of the games will let you play against AI opponents, or online against others.
Look for an upcoming SuperParent feature highlighting our favorite AirConsole games, but we found the knockabout strategy game The Neighborhood was a particularly fun mix of Worms-style multiplayer action and Angry Birds smash-em-up physics. Silly World Series went down well with our younger players, thanks to its mix of easy-to-understand minigames and funky cartoon animal characters. For our older testers it was Brawlanders, a platform fighting game in the Smash Bros. style, that caught their eye most often. With over 120 titles, you can be sure everybody will find something that appeals to their specific tastes.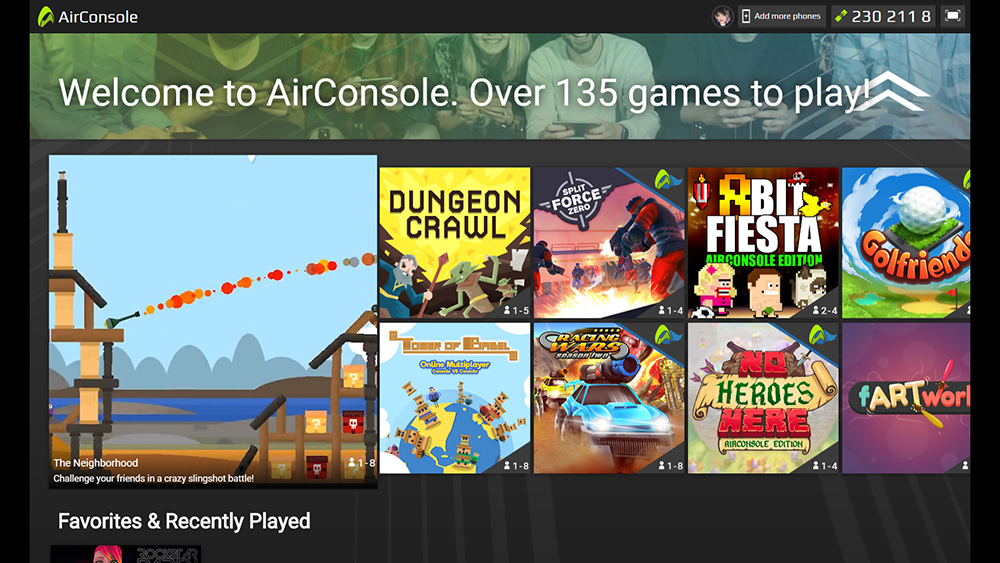 There's even a karaoke app built-in, with songs from Destiny's Child, Taylor Swift, and Maroon 5, plus loads of classic singalong anthems from Elvis, Stevie Wonder, and cheese-rock legends Europe. You hold down the microphone button to sing, or release it to let the original artist take over. If you're really brave, it can use a webcam to record your performance and email it to you as a video clip!
There are also a handful of party games that are designed for adults or teens, such as Cards and Humanity, Never Have I Ever, My Friends Are…, Chicken Out, and Alternative Facts. These are clearly marked and each one opens with a loud and clear warning that the content may not be suitable for children.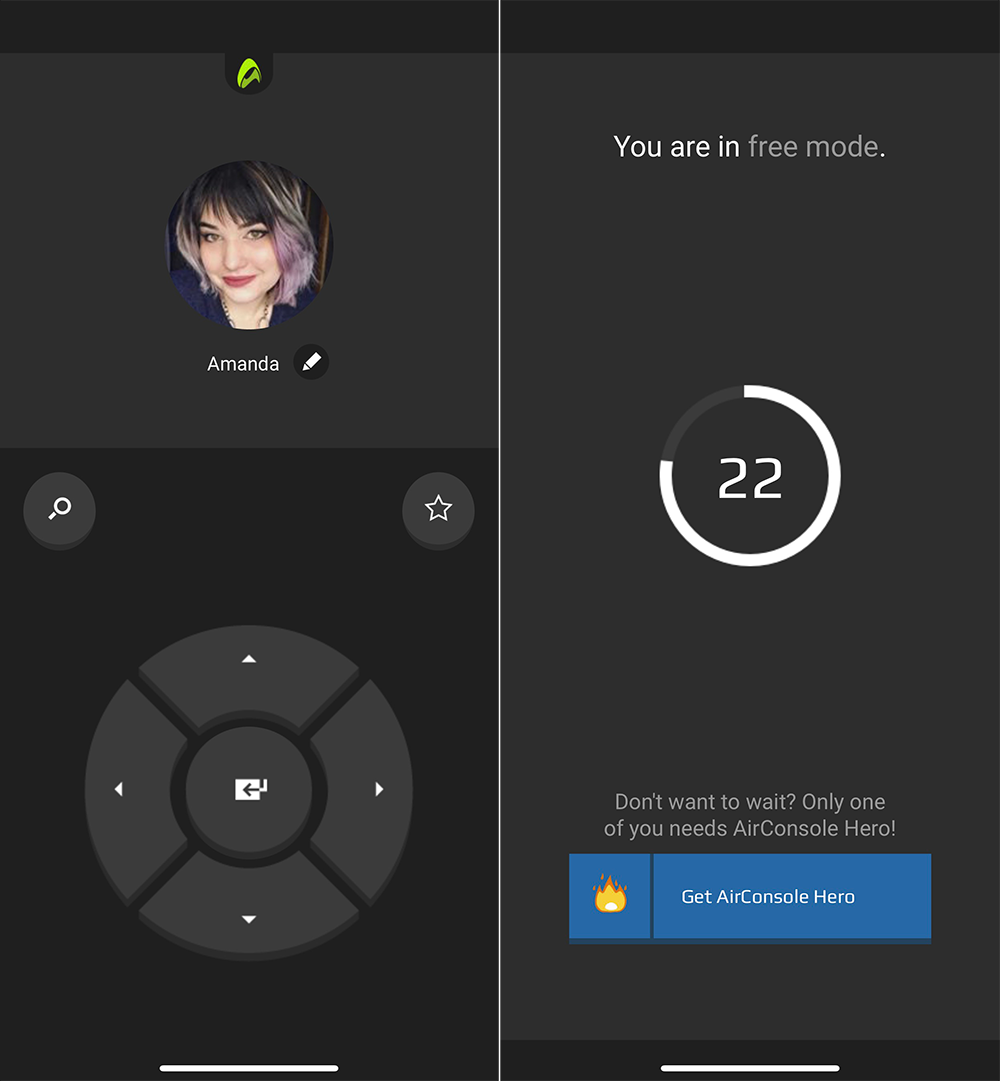 How much does AirConsole cost?
There's always a selection of AirConsole games available to play for free so you can try the service without making a commitment. Free access is supported by ads, but these are short and all for AirConsole itself, so you won't need to worry about kids being bombarded with ads for unrelated products or pressured to spend money. The free version of the service also restricts you to two players at a time, and the content in some of the games is unavailable.
If you do subscribe, the cost is just $4.99 per month and this gets you access to over 120 games and the rather grand title of AirConsole Hero. Other benefits include no more ad breaks between games, additional in-game content, and no limit to the number of players who can connect and join in. There are no extra charges for in-game content and you're not tied into a contract, so you can cancel at any time.
Kids certainly aren't short of ways to play games these days, but AirConsole fills a family gaming niche that you may not have considered. It's like an invisible multiplayer game console that kids can fire up on their grandparent's PC, on a Smart TV at a friend's house, or on a tablet while traveling. So long as everyone has a smartphone on hand, it offers a social shared-screen party gaming experience for everyone without the need to lug extra hardware, chargers, or controllers around. You can try AirConsole for yourself by clicking here.