Learn more about this family-friendly tabletop game.
The Op (formerly USAopoly) released a new version of Monopoly inspired by Hello Kitty and other popular Sanrio characters.
Monopoly: Hello Kitty and Friends is for 2-7 players with a recommended age of 8+. The game follows the rule set of a traditional game of Monopoly, but the game's items and board have been redesigned to match the Sanrio universe.
To start, the game allows players to choose from seven playing pieces: Hello Kitty's Car, My Melody's Car, Kuromi's Car, Keroppi's Car, Pompompurin's Car, Cinnamoroll's Car, or Badtz-Maru's Car.
The four railroads have been replaced by locations called "Flower Garden," "Friendship Square," "Rainbow Harbor," and "Sunshine Park," while Monopoly's standard properties have been replaced with locations like "LittleTwinStars' Movie Theater," "Pochacco's Skate Shop," and "Keroppi's Sushi Restaurant."
Elsewhere, houses and hotels have been renamed "Stars" and "5-Star Certificates," respectively, while the Chance and Community Chests cards have been replaced with cards labeled "Celebrations" and "Adventures."
Finally, Sanrio characters like Hello Kitty and My Melody, among others, are featured on the game's paper money.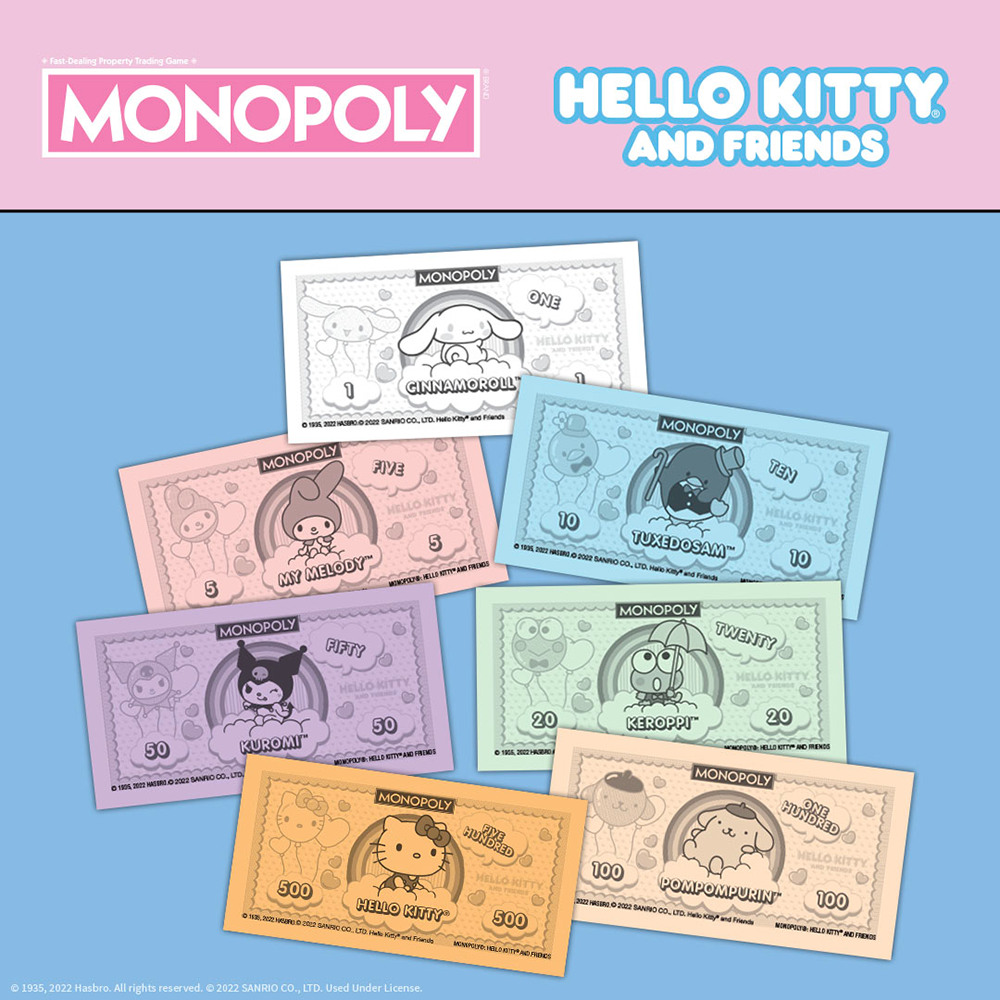 The instruction booklet for Monopoly: Hello Kitty and Friends features rules for playing the standard game of Monopoly, as well as "Speed Play Rules" that are designed to reduce the game's play time to 60-90 minutes. Families can also implement "house rules" to customize the experience to suit their tastes.
Monopoly: Hello Kitty and Friends is now available to purchase for $39.99 on The Op's website.
Disclosure: SuperParent received Hello Kitty: Monopoly and Friends for coverage purposes.